A webcam is a cornerstone for online video streaming. It is the device that helps create a deeper connection between a streamer and the audience but how to setup a live webcam?
Whether you are playing games or answering to questions on your YouTube channel, your audience will love to see the way you speak and make gestures.
Not only that but you will also gain organic followers. Since people always prefer unique and authentic content from a streamer, a live webcam acts as a medium for the satisfaction of both ends.
If you are someone who is prepping up for going live on social media for the first time, you've landed at the right place! We are here to help you out with this guide on how to setup a live webcam.
How To Setup A Live Stream Camera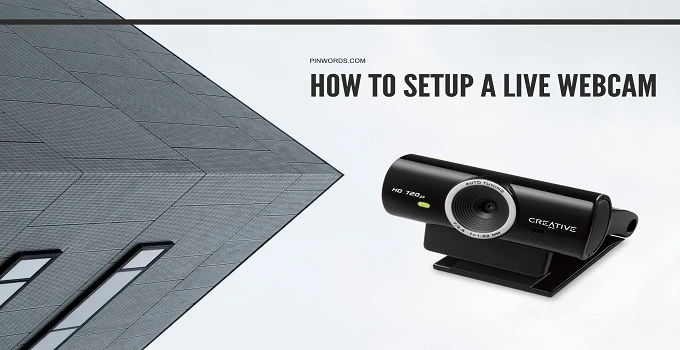 Setting up a live stream camera is not as difficult as it may sound. Once you learn to do it, you can set it up without any issue.
1. Choosing Audio And Video Sources
In order to start live streaming, you will need to select the audio and video sources. An audio source refers to a stream of audio data, while a video source refers to a stream of video data. Some common examples of audio and video sources are:
A DSLR camera
A webcam
A camcorder
A smartphone camera
A laptop or desktop screen
A built-in microphone
A USB microphone
Professional setups typically consist of a DSLR camera, but you can also use an HD webcam, camcorder, or your smartphone's camera. If you are looking for the least expensive option, you can stream directly using your laptop's built-in camera.
As long as your device can deliver superb video quality, the choice is not an issue.
When it comes to audio, you will need to ensure it is capable of delivering crisp sound otherwise, your audience won't have any idea what you are talking about. We recommend investing in a USB microphone because it will not only come in handy for your live streams, but also podcasts.
One important thing to keep in mind- when you are live streaming on YouTube or any other online video platform, be sure not to play copyrighted content as a background music. Doing so violates the copyright, and you may get banned from using your account.
2. Using A Capture Card
Camcorders and DSLR cameras use an HDMI cable that can't be connected to your laptop's USB port directly. This is when a capture card comes to the rescue.
A capture card lets you connect your camera on one end and your laptop on the other, while capturing everything that the camera sees. Although it may seem complicated, you will enjoy high-quality footage up to 4K.
On the other hand, if you are using a webcam for your live streams, you can simply plug it into your laptop's USB port without the need of a capture card.
3. Video-Encoding Software
A video-encoding software compresses and converts video into a format suitable for the web. It is a must-have for streamers who prefer using video cameras as these cameras don't allow real-time streaming.
You will find a wide range of video-editing software, with OBS being the most popular choice. This free-to-download software has a user-friendly interface that makes it convenient for beginners and professionals alike. Not only that but also you can use it to set up multiple cameras for professional streaming.
If you are using your phone or tablet for live streaming, you don't need to use such software because it can capture video and encode it at the same time.
4. Streaming Destination
A streaming destination refers to the platform or app where you will be streaming your live content publicly. Most live streamers use popular free sites, like YouTube, Twitch, and Facebook Live, while others use paid sites, such as StreamShark and Wowza.
We recommend you start using a free platform before moving on to a paid one, as it will help you develop a sound knowledge of the basics.
5. Stable Internet Connection
Having a poor internet speed is a nightmare for live streamers. It might not be a big problem if you are using dedicated Ethernet in your desktop computer, but if you are using WiFi, then it is likely the bandwidth will fluctuate.
On that note, you should run a speed test before going live. It is always best to have a bitrate that is two times greater than the streaming bitrate for reliable live streaming.
Often the cause of bandwidth fluctuations lies in the usage of multiple devices over WiFi. So, when you are going live, make sure to temporarily disconnect as much smart devices as possible.
How To Get Multiple Webcams To Work In OBS
Ever wondered how to set up multiple webcams for live streaming? Here's how you can do it in OBS:
OBS lets you connect up to eight webcams and switch between them easily. If you are planning to use two webcams, make sure to connect one at the front USB port of your computer and the other one at the back. For more than two webcams you will need to connect them via a USB hub.

Launch OBS Studio.
When the window appears, look for a '+' sign at the bottom-left corner of the window under the 'Scenes' section. Click on it and enter a name for the scene.
Beside the 'Scene' section, you will find a 'Source' section that lets you add your webcams. Click on the '+' sign and then select 'Video Capture Device'.
When the box appears, enter a name for the first webcam and click 'OK'. Once you've done that, you will need to select the device from the dropdown list. The first webcam is now ready, and you can resize the screen by dragging a corner.
If you need to crop a part of the screen, hold the Alt key and drag the red box to remove the area.
To add a second camera or more, repeat steps 4 and 5.
When you have connected all your webcams, the camera screens should be displayed in a single place. Select a webcam from the list under the 'Source' section and fit it into the screen one by one.
Enter 'Studio Mode' by clicking the button on the far right of the main window. You should be able to view two camera screens side by side. The left screen is for editing, which the audience will not see while the right screen is for live view.
You can add a scene transition and set its duration to smoothly transition from one scene to the next. Although the default transitions are 'Fade' and 'Cut', you will be able to select other transitions by clicking the '+' icon below the transition dropdown box.
Open MultiCam Capture.

Connect the webcams and external microphones that you will be using.

After you have set up the devices, the Source View window will display all the connected webcams. When you click on a video source, that source will be displayed in the Preview area where you can adjust different settings. You can also turn off any camera screen by clicking on the toggle button.
Before you start recording, you will need to choose a location for storing your recorded video files. To do so, enter your project name in the Record window and choose a location for saving.
When everything is set up perfectly, hit the Record button to start recording. You also have the option to pause/resume the recording whenever you need to. Once you are done, click the Stop button.
The video files for all the connected cameras will be saved separately in your chosen location. As they are saved in.mov format, which many video editing programs don't support, you might need to change the extension to.mp4.
Final Word
Live streaming is becoming popular than ever. As people have different devices within their reach, they can view the content of their interest on various platforms and interact with the streamer in real-time.
In order to become a successful live streamer, it is essential to set up the environment with the best equipment, focus on delivering quality video content, at a consistent schedule and interact with the audience.
We hope we were able to give you an insight on how to setup a live webcam. Now that you know about it, why not start setting up all the equipment and go live on your preferred platform?
Related posts: