Webcams today have become a necessity for everyone. Because even though all our laptops come with one built-in, they always lag in quality.
For professional video conferencing, going live on social media, or simply chatting with your friends and family, you need a webcam that delivers well.
Macs usually have webcams that are slightly better, but not the greatest. Meaning, you again have to go for an external one. Now, as we all know, Mac runs on a different operating system.
It differs from other operating systems by a lot. So picking up just any webcam won't work with this. You need one that is compatible and won't pose any issues later on during use.
To buy the best webcam for Mac , you need not look far. This article covers all you need to know before buying your webcam. A quick look through will help you understand the features you need to look for, as well as compatibility.
Editors' Picks: Top Webcam for Mac 2022
List of Top 10 Webcam For Mac
5. TedGem 1080P Full HD Webcam
Comparison Chart For Top 10 Webcam For Mac
| Image | Name | Video Quality | Microphone | Specialty Feature |
| --- | --- | --- | --- | --- |
| Logitech C922x Pro Stream Webcam – Full 1080p HD Camera | Logitech C922x Pro Stream | 1080P | Omni directional mics | 78 degree field of view |
| PC Webcam for Streaming HD 1080P, Vitade 960A USB Pro Computer Web Camera Video Cam for Mac Windows Laptop Conferencing Gaming Webcam with Ring Light & Microphone | Vitade 960A | 1080P | Dual Mics | H.264 encoding, Auto focus |
| Logitech HD Webcam C310, Standard Packaging - Black | Logitech C310 | 720P | Noise cancellation | 5MP photo resolution |
| Logitech HD Pro Webcam C920, Widescreen Video Calling and Recording, 1080p Camera, Desktop or Laptop Webcam (Discontinued by manufacturer) | Logitech HD Pro C920 | 1080P | Omni directional mics | 78 degree field of view |
| PC Webcam, TedGem 1080P Full HD Webcam USB Desktop & Laptop Webcam Live Streaming Webcam with Microphone Widescreen HD Video Webcam 90-Degree Extended View for Video Calling (HD Webcam)… (Black) | TedGem 1080P Full HD Webcam | 1080P | Noise cancellation | H.264 video compression, 90 degree viewing angle |
| Webcam 1080P with Microphone & Cover, Vitade 928A USB HD Desktop Web Camera Video Cam for Streaming Gaming Conferencing Mac Windows PC Computer Laptop (Tripod Included) | Vitade 928A | 1080P | Dual noise cancelling | 80 degree wide angle lens, Privacy shutter |
| Logitech for Creators StreamCam Premium Webcam for Streaming and Content Creation, Full HD 1080p 60 fps, Premium Glass Lens, Smart Auto-Focus, for PC/Mac - Graphite | Logitech StreamCam | 1080P | Stereo | 60 fps, Face Tracking |
| HD Webcam, EIVOTOR PC Webcam 720P USB Mini Computer Camera Built-in Mic, Flexible Rotatable Clip, for Laptops and Desktop, Black | EIVOTOR PC Webcam | 720P | Noise cancellation | 180 degree adjustable, 360 degree head rotation |
| Spedal Webcam with Tripod: HD Camera for Computer, USB Web Cameras 1080P with Microphone for Zoom Video OBS Skype YouTube, Streaming Cam for PC, Laptop, Desktop, Xbox, Windows, Mac | Spedal Webcam | 1080P | Noise cancellation analog mic | 30fps |
| HD Auto Focus Webcam 5 Megapixel 1080P Video Call Available Pro Streaming Web Camera with Microphone, Widescreen USB Computer Camera for PC Mac Laptop Desktop Video Calling Conferencing Recording | WEICHA Webcam | 1080P | Noise cancellation | 30fps |
Best Webcam For Mac Reviews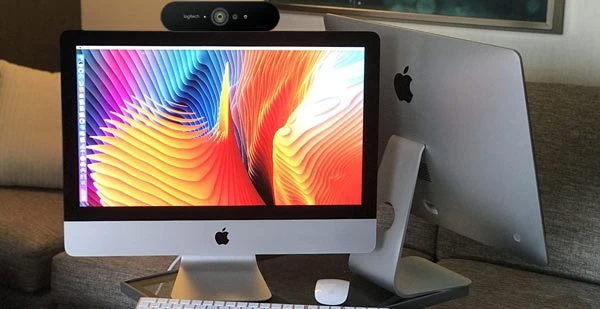 1. Logitech C922x Pro Stream | Best External Webcam For Mac
Logitech is one of the top brands out there in terms of webcam. So it is no surprise that our first on the list is one from this brand.
The C922x Pro Stream packs a heap of features that you will enjoy and will change your webcam experience forever. Firstly, the resolution is 1080P/720P which lets you view and record videos at its peak quality.
Colors come off as natural, videos are not grainy and you experience a truly life like video quality. Coming to the lens, you get an HD glass lens that lets you see razor sharp pictures. Along with this you also get premium auto focus.
Now this is a much needed feature for video streaming. Since you will not always be in one position, this will help keep focus even if you move a little here and there.
Microphone wise this is not lacking either. Instead of one, you get two built in mics. With this you can now capture your voice in stereo making it seem very real and life like once again.
Automatic light correction is a feature that helps to improve your background if it is poorly lit. So in cases where you cannot fully create a lighting system, this feature will still deliver proper videos.
Lastly, the long cable length of 5 feet lets you mount this on your Mac, as well your desktop.

Highlighted Features
Allows streaming at 30fps (1080P), 60fps (720p)
Comes with HD glass lens
Automatic light correction enhances quality
Has a 78 degree field of view
2. Vitade 960A | best video camera for mac
One of the highlights of this webcam from Vitade, is its ring light. Ring lights are often used today for their convenience and bright video outcomes. The 960A comes with one built in, so you do not have to add one on top.
This also eliminates the need for extra backup lighting. It also has 3 different levels of brightness, so you can adjust it to your needs accordingly. The H.264 encoding compression lets you compress your videos when storing.
This makes sure the file is not too big, and takes up half the space. With this it takes a long time before you need extra storage space. If you ever switch this from your Mac to a windows, you can download the Chromacam-2.2.1.14.
It lets you switch your background for the times you weren't quite ready for the camera yet. Auto low light correction makes sure your videos come out just as clear, even if the background lighting is not so good.
It helps to brighten and enhance your photos, which we are sure the person at the other end will appreciate. Plug and play feature ensures that you don't need drivers for this to work.
Simply connect and it will get to work, be it on your Mac or any other operating system like Windows or android.

Highlighted Features
Comes with built-in right light
Features H.264 encoding compression
Autofocus and light correction improves video quality
Set up is easy and simple
3. Logitech C310 | best hd webcam for mac
The Logitech C310 is a webcam that will serve your well on your Mac, as well as other operating systems such as Windows. Let us start with the automatic light correction.
This lets you record and snap pictures as clear as day, even if the lighting is not top notch. Sometimes the background lighting just cannot be corrected, but this feature ensures it does not become a barrier to your communication.
If you want to use the webcam for uploading videos, this will be a good choice. It lets you upload your videos in one quick click directly. For proper video conferencing, you have the face detection.
So slight movements here and there won't be an issue for the person watching. Mounting wise, it comes in a flat design that can be used on any device. From your phone to your Mac or any other desktop, this will fit!
Besides clear videos, you also want clear audios, and the noise cancelling mic is here to help you get that. It ensures that the background noise you always hear in recordings is eliminated, and leaves you with clear recordings only.

Highlighted Features
Can take snapshots at 5 MP
Built-in mic comes with noise reduction
Automatic light correction ensures clear pictures
Universal clip makes it versatile

4. Logitech HD Pro C920 | Best Webcam For MacBook Pro
Yet another great find from Logitech once again, the HD Pro C920 is a good choice if you are regular with uploading videos on social media. The full HD video recording lets you see clear visuals that you enjoy, and so does the person on the other end.
Alongside this the automatic low light correction ensures that your videos come out as bright as day, even if it is actually not so. Video compression lets you store your videos using smaller space while keeping the video quality intact.
With this you do not have to worry about your storage, and have to increase it less frequently. A great feature for those who frequently do YouTube videos as they have lots of videos on storage.
Microphone is very important, and so is noise cancellation. You get both with the C920. With this you can be completely sure that your audio is crystal clear, and the slight background noise-eliminated.
If you are uploading videos, you need to be absolutely sure of this, otherwise your views will go down for lack of quality.

Highlighted Features
Has a 78 degree field of view
Comes with 2 Omni directional built-in mics
Autofocus ensures optimum video quality
Universal clip makes it versatile
5. TedGem 1080P Full HD Webcam | best Webcam for mac Mini
This webcam from TedGem lets you record and stream videos in HD quality. Featuring 30 frames per second and 1080P video, this webcam provides clear videos that resemble reality.
For the times you want to capture a snapshot from video chats, you will find the pictures come out just as clear! The lens on this is a wide angle 90 degree which covers a lot of area.
Well suitable for conferences or when you have to record more than a few people at once. After recording, storing videos become another worry. This is why you have the.264 compression which helps to compress your videos so it does not take up too much space.
Now you can store your videos in its original quality, but only utilizing lower space. It also eliminates the need for frequent storage addition. In this webcam you get the auto focus and light correction simultaneously.
Now you can have your videos focused at all times, regardless of the tiny movements you make. At the same time the light correction makes sure that your videos come out bright, even if your natural light is not supportive.
These together with the noise cancelling microphones ensure that you experience a truly good video conferencing.

Highlighted Features
Features low light correction
Set up is simple and easy
Comes with a wide 90 degree angle view
Universal compatibility makes this versatile
How To Choose The Best Webcam For Mac
Resolution
The best Mac Mini webcam will be one with the finest resolution. This is one of the first things you will notice when buying a webcam. Not to mention this is the reason you want a separate one in the first place.
Most models you will find today come with a good HD resolution of 720P or 1080P. Webcams that have an internal 2 MP sensor can deliver 720P images. While ones with 3 MP sensors and above can deliver 1080P.
When it comes to video conferencing however you have to realize you will not be getting 1080P in live. This is because there is too much data for the internet to be able to deliver at that resolution.
You can get 720P, which is very good as well. But this too will be good if the person you are video conferencing with has similar specifications.
Field of View
Field of viewrefers to the peripheral vision of the webcam. This depends on what you are buying the webcam for. If this is for an office where many people will be joining in, you need a high field of view.
On the other hand if you are using this for live streams of yourself, a lower one will suffice. The average you will find on most webcams is 70 to 80 degree field of view.
However some come with a higher angle of 90 degrees today as well. But because of the extended view, the edges will seem very slightly distorted.
Light Management
Light management refers to how well your webcam works in low light situations. Of course you won't be video conferencing in low light on purpose.
However in case your lights dim, or in case of accidents you might be forced to work in a low light situation. This can lead to grainy images and poor color.
Look for features that help you correct this such as auto light correction or face detection which can help you improve results.
Microphone Options
Of course you want a microphone in your webcam. However the kind you want is what matters. There are internal webcams, built into the microphone.
Some have dual webcam microphones that come with noise cancellation- great if you live in a noisy atmosphere.
It will help get rid of that background noise successfully. Higher end models also come with two to four microphones, well suited to large rooms and conferences.
Frequently Asked Questions
1. How Do I Connect A Webcam To My MacBook Pro?
Setting up a webcam in your MacBook Pro is simple. Here's how you do it:
Plug the webcam into the USB port of your MacBook Pro.
Open PhotoBooth or other software that uses a webcam.
2. How Do I Use Webcam On MacBook?
If you are using an external webcam on your MacBook, all you need to do is plug in the device to an available USB port and then open software that uses a camera, such as Skype or FaceTime.
3. How Do I Get My Mac To Recognize My Webcam?
If you are having issues with the internal webcam, you can follow these steps:
Click the Apple menu and then click 'About'
Click 'System Report' and then 'Camera' from the list of hardware.
You should see some information about your built-in camera. If you don't, then your camera probably stopped functioning due to hardware failure or physical damage.
Before you take your PC to a technician, you can try resetting the System Management Controller.
If it's not the internal webcam but external, you can try these steps:
If your webcam is already plugged in, unplug it and then plugin again.
Try plugging your webcam into another USB port.
If none of the above works, open 'System Report' and scroll down to the 'USB' section.
Look for your webcam.
If it is not listed, then it probably has stopped functioning.
If your webcam requires additional drivers for macOS, you can download them from the manufacturer's website and see if it works.
4. Can I Use An External Webcam On My MacBook?
You can. Just connect the external webcam to the USB port of your MacBook and open a software that uses camera.
Final Word
Now that you have come here, we assume you have read the article. When on the lookout for the best webcams for Mac , it can be a little tiring. All the different specifications and features and so much more just keep piling up.
It is easy to get carried away. But no matter what confusion you had before, we hope this article has cleared it out for you. The product details and comparisons are all provided to make your buying decision easier.
Every webcam on this list will work with a Mac, so check them out to find the right one for you.
Related posts:
Buy on Etsy, eBay, Walmart (subject to availability)
Razer Kiyo Streaming Webcam: 1080p 30 FPS / 720p 60 FPS - Ring Light w/Adjustable - Walmart, Etsy, eBay
Razer RS21-01290101-0500 Kiyo Carrying Case - Walmart, Etsy, eBay
1080P Webcam with Microphone, eMeet C960 Web Camera, 2 Mics Streaming Webcam with Privacy - Walmart, Etsy, Ebay
HD Webcam C270 WER Occident Pa - Walmart, Etsy, Ebay
Logitech C270 HD Webcam, HD 720p, Widescreen HD Video Calling, HD Light Correction, - Walmart, Etsy, eBay
Logitech BRIO – Ultra HD Webcam for Video Conferencing, Recording, and Streaming - Walmart, Etsy, eBay
1. Logitech C922x Pro Stream - Walmart, Etsy, Ebay
4. Logitech HD Pro C920 - Walmart, Etsy, Ebay
5. TedGem 1080P Full HD Webcam - Walmart, Etsy, eBay
8. EIVOTOR PC Webcam - Walmart, Etsy, eBay