There is a surprise element in analog photography. After every snap-shot, there is this lingering question-how might the picture turn out to be? Was I looking okay in the photo?
Gone are those times when we needed to wait for hours, or even days, to develop negatives and finally take a look at the photos.
One gift of modern science that will save you the hassle of waiting around for photos is a film scanner. It is a very convenient machine which will quickly digitize your old negatives, films and slides, to colorful photos which you will be able to share online with your friends and relatives.
Most scanners support 35mm films and slides. So what are the features of the best 35mm film scanner ? Let's take a look at an array of available ones.
Editor's Recommendation: Top 35mm Film Scanner 2021
List of Top 10 35mm Film Scanner
1. Epson V370 Document Scanner
3. Epson Perfection V850 Pro scanner
8. Epson Perfection V550 Scanner
10. ZONOZ Film & Slide Scanner
Comparison Chart For Top 10 35mm Film Scanner
| Image | Name | DPI And Pixels | Tray/Adapter | LCD SCREEN |
| --- | --- | --- | --- | --- |
| EPSB11B207221 - Perfection V370 Scanner | Epson V370 Document Scanner | 4800 x 9600 DPI | 35mm film/slide | --- |
| KODAK SCANZA Digital Film & Slide Scanner - Converts 35mm, 126, 110, Super 8 & 8mm Film Negatives & Slides to JPEG - Includes Large Tilt-Up 3.5" LCD, Easy-Load Film Inserts, Adapters & More | KODAK SCANZA Scanner | 14-22 MP | 35mm/126/110 | 3.5" |
| Epson Perfection V850 Pro scanner | Epson Perfection V850 Pro scanner | 6400 DPI | 35mm film/slide | --- |
| KODAK Mini Digital Film & Slide Scanner – Converts 35mm, 126, 110, Super 8 & 8mm Film Negatives & Slides to 22 Megapixel JPEG Images – Includes - 2.4 LCD Screen – Easy Load Film Adapters | KODAK Mini Scanner | 14-22 MP | 35mm/126/110 | 2.4 |
| Veho Smartfix Portable Stand Alone 14 Megapixel Negative Film & Slide Scanner with 2.4" Digital Screen and 135 Slider Tray for 135/110/126 Negatives Compatible with Mac/PC – Black (VFS-014-SF) | Veho Smartfix Scanner | 14 MP | 110/126/135 | 2.4" |
| Film Negative Scanner 22 MP 110 135 126KPK Super 8 Negative Photo Scanner 35mm Slide Film Scanner Digital Film Converter High Resolution 22MP 2.4" LCD(White) | QPIX Digital Scanner | 14-22 MP | 135/110/126 | 2.4" |
| Pacific Image Image PrimeFilm XEs Super Edition 35mm Slide & Film Scanner | Pacific Scanner | 10,000 x 10,000 DPI | 35mm film/slide | --- |
| Epson Perfection V550 Color Photo, Image, Film, Negative & Document Scanner with 6400 DPI Optical Resolution | Epson Perfection V550 Scanner | 6400 DPI | 35mm film/slide | --- |
| 135 Film Scanner High Resolution Slide Viewer,Convert 35mm Film,Negative &Slide to Digital JPEG Save into SD Card, with Slide Mounts Feeder No Computer/Software Required | DIGITNOW! Scanner | 1800 DPI | 35mm film/slide | 2.4" |
| ZONOZ FS-3 22MP All-in-1 Film & Slide Converter Scanner w/16GB SD Memory Card, Speed-Load Adapters for 35mm, 126, 110 Negative & Slides, Super 8 Films - Worldwide Voltage 110V/240V AC Adapter (Blue) | ZONOZ Film & Slide Scanner | 14-22 MP | 35mm film/slide | 2.4" |
Best 35mm Film Scanner Reviews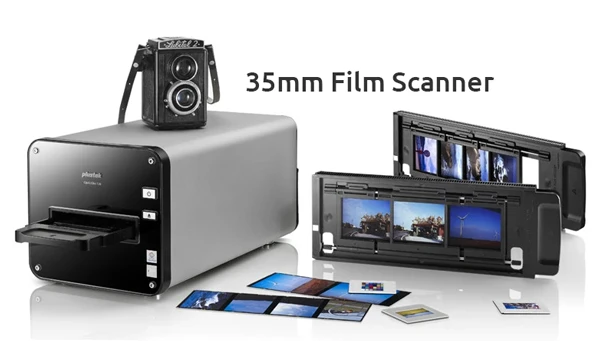 1. Epson Perfection V370 Document Scanner- Best 35mm Slide Scanner
A film scanner is a go-to for any photographer. If a photographer wants to share his photos online, say on Instagram, then he must scan the negatives first.
Scanning digitizes the photos and transfers them to your computer, from where you can upload them to any social media platform! It's that easy.
All this and more can be done with the film scanners by Epson! With its built-in 4800 x 9600 dpi and transparency unit, you can scan the digital photos and documents, and even enlarge them. The scans can be directly transferred to Cloud services such as Sharepoint, Evernote and Google docs.
Its ArcSoft Scan-n-Stitch software further enables you to scan oversized documents, like album pages or artwork. The ReadyScan technology of this scanner does not require any warming up, you start it and it is good to go! Not to mention it can scan 35mm film negatives and slides with an incomparable ease.
The scanner offers touch-screen panels, with buttons like "scan to email" and "convert to pdf", which makes it super convenient and time-efficient. Not only this, the scanner can also be used to scan books and 3D objects. Its Easy Photo Fix feature will re-color the old faded photos, so that you can relive your memories.
Product Highlights
Scan films, documents, books and even 3D objects with this scanner
4800x 9600 dpi resolutions, ArcSoft Scan n Stitch, ReadyScan Technology
Scan directly to Cloud services, scan straight to email and pdf convert
Around 22000 slides can be scanned at a time at auto-mode
The scanner works great even with watercolor paintings and illustrations
Digital Dust Correction feature will remove dust from the scans
2. KODAK SCANZA Digital Film & Slide Scanner- Best 35mm Slide Scanner For Mac
Photographers turn toward film scanners instead of document scanners, since the previous are designated to make scans from camera films.
Document scanners depend upon the light that gets reflected off a document, whereas film scanners pass light through a frame, digitize them and send them to your PC.
When you are looking for a good film scanner, Kodak Scanza is one good brand to turn to. Their digital scanners are almost futuristic, where you can digitize your films and slides to JPEG in seconds pressing just one button. The scanner provides you with 4 trays and 2 adapters so that you can scan a variety of undeveloped photos.
The interface is split into 3 modes with convenient functions making it extremely user-friendly. One of its most interesting features is its Video and HDMI output which can display your photos from the scanner straight to a bigger screen of a TV or a PC, for your whole family to enjoy.
The scanner also has wide 3.5" LCD display which can be swiveled in all directions for a superior viewing convenience. It comes with USB cables, so you save your files to SD card first, before transferring them to your PC. The display also has 14-megapixel sensor to produce crisp HD images.

Product Highlights
Wide 3.5" LCD Display with 14 megapixel
HDMI output allows you to display your photos to TV screen or laptop
Integrated interpolation feature can enlarge images to 22 megapixels
Speed Load Adapters can convert old 35mm, 126, 110, 8mm and Super 8 negatives to digital files; the adapters are numbered for ease of use
The multiple adapters allow quick loading of pictures
Film cleaning brush is included in the pack free of cost
3. Epson Perfection V850 Pro scanner- Best 35mm Film Scanner For Mac
Film scanners replicate your film negatives and slides into digital versions, which you can edit in any software and share them with your friends. It is just like taking some really old cassette tapes and recording them as MP3! Most film scanners support 35mm scans, while others are more versatile.
Old photo negatives can be brought to life with Epson V850 Perfection scanners. Its 6400 dpi resolutions and dual-lens generates scans that will take your breath away! If you have snapped photos using a non-digital camera recently, now is your time to flaunt your photography skills to your friends and family.
The scanner comes fully equipped with film holders whose heights could be adjusted to house 18 frames of 35mm film stripes and 12 frames of 35mm mounted slides. It can also support 1 medium-sized strip of size 6 x 20cm and 1 frame of size 4" x 5". There are 2 holders available, so one could be prepared while the other is being scanned.
Add details to your old photos with the help of SilverFast SE plus software! You can add shadows, highlights, gradations and color. You can also descreen, scale and sharpen the images. Epson also offers its signature Easy Photo Fix feature which brings faded photos back to life.

Product Highlights
Easy photo Fix feature allows correction of backlight and dust brushing
Dual-lens, one lens is 4800x9600 dpi, super lens is 6400x9600 dpi
Scanning speed- color 10.8 msec/line, monochrome 10.8 msec/line
Gradations and shadow could be added using 4.0 Dmax feature
4. KODAK Mini Digital Film & Slide Scanner- Best 35 mm Film And Slide Scanner
If you are a film camera photographer, you have a classic taste! The anticipation of how the pictures will turn out after a long process of developing the negatives, gives you unparalleled pleasure.
The only thing you might have missed out on is being able to digitize the negatives, and that's where film scanners step in!
This Scanners by are highly dependable and convenient. Now change your old films into bright and colorful JPEG files that can saved by internal or external storage devices. A very exciting feature is its in-built high-tech edit function which allow you to optimize color and brightness without the need to use any software!
The scanner is equipped with an array of adapters which are interchangeable and go hand-in-hand with old negatives and slide formats. The different types of adapters include negative and slide ones, 110 negative film tray, 110 slide tray, and a super 8 slide tray. Loading these adapters is super convenient.
Photo editing features of the scanner allow resolution adjustment from 14 megapixels to 22 megapixels. The scanner has a 2.4" LCD monitor which shows all commands clearly. The buttons are conveniently labeled for ease of maneuvering.

Product Highlights
An array of adapters for films and slides-35mm, 110, 126 and Super 8
On the back are SD card slot, TV connection, and USB power
Conveniently labeled buttons-power, left/right arrow, scan, capture
RGB technology, cleaning brush, flip and mirror tools
5. Veho Smartfix Portable Film & Slide Scanner- Best Budget 35mm Film Scanner
Take a trip down the memory lane by digitizing an old bunch of photographs from your childhood! Share a hearty laugh with your family of the time when your face was smudged with chocolate cake all over! Or share with your spouse the time when you exchanged rings at your wedding.
Scanners by Veho allow scanned images to be directly transferred to the SD card where you can edit the images, before sending them to your PC for archiving or sharing online.
This scanner is like no other because you can carry it with yourself wherever you want-it runs on lithium-ion batteries and also has USB connection.
It has a 2.4" LCD screen which built-in editing features which can help you to see the images while correcting color and adding details.
Not to mention its array of adapters that can easily support 135 slides, and 110/126/135 film. It is an all-in-one standalone scanning machine which does not require any software.

Product Highlights
It is an independent scanning machine requiring no PC or software
Small and lightweight, 2.4" LCD screen, with editing facilities
Runs on batteries and also has USB connection for charging
A good collection of adapters for films and slides-110, 126, 135


How To Choose The Right 35mm Film Scanner?
Old is gold, and even in this era of digital photography, we see a resurgence in analog photography. It is a delight for classic-lovers to incline toward collecting albums of negatives, almost as if a preservation of ancient art.
If you have a good collection of films and slides, and you want to share some fun past memories with your friends, then you may opt for a film scanner, and a good one at that.
So what are the features that should be present in the best film scanner for 35mm films and slides? This buying guide will help you make a wise purchasing decision.
Light Source And Image Sensor
All film scanners use these primary features, as without them the scanner will not function. The light source brightens up the negatives or slides, while the image sensor detects and records all details of the photo. Scanners, no matter manufactured by which company, slightly vary from one another on the basis of these two features.
What you should look for is the resolution, Dmax, color balance and sharpness of image, which should be able to give a result as close to the original picture as possible.
There are mainly two variants of resolutions used in scanners-hardware and optical, where hardware uses interpolation feature while optical ones are more dependable on the image sensors.
Most 35mm scanners offer 12-22 megapixel resolution, with editing features to enhance color, add shadow, highlights and other details. Some high-end scanners come with interchangeable dual-lens, one lens with 4800x9600 dpi, while an alternative super lens works at 6400x9600 dpi.
Dmax (Density + Maximum) is responsible in recording details from the darkest portions of the negatives, and the higher the amount of dark details it can record, the better. Density values are measured in logarithms (base 10), and range from 0.0 to 4.0.
Color Depth
Color or bit depth is a very important factor to consider in a film scanner. Bit depth is measured, you have guessed it, in bits, and the higher the number, the better.
There are three color channels in scanners or RGB-red, green and blue, and each color has designated 16 bits, summing up to 48 bits. Bit depth ranges from 30 to 48 bits. Higher bit depth ensures more colorful images with sharper color nuances.
Trays and Adapters
Most scanners come with an array of trays for housing film stripes and slides. See if they can support 35mm/126/110/135 films and slides, 8mm and Super 8 negatives, and the availability of trays depend on your preferences. Usually, the adapters are numbered for ease of use.
Dust Reduction Technology
High-end scanners, like the ones by Kodak, use Digital ICE feature that automatically removes any defects, including dust and scratches, from the surface of scanned images.
Some scanners come with film cleaning brushes. If your scanner does not come with one of these, you would need to clear the scans manually, using a cloth or blowing compressed air.
Frequently Asked Questions
1. What Is The Best 35mm Negative Scanner?
A scanner that offers a scanning resolution of at least 3200dpi. With a scanning resolution of 3200dpi or higher, you will be able to digitize very old films without any issues.
The finest 35mm Negative scanner should also feature the latest scanning software. Such recently launched software will provide you the chance to tune every bit of the scanned pictures manually.
2. Can I Scan 35mm Negatives With A Regular Scanner?
If you have a film scanner, you will be able to scan 35mm negatives without any question. But, you won't be able to do so if you have a regular flatbed scanner.
The regular scanners that have flatbed settings are not backlit; as a result, they can't be used to scan the negatives. However, with a bit of customization, you will be able to scan 35mm negatives. Using hard paper, you can redirect light and make the scanning process happen successfully.
3. What Is The Best Way To Scan 35mm Slides?
The ideal way to scan 35mm slides is to use dedicated film scanners. Those film scanners are specially engineered to scan 35mm slides within a matter of seconds.
In addition to scanning slides, by using a film scanner, you will also be able to scan negatives since they are backlit and are capable of redirecting light.
4. How Do I Scan 35mm Photo Slides And Negatives?
To scan 35mm photo slides and negatives, first, you will have to open the scanner and take the tray out of it. Then, clean the slides using a microfiber cloth to digitalize the pictures without any unwanted marks.
After cleaning, put the slides carefully in the tray and insert the tray back into the scanner. You should then close the scanner lid to activate the device.
Finally, open the scanning software and make adjustments to the color gradings, dpi, and more according to your requirements. Click preview and checkmark the slides you want to scan and wait for a few minutes to have your scanned pictures.
5. How Do You Scan 35mm Film At Home?
To scan a substantial amount of 35mm slides at home on a regular basis, you will need a picture scanner that has a dedicated section for scanning slides. You can also use a smartphone or a camera to scan the 35mm films at home, but they won't give you the finest scanning result.
There are few free apps, such as FilmLab, which will allow you to scan negatives and save them to your mobile in a very short time. Moreover, applications like Kodak Mobile Film Scanner are intended to work with a homemade scanner built with cardboard and a LED backdrop illumination.
Final Word
Analog photography will always remain a favorite of photographers who have seen the 80s and the 90s! The excitement of developing negatives, and finally getting to take a look at the photos after many days of waiting, is incomparable.
If you have age-old analog negatives or slides in your collection, and you are looking forward to relive some old memories, then get yourself a film scanner.
Brands like Epson and Kodak are offering some of the best 35mm film scanners there are in the market. The amazing picture quality will definitely take you and your family on a time travel.
Related posts:
Buy on Walmart
2PX2255 - Plustek OpticFilm 8100 Film Scanner - Walmart Link
Plustek OpticFilm 8200i SE , 35mm Film & Slide Scanner. 7200 dpi / 48-bit Output. - Walmart Link
Plustek OpticFilm 8200i AI - 35mm Film & Slides Scanner. IT 8 Calibration Target + - Walmart Link
Plustek OpticFilm 8200i Ai Film & Slide Scanner Converter + 35mm Mounted Slide Holders - Walmart Link
Epson Perfection V600 Flatbed 8.5x11.7in Photo Scanner (Renewed) - Walmart Link
Epson Perfection V600 Photo Scanner - Walmart Link
Epson Perfection V850 Pro scanner - Walmart Link
1. Epson V370 Document Scanner - Walmart Link
2. KODAK SCANZA Scanner - Walmart Link
3. Epson Perfection V850 Pro scanner - Walmart Link
4. KODAK Mini Scanner - Walmart Link
5. Veho Smartfix Scanner - Walmart Link
6. QPIX Digital Scanner - Walmart Link
8. Epson Perfection V550 Scanner - Walmart Link
10. ZONOZ Film & Slide Scanner - Walmart Link
Buy on eBay
2PX2255 - Plustek OpticFilm 8100 Film Scanner - eBay Link
Plustek OpticFilm 8200i SE , 35mm Film & Slide Scanner. 7200 dpi / 48-bit Output. - eBay Link
Plustek OpticFilm 8200i AI - 35mm Film & Slides Scanner. IT 8 Calibration Target + - eBay Link
Plustek OpticFilm 8200i Ai Film & Slide Scanner Converter + 35mm Mounted Slide Holders - eBay Link
Epson Perfection V600 Flatbed 8.5x11.7in Photo Scanner (Renewed) - eBay Link
Epson Perfection V600 Photo Scanner - eBay Link
Epson Perfection V850 Pro scanner - eBay Link
1. Epson V370 Document Scanner - eBay Link
2. KODAK SCANZA Scanner - eBay Link
3. Epson Perfection V850 Pro scanner - eBay Link
4. KODAK Mini Scanner - eBay Link
5. Veho Smartfix Scanner - eBay Link
6. QPIX Digital Scanner - eBay Link
8. Epson Perfection V550 Scanner - eBay Link
10. ZONOZ Film & Slide Scanner - eBay Link