Are you looking for the best photo booth printer for your work? Well, you are in the right place. Like all devices, you need to do a little research before buying a new product, because devices like these are not something you buy every day.
To most, they are an investment, and if you are buying for work, it definitely is! The market today is beyond saturated with printers that will appeal to you and end up confusing you.
This is where your research comes in. You need to check for certain features, sizes, where and how you will be using it, what you will be using the printer for, and much more.
Our article is a detailed picture of exactly this, where you will find all the information you need to know, alongside a list of printers that we think you will like. To know more and to find your next printer, keep on reading!
Editors' Picks for Top Photo Booth Printer 2021
List of Top 10 Photo Booth Printers
7. DNP Event Photo Printer DS-RX1HS
Comparison Chart for Top 10 Photo Booth Printers
Image
Product
Resolution
Speed
Specialty Feature

Canon Selphy CP1300 Wireless Compact Photo Printer with AirPrint and Mopria Device Printing, Black (2234C001)

Canon SELPHY CP1300
Color256 Levels Per Color

4x6 inch in 47 Seconds

3.2-inch Tilt-up Touch LCD

Canon SELPHY CP910 Compact Photo Color Printer, Wireless, Portable (Black) (Discontinued By Manufacturer)

Canon SELPHY CP910
300x300

4x6 inch in 47 Seconds

Red-eye correction

Epson PictureMate PM-400 Wireless Compact Color Photo Printer

Epson PictureMate PM-400
5760 x 1440

4x6 inch borderless photo in 36 sec

2.7-inch color display



Kodak Mini 2 HD Wireless Portable Mobile Instant Photo Printer, Print Social Media Photos, Premium Quality Full Color Prints – Compatible w/iOS & Android Devices (White)

Kodak Mini 2
N/A

80 seconds per print

All in one cartridge

Brother VC-500W Versatile Compact Color Label and Photo Printer with Wireless Networking, White, 3.8" x 4.4" x 4.6" (VC500W)

Brother VC-500W
313

0.3 ips (standard), 0.15 ips (vivid)

ZINK Zero Ink technology

Fujifilm Instax Share SP-2 Mobile Printer (Gold)

Fujifilm INSTAX SHARE SP-2
320

10 second prints

256 levels per color (RGB)
Rechargeable battery

DNP Event Photo Printer DS-RX1HS 6" Dye Sublimation, for Booth Portrait Printing, 290 4x6"Prints Per Hour

DNP Event Photo Printer DS-RX1HS
300x600

4x6 inch prints in 12.4 seconds

Prints in matte and glossy

DNP DS-RX1HS Compact Event Photo Booth Portrait Printer Bundle with DNP Print Media 4x6-inch, 2 Rolls + Slinger Padded Printer Carrying Case + DNP 3 Year Extended Warranty

DNP RX1
300x600

290 4x6 inch prints per hour

Prints in matte and glossy



Primera Impressa IP60 Photo Printer for Photo Booths, Events & Professional Photographers (81001)

Primera Impressa IP60
Primera Impressa IP60

4x6 inch photos in 7-8 seconds

Panoramic prints

Mitsubishi CP-K60DW-S Eco-Value Dye-Sub Photo Printer

Mitsubishi CP-K60DW-S
300

N/A

Front loading design
Best Photo Booth Printer Reviews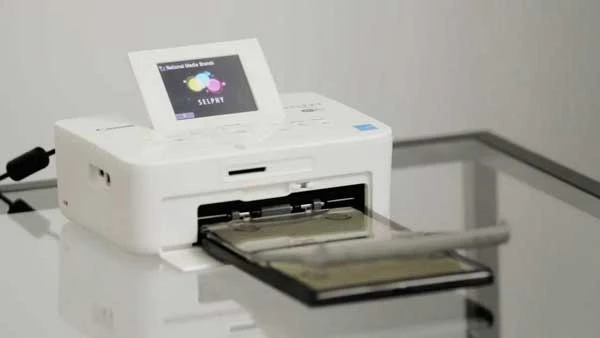 1. Canon SELPHY CP1300
Suitable for personal use or small party kiosks, the Canon SELPHY CP1300 is a great choice for a photo booth thanks to its size and quality of prints.
Given the convenient size, you can throw this in your purse and head out to a party to have your pictures instantly. Even though it is small and portable, it gives you exceptional prints that last up to 100 years and are water-resistant too!
So you can print out photos instantly and cherish them forever, not to mention pass them down generations thanks to its longevity. Another factor that makes this party-friendly is connectivity.
You can connect it to any smartphone or tablet, or insert your cameras memory card to print photos from there instead. Of course, you also get the USB cable just in case.
Next, you have the battery which gives it life while you print. So you don't have to worry about plugging it in, or running out of power while outside. The printer also features a tilt screen that lets you view and edit your photos prior to printing.
A great tool for when you need to make minor adjustments to your photos, which let us face it, is most of the time.

Highlighted Features
Photos last for 100 years
Prints are water-resistant
3.2-inch Tilt-up Touch LCD for viewing
Party shuffle features allows multiple users
Can print borderless photos
2. Canon SELPHY CP910 - Best Photo Printer for Photo Booth
If you want a professional printer for a photo booth that can print all day, take a look at the Canon SELPHY CP910. We want to start off by talking about its print quality.
For photo booths, you might think the quality is not as visible in the small sizes. But once you take a print in proper lighting you will be able to see every little defect.
You surely don't want that! This printer features dye-sublimation technology that makes use of heat to transfer the color onto the paper. It allows you to experience 16.8 million color reproductions to experience truly brilliant prints.
So even though they are small, you can see every minute detail, and experience every little color gradation and hue. The printer also features facial detection and can correct for lighting automatically for times when your backlighting wasn't quite great. Along with removing red eyes if there are any, before printing your photos.
Photos are printed borderless, so you get more from your prints and can enjoy them better.
Not just that, the photos are also waterproof, which gives them a very long life of up to 100 years.

Highlighted Features
Can print borderless photos
Photos printed are water-resistant
Prints can last up to 100 years
Comes with red-eye correction
Access Point Mode allows for wireless connection
3. Epson PictureMate PM-400 - Best Printer for Photo Booth Business
Printers can vary a lot depending on where you are using them. The prior two models are suitable for personal or small booth uses. However, this is an optimal choice for a business where you need quality prints in good time with a machine that can perform.
The PictureMate PM-400 by Epson is one of Epson's finest creations in terms of printers. First of all, it supports sizes of not just 4x6 inches, but also 5x7 inches for your photos, giving you more options.
On top of that prints are borderless, so you see a better outcome on a larger scale altogether. The compact size and design makes this easy to place absolutely anywhere, and great for moving booths where space and mobility are crucial.
Speed is an important factor for businesses. You need to print out fast so you do not have to turn away customers. With this, you can print out 4x6 inch sized photos in as little as 36 seconds.
But that is not all. Besides convenience and speed, the quality is just as amazing. Photos printed can last up to 200 years on this, allowing you to enjoy your prints as well as pass them down generations.
Prints do not fade, is scratch and water-resistant too making them as durable as it can be. Lastly,you get a 2.7-inch color display in case you want to preview or edit your photos before printing them out, along with a memory card slot as well.

Highlighted features
Can print borderless photos
Prints 4x6 inch photos in 36 seconds
Prints last up to 200 years
Photos printed are water and fade resistant
4. Kodak Portable Mobile Mini 2- Cheap Photo Booth Printer
A fine choice for personal or party use, the Kodak Mini 2 is a photo booth printer on the affordable side. Suitable for party booths where you need something to give you instant results, this mini printer is truly small in size.
But do not be fooled by merely that, because it surely gives you good prints! Photos are waterproof and fadeproof, so you can keep these wallet sized prints in your wallet without worry.
Thanks to the 4Pass Printing Technology, your prints quite literally stay with you forever due to the laminated layer which keeps it intact and prevents bleeding.
If you are worried about its power, it comes with a simple rechargeable battery that can be charged with any USB cable. So even if you are running out of power, a quick charge should get you through it without trouble when outdoors.
Last of all the printer gives you access to the Kodak Photo App, with which you can make edits, put in stickers and comments to add more life to your prints, and make it a fun activity.

Highlighted features
Compact size for printing on the go
Has an overcoat layer for long lasting photos
All in one cartridge makes use easy
Ha a rechargeable battery with USB for outdoors
Kodak Photo App allows for edits before print
5. Brother VC-500W- Best Printer For DIY Photo Booth
For all DIY lovers out there, this VC-500W from Brother is a must have! It will bring all your DIY dreams to life thanks to the numerous editing features on this. Be prepared to have every little box in your home labeled.
First of all, this does not use ink, but has the ZINK Zero Ink Technology instead that gives you rich and vivid colors on the print. The paper has every color needed for quality prints, so you don't have to worry about running out of ink.
This is great to have around if you have kids at home, who can get use out of this for their school projects too. The main idea behind this is to be able to create anything you want and have it printed instantly.
From stickers and photos for a scrapbook, to wrapping papers and notes on presents to labels and tables for organization. And the FREE Color Label Editor app really helps with all its fonts, frames, and backgrounds which let you customize your work.

Highlighted Features
ZINK Zero Ink Technology makes use easy
Allows for multiple edits before print
Can print stickers and labels
Prints are water and tear resistant
How to Choose The Right Photo Booth Printer
Type
The very first thing you need to see before buying the best printer for photo booth is the type of printer. For this purpose specifically, you should look to dye-sublimation printers.
While laser and inkjet are great, for photo booths specifically we recommend this for the qualities it provides. It can print fast, which is a big requirement for instant photos.
They usually come with a large capacity so you do not have to change papers frequently between customers which can be a nuisance. Prints from a dye sublimation printer are instantly dry, which lets you hand it over to your customers instantly.
And lastly, they are easier to maintain and clean, which is plus for a machine you have to work with all day.
Speed
Speed is a very important factor because we expect you are looking for a printer for work. At times like these when you have customers lined up, speed can make or break your profit.
Even if you provide good quality, people expect quick and efficient prints from photo booths. So look for the highest speed before buying a printer. It will be provided in the specifications section of the product.
Speed is measured in different ways for different products, but the most common one you will find is the pages per minute (ppm). If not, simply look at the time it takes to print a certain size.
Print Size
If you want a printer for a photo booth you need to know what sizes of prints you will be doing. Since this is a commercial use, there will be sizes mentioned or needed, and you have to make sure your printer supports them.
While some photo booths only give out small postcard sized photos, others come with a variety of options, and some are put up temporarily for events. Check the sizes compatible before buying your printer.
Besides print size, the media supported is also important for different places require different sorts of papers and finishes. Be it matte or glossy, check to see how many types of paper a printer can support.
Resolution
For photo booth printers, most come with a decent resolution since they print in smaller sizes.
Nonetheless, you do not want to end up with a bad print for work, so make sure to see you get a high resolution. You will find it as dots per inch or dpi in the product specifications.
Frequently Asked Questions
1. What Printer Produces The Highest Quality Photos?
A printer with innovative printing technology, quality ink, and high resolution produces the highest quality photos. In terms of the type of the printer, both inkjet and laser printers offer a color print with maximum vibrance and sharpness. However, the laser printer doesn't use liquid ink for printing which makes the printer photos highly durable.
2. What Equipment Is Needed For A Photo Booth?
For a photo booth, you won't need any high-end and sophisticated equipment. The first and the most important item is the camera; a DSLR camera with a basic lens will do the job. You will also need a tripod to set the camera at the right level to take perfect pictures. Finally, you will have to purchase a high-quality printer and a laptop for editing and printing out the pictures.
3. Where Can I Buy A Photo Printer Machine?
You can purchase a photo printer from both online and offline stores. If you don't want to go through the hassle of driving to the store and picking the printer by yourself, then you should buy one from an online store.
There are hundreds of online marketplaces all over the US that will deliver the product right to your doorstep within a couple of days. Among them, Amazon is one of the finest. With Amazon Prime, you can get your purchased printer in just two days.
Final Words
While photo booth printers are mostly bought by professionals who work in a booth, some of the products here can be used at home as well given their convenience.
The best photo booth printers will always be the one that meets your needs! And to find the right one for your work, this article will prove to be a good guide.
From the required features to product highlights to their comparisons with other market competitors, our article covers all that you need to know before buying your booth printer.
We hope you find this informative and can enjoy quick and easy printing wherever you are!
Related posts:
Buy on Walmart
Canon SELPHY CP1300 Wireless Compact Photo Printer - Walmart Link
Epson PictureMate PM-400 Wireless Compact Color Photo Printer - Walmart Link
Primera Impressa IP60 Photo Printer for Photo Booths, Events & Professional Photographers - Walmart Link
Epson PictureMate Personal Photo Printer - Walmart Link
Mitsubishi CP-K60DW-S Eco-Value Dye-Sub Photo Printer - Walmart Link
DNP Event Photo Printer DS-RX1HS 6" Dye Sublimation, for Booth Portrait Printing, 290 - Walmart Link
Sinfonia Color Stream CS2 Photo Printer - with 3 Year Warranty Included! - Walmart Link
HiTi P720L Photo Printer, 300x300dpi Resolution, inRenewedin - Walmart Link
Fujifilm Ask 300 Quick Print Station Dye-Sublimation Digital Printer System 4 x 6 Dye-Sub - Walmart Link
Epson Stylus Pro 3880 Color Inkjet Printer (CA61201-VM) - Walmart Link
1. Canon SELPHY CP1300 - Walmart Link
2. Canon SELPHY CP910 - Walmart Link
3. Epson PictureMate PM-400 - Walmart Link
4. Kodak Mini 2 - Walmart Link
6. Fujifilm INSTAX SHARE SP-2 - Walmart Link
7. DNP Event Photo Printer DS-RX1HS - Walmart Link
9. Primera Impressa IP60 - Walmart Link
Buy on eBay
Canon SELPHY CP1300 Wireless Compact Photo Printer - eBay Link
Epson PictureMate PM-400 Wireless Compact Color Photo Printer - eBay Link
Primera Impressa IP60 Photo Printer for Photo Booths, Events & Professional Photographers - eBay Link
Epson PictureMate Personal Photo Printer - eBay Link
Mitsubishi CP-K60DW-S Eco-Value Dye-Sub Photo Printer - eBay Link
DNP Event Photo Printer DS-RX1HS 6" Dye Sublimation, for Booth Portrait Printing, 290 - eBay Link
Sinfonia Color Stream CS2 Photo Printer - with 3 Year Warranty Included! - eBay Link
HiTi P720L Photo Printer, 300x300dpi Resolution, inRenewedin - eBay Link
Fujifilm Ask 300 Quick Print Station Dye-Sublimation Digital Printer System 4 x 6 Dye-Sub - eBay Link
Epson Stylus Pro 3880 Color Inkjet Printer (CA61201-VM) - eBay Link
1. Canon SELPHY CP1300 - eBay Link
2. Canon SELPHY CP910 - eBay Link
3. Epson PictureMate PM-400 - eBay Link
4. Kodak Mini 2 - eBay Link
6. Fujifilm INSTAX SHARE SP-2 - eBay Link
7. DNP Event Photo Printer DS-RX1HS - eBay Link
9. Primera Impressa IP60 - eBay Link