In certain professions, you need to make a lot of prints. These include architects, contractors, artists, engineers, people in marketing, and many more. Unlike most, their work requires the prints to be of top-notch quality.
With lots of graphics, minute details, different sizes, and different media, printing is a whole different game for them. This is where Pigment Ink printers come in.
Prints from these last for long times, while coming out looking bold and vibrant, and visibly different from your regular office prints. Now whether or not you belong to any of these professions, we can tell that the quality on a pigment ink printer will impress you nonetheless.
So if you want to buy the best pigment ink printer out there, take a look at our collection here. Some of the top market products, highlights, comparisons, and more will help you find the right one for you and your work.
Editors' Picks: Top Pigment Ink Printer 2021
List of Top 10 Pigment Ink Printers
1. Canon Office and Business MX922
7. Canon PIXMA Color Printer MG5520
Comparison Chart for Top 10 Pigment Ink Printers
| Image | Name | Resolution (dpi) | Speed | Specialty Feature |
| --- | --- | --- | --- | --- |
| | Canon Office and Business MX922 | 9600 x 2400 | 15 ipm (black), 10 ipm (color) | 35 sheet auto document feeder |
| | Epson Stylus C88+ | 5760 x 1440 | 23 ppm (black), 14 ppm (color) | Smudge resistant photos |
| | Canon Pixma iX6820 | 9600 x 2400 | 14.5 ipm (black), 10.4 ipm (color) | 150 sheet auto document feeder |
| | Epson Expression XP-15000 | 5760 x 1440 | 9.2 ppm (black), 9.0 ISO (color) | 50 sheet rear tray |
| | Canon IP8720 | 9600x2400 | 14.5 ipm (black), 10.4 ipm (color) | 6 individual ink tank |
| | Epson SureColor P600 | 5760 x 1440 | 6 ppm | 25.9 ml ink cartridges. |
| | Canon PIXMA Color Printer MG5520 | 4800 x 1200 | 12.2 ipm (black), 8.7 ipm (color) | 2.5-inch LCD screen |
| | Canon PIXMA PRO-10 | 4800 | 8.0x10.0 inch in 3.5 minutes | 10-ink pigment-based system |
| | Epson SureColor P400 | 5760 x 1440 | 8 x 10 inch 1.13 minutes | 14ml ink cartridges. |
| | Epson Stylus Photo R2000 | 5760 x 1440 | 5 x 7 inch in 0.7 minutes | 120 sheet feeder |
Top 5 Best Pigment Ink Printer reviews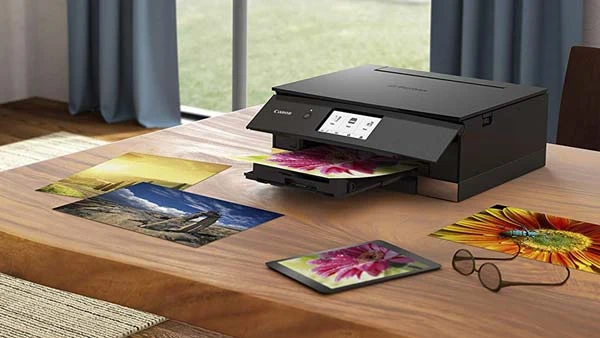 1. Canon Office and Business MX922- Best Pigment Inkjet Printer
If you want to buy an Inkjet pigment ink printer, check out the MX922 from Canon. Made specifically for offices and businesses, this is a perfect fit for professional settings.
We would like to talk about the print quality first, and we shall start with the resolution. You get a high dpi of 9600 x 2400 which lets you print excellent quality photos.
What makes this even better is the 6 individual ink system. First of all you get a higher range of colors to provide a better photo printing experience. You get to see hues and gradients like you don't normally do thanks to the extra colors.
And because of the individual system, you can easily replace only the color you run out of. Working in an office, there will be certain colors that need quick replacing, and with this you can bring your costs down.
The exterior on this is also very stylish and compact, so you can place it on your desk and it wouldn't look like an eyesore. This also makes the MX922 a suitable option for your home office where you are short on space.
Last of all you get a variety of connectivity options to further improve ease of use. You have the Wireless LAN, Mobile printing, Google Cloud Print, AirPrint, and of course the USB 2.0.

Highlighted Features
Features an expandable output tray
Features various connectivity options
Comes with a 35 sheet Auto Document Feeder
Has built-in auto duplex printing
Comes with 6 individual ink system


2. Epson Stylus C88+- Best Epson Printer for Pigment Ink
Epson is one of those brands that we always look to when thinking about printers. Similarly we have a few models here as well. If you want an Inkjet pigment ink printer from Epson, you can check this out.
A highly productive and efficient printer, the Stylus C88+ comes with features that work to make your job quick and easy. Quality-wise, you get a resolution of 5760 x 1440 dpi, which can provide you with superb print quality thanks to the high-density color payoff that you get.
Alongside, you also get ultra-fine ink droplets that add to the precision of the print. For professions like engineering and architecture, this can prove to be useful.
The DURABrite Ultra Pigment Ink feature lets you print on both glossy as well as plain surfaces, and makes your prints smudge-free. This can be helpful when you are creating marketing posters.
We must mention the individual ink cartridges. This is a must-have feature today as we use more and more color.
Replacing the entire thing when just one color runs out can be very frustrating and expensive. This unique system makes sure you don't have to do that anymore.

Highlighted Features
Has a high resolution of 5760 x 1440 dpi
Features border free photo printing
Includes photo editing software
Prints smudge-resistant photos and documents


3. Canon Pixma iX6820- Best Pigment Ink Printer For Heat Transfer
The Pixma iX6820 from Canon is a fine choice of printer if you are looking for a wireless printer for your work. We say this is highly suitable for businesses because of the amount of features that it packs.
It can print pretty much anything you want, from your daily mailers to all your spreadsheets and even the occasional photos, and all at superb qualities. The 9600x2400 dpi resolution is one of the finest ones in the market, and with this you can be sure to have vibrant and detailed prints for everything.
Next you have the five individual ink tank system which makes cartridge replacements super easy. Working in an office we all know some colors run out first, and now you can replace just that.
Being wireless, this is easy to place in various places, and can connect to various devices as well due to its high connectivity. You have the Google cloud print, AirPrint, Ethernet, Built-in wireless, and USB 2.0.

Highlighted Features
Has a high resolution of 9600 x 2400 dpi
Features Fine print head technology
Comes with 5 individual ink tank system
Has a 150 sheet auto feeder


4. Epson Expression XP-15000- Best A3 Pigment Ink Printer
When looking for an A3 pigment ink printer, the Epson Expression XP-15000 proves to be a good choice.
This is an optimal choice for those who want to print a lot of photos, because the specs on this allow you to achieve incredible print results. You get an Ultra HD photo quality with Individual 6-color Claria Photo HD that includes gray and red inks.
These new additions let you see better color payoffs from your print, especially when there is a lot of gradients and shading involved. Besides increasing the color gamut, this also enhances your prints in monochrome so you see the deepest blacks and clearest whites.
Other factors that make using this a breeze include duplex printing where you can have both sides of a page printed at once. Next the LCD screen which makes navigation simpler as you get a visual, rather than having just buttons.
Wireless connectivity on this comes with many options too where you can print from your mobile phone, tablet, or PC on both Windows and Mac OS. You can work from virtually anywhere and yet have your prints ready for you.
Lastly, just because this is fit for your office does not mean it is boring, as the 50 sheet rear tray supports a wide range of media and paper finishes, that too of various sizes.

Highlighted Features
Accommodates numerous paper finishes
Comes with auto duplex printing
Features a 200 front sheet tray
Individual 6-color Claria Photo HD Inks


5. Canon IP8720- Best Pigment Photo Printer
Another printer from Canon that is suitable for you if you wish to print photos at top-notch qualities while having a very compact yet versatile printer.
Just right for photo printing, the IP8720 can print borderless photos up to 13x19 inches, which lets you showcase your favorite photos on a large scale. You also get the 6 individual ink tank system which includes the color gray.
Now you can print all those black and white photos and they will come out looking fine. The gray helps to enhance the prints, while you see deep blacks and clear whites, providing dimension to your photos.
Of course the resolution is just as good to support this at 9600x2400 dpi, so no matter what color you are printing, they will comes out bright and vibrant. Next you have the FINE technology, using which the ink droplets can go as small as 1pl.
This is a requirement if you are an architect and need extra precise diagram prints. Lastly, connectivity is a big factor we need to consider, and the IP8720 features a handful here as well.
You have a built-in wireless, Google Cloud Print, AirPrint, Wireless PictBridge, mobile printing and a USB 2.0

Highlighted Features
Has a high resolution of 9600 x 2400 dpi
Has a high compatibility with Windows and Mac OS
Features a Six Individual Ink Tank System
Comes with ChromaLife100+


What are the advantages of pigment ink printers?
Pigment ink printers make it possible to print in almost any color, they can be used to create a variety of materials from labels and portfolios to signs and posters. Also, the use of this type of printer is not limited to a single industry. It's available for commercial use as well as home and personal use, meaning it's perfect at home, offices and public spaces.
Advantages of pigment ink printers:
1. Durability:
Pigment ink printers create items that are highly durable and long lasting. Their longevity is due to the fact that the inks are water-resistant and solvent-proof. They won't fade in direct sunlight over time or when exposed to extreme temperatures, and they're weather resistant, so they'll stand up to outdoor conditions. The colors also won't run, so this type of printer is perfect for creating signs or posters that will stay looking fresh for years to come without fading or cracking.
2. Various Purpose:
These printers are used for a variety of purposes. Since they can print in many different colors, as well as print on a large variety of materials, this type of printer is used to create everything from labels and portfolios to signs and posters for outdoor use. Use them to create your own custom water bottles or promotional products with your logo or message on it. These items will appeal to members of the public on a personal level, giving them a chance to interact with your company even when you're not present.
3. High Quality Output:
With this type of printers, high quality and colorful prints are assured. The reason they're able to produce such clear images is due to the pigmented inks. These inks are lighter than the typical ink used by other printers and they make it possible to produce high-quality images with great detail. You will no longer need to sacrifice print quality if you don't have the budget for higher priced printers.
4. Perfect for Manufacturing:
Pigment ink printers are perfect for manufacturing. Unlike laser printers, they can turn out items quickly and efficiently, giving you a chance to get items printed before your competitors. Also, since pigment ink printers can create a wide variety of materials, they're ideal for creating signs, posters and decals for outdoor use or for commercial use as advertisements on business cards.
5. Inexpensive:
With this type of printer, you don't need to spend a fortune to get high quality products. On top of that, the cost will be spread out over a long period of time, which makes it possible to afford in the long run and still generate enough revenue to cover your costs quickly.
How to Choose the Right Pigment Ink Printer
Resolution
As with all printers, resolution is one of the first things we notice. The best printer for pigment ink will undoubtedly come bearing the finest resolution.
With a high resolution your prints will be denser, they will pack more color and will be more precise when it comes to those detailed diagrams.
You can check the resolution using the dots per inch (dpi) specification that comes in the product descriptions. The higher your dpi is, the better resolution you get.
Ink Cartridges
Your regular office printers normally come with 4 color cartridges. You will find them as the CMYK cartridge. But for your special purposes this might not always cut it.
If you have pictures with lots of unique shades, colors, and hues you need a wider gamut. In other words, you need more colors for better results.
Your options include a 6, 8, 10, or a 12 cartridge. The price will go up as you include more. We recommend you get the highest your budget lets you, so you can achieve the most vibrant prints.
Speed
Since these printers are mainly used for photos, they will naturally take longer to print than document printing. Not to mention if this is for work purposes, a slow printer can cost your business.
If your output slows down, your orders will start to drop. However you must also ensure that opting for a high speed does not compromise in the quality.
This used to be a case before, but better models today pack all the features in one, both speed and quality. Nonetheless you should still compare before buying.
Connectivity
Most printers today sport a whole range of connectivity options for your ease. It is your job to find out the ones you require the most, and to make sure your desired printer has all of them.
The very basics include a USB port, Wi-Fi, and Ethernet, but modern printers have many more as well like Bluetooth, AirPrint, Cloud print etc.
Additional Features
Besides simply printing out, a lot of printers come with funky features today that let you do more.
This includes organizing your photos, editing them, storing them in the cloud, printing borderless, direct prints from social media and so much more.
Even though this is not a primary requirement, it wouldn't hurt to have a few extra features to make your work fun every once in a while.
Frequently Asked Questions
1. What Printers Use Pigment Based Ink?
Pigment-based inks are a popular choice among many people because they deliver excellent-quality printouts, prevent fading for years, and resist water and UV light. Such inks are ideal for printing photos to be displayed in a gallery.
Some of the printers that use pigment-based inks are Epson SureColor P600, Canon Pixma MX922, and Canon IP8720.
2. Which Epson Printers Use Pigment Ink?
You will find a lot of Epson printers using pigment ink to give you the convenience of printing top-quality photos that last for a long time. Some of the notable printers that are bound to give you such output are-
3. Can Brother Printers Work With Pigment Ink?
You will find most Brother printers are dye-based, while a few models that use the Innobella ink cartridges are pigment-based. Whichever model you choose, you need to ensure you buy the type of ink it supports, otherwise, clogging will happen.
Another factor worth noting, if you use one brand's pigment inks on another brand's printer, it might result in permanent damage. That's because different pigment inks have different particle sizes that are suited to the printhead nozzle of their respective printer.
Final Word
We know these are not the cheapest or the most affordable. But then again they are not for students, but are made for special work purposes where customers are mostly professionals who simply want superior results.
The steep prices come for the quality that you get-denser and more vivid prints that bring pictures to life.
That being said, our collection here consists of some of the best pigment ink printers in the market today. From this list, you might just find one comparatively cheaper for your home as well!
Related posts:
Buy on Walmart
Canon Office and Business MX922 All-In-One Printer, Wireless and mobile printing - Walmart Link
Epson Stylus C88+ Inkjet Printer Color 5760 x 1440 dpi Print Plain Paper Print Desktop - Walmart Link
Canon Pixma iX6820 Wireless Business Printer with AirPrint and Cloud Compatible, Black, - Walmart Link
WorkForce WF-7710 Wireless Wide-format Color Inkjet Printer with Copy, Scan, Fax, Wi-Fi - Walmart Link
Canon IP8720 Wireless Printer, AirPrint and Cloud Compatible, Black, 6.3" x 23.3" x 13.1" - Walmart Link
Epson Expression Photo HD XP-15000 Wireless Color Wide-Format Printer, Amazon Dash - Walmart Link
Canon PIXMA Color Printer MG5520 (Discontinued by Manufacturer) - Walmart Link
1. Canon Office and Business MX922 - Walmart Link
2. Epson Stylus C88+ - Walmart Link
3. Canon Pixma iX6820 - Walmart Link
4. Epson Expression XP-15000 - Walmart Link
6. Epson SureColor P600 - Walmart Link
7. Canon PIXMA Color Printer MG5520 - Walmart Link
8. Canon PIXMA PRO-10 - Walmart Link
9. Epson SureColor P400 - Walmart Link
10. Epson Stylus Photo R2000 - Walmart Link
Epson Expression Photo HD XP-15000 - Walmart Link
Buy on eBay
Canon Office and Business MX922 All-In-One Printer, Wireless and mobile printing - eBay Link
Epson Stylus C88+ Inkjet Printer Color 5760 x 1440 dpi Print Plain Paper Print Desktop - eBay Link
Canon Pixma iX6820 Wireless Business Printer with AirPrint and Cloud Compatible, Black, - eBay Link
WorkForce WF-7710 Wireless Wide-format Color Inkjet Printer with Copy, Scan, Fax, Wi-Fi - eBay Link
Canon IP8720 Wireless Printer, AirPrint and Cloud Compatible, Black, 6.3" x 23.3" x 13.1" - eBay Link
Epson Expression Photo HD XP-15000 Wireless Color Wide-Format Printer, Amazon Dash - eBay Link
Canon PIXMA Color Printer MG5520 (Discontinued by Manufacturer) - eBay Link
1. Canon Office and Business MX922 - eBay Link
2. Epson Stylus C88+ - eBay Link
3. Canon Pixma iX6820 - eBay Link
4. Epson Expression XP-15000 - eBay Link
6. Epson SureColor P600 - eBay Link
7. Canon PIXMA Color Printer MG5520 - eBay Link
8. Canon PIXMA PRO-10 - eBay Link
9. Epson SureColor P400 - eBay Link
10. Epson Stylus Photo R2000 - eBay Link
Epson Expression Photo HD XP-15000 - eBay Link