A lot of adults over 40 years of age are likely to recall their families owning picture slides. This was a normal occurrence in many households to turn all of their pictures to slides. They were then viewed together with the family, or were used to present their pictures of a wonderful holiday to relatives and friends.

Slide projectors are devices designed to visualize such slides. These days, the best slide projectors have majorly allowed digital images to be shown on a television or a computer screen.
Nevertheless, many households with very old slides would prefer to either carry on having a way to view them, or even transform them into digital photos.
Fortunately, slide projectors are still around today, available as both conventional optical viewers as well as digital versions that can transform your old slides into digital files.
Whatever model you choose, they ensure that your old slides keep living on, preserving the memories you've captured in the past. And if you're looking to buy one, you're in good hands as we are just about to aid you in making that perfect purchase.
Editors' Picks: Top Slide Projectors 2021
List of Top Slide Projectors
2.LED Lighted Illuminated (by Rybozen)
4.Porta Slide Illuminated Slide Viewer
5.Porta Slide PS-E2 Illuminated Slide Viewer
6.Vivitar 3000AF Carousel Slide Projector
Comparison Chart For Top 10 Slide Projectors
Image
Name
Features

KODAK 35mm Slide and Film Viewer - Battery Operation, 3X Magnification, LED Lighted Viewing - for 35mm Slides & Film Negatives

KODAK

Supported Media Types: 35mm slides; film negatives
Screen Size: 3 x 3 inches
Size: 5 x 3 x 6 inches
Weight: 14.1 ounces

LED Lighted Illuminated 35mm Slide Viewer(2AA Batteries Included)

LED Lighted Illuminated (by Rybozen)

Supported Media Types: 35mm slides
Screen Size: 2 x 2 3/8 inches
Size: 5 x 3 x 3.2 inches
Weight: 7.2 ounces

Rybozen 35mm Slide Viewer, 3X Magnification and Desk Top LED Lighted Illuminated Viewing and Battery Operation-for 35mm Slides & Positive Film Negatives(4AA Batteries Included)

Rybozen

Supported Media Types: 2 x 2 inches mounted slides; 35mm film strips; negatives
Screen Size: N/A
Size: 9 x 6.6 x 4.5 inches
Weight: 1.2 pounds

Porta Slide Illuminated Slide Viewer Battery Operated & Pressure Activated LED Transparency Viewer for 2x2 & 35mm Photographs, Film, Pictures Tabletop & Handheld Portable Device w/Cleaning Cloth 2AA Batteries Included

Porta Slide Illuminated Slide Viewer

Supported Media Types: 2 x 2 inches; 35mm photographs; film
Screen Size: 5 inches
Size: 2 x 3.78 x 3.19 inches
Weight: 8.6 ounces

Porta Slide PS-E2 Illuminated Slide Viewer, Battery-Operated Hand Held Slide Viewer, Portable Slide Viewer, Picture Slide Viewer for 2X2 & 35mm Photos & Film, Photo Slide Viewer, Made in Europe

Porta Slide PS-E2 Illuminated Slide Viewer

Supported Media Types: 35mm; 2 x 2 inches slides; film strips; negatives
Screen Size: 5 x 2 inches
Size: N/A
Weight: 5.9 ounces

Vivitar 3000AF Carousel Slide Projector

Vivitar 3000AF Carousel Slide Projector

Supported Media Types: 35 mm slides
Screen Size: N/A
Size: 16 x 16 x 16 inches
Weight: 12 pounds

KODAK SCANZA Digital Film & Slide Scanner - Converts 35mm, 126, 110, Super 8 & 8mm Film Negatives & Slides to JPEG - Includes Large Tilt-Up 3.5" LCD, Easy-Load Film Inserts, Adapters & More

KODAK SCANZA

Supported Media Types: 35mm, 110, 126, Super 8, 8mm film negatives, slides
Screen Size: 5 inches
Size: 12 x 4.72 x 4.53 inches
Weight: 1.03 pounds

KODAK Mini Digital Film & Slide Scanner - Converts 35mm, 126, 110, Super 8 & 8mm Film Negatives & Slides to 22 Megapixel JPEG Images - Includes - 2.4 LCD Screen - Easy Load Film Adapters

KODAK Mini

Supported Media Types: 35mm, 110, 126, Super 8, 8mm film negatives, slides
Screen Size: 4 inches
Size: 6 x 3.4 x 3.9 inches
Weight: 8.8 ounces

KODAK Slide N SCAN Film and Slide Scanner with Large 5" LCD Screen, Convert Color & B&W Negatives & Slides 35mm, 126, 110 Film Negatives & Slides to High Resolution 22MP JPEG Digital Photos

KODAK Slide N SCAN

Supported Media Types: 35mm, 110, 126 slides; film negatives (color and B/W)
Screen Size: 5 inches
Size: 27 x 5.35 x 3.74 inches
Weight: 1.6 pounds

Kodak BC4404 Carousel 4400 Projector

Kodak BC4404 Carousel 4400

Supported Media Types: 35mm slides
Screen Size:
Size: 11 x 5 x 13 inches
Weight: 14.75 pounds
Best Slide Projectors Reviews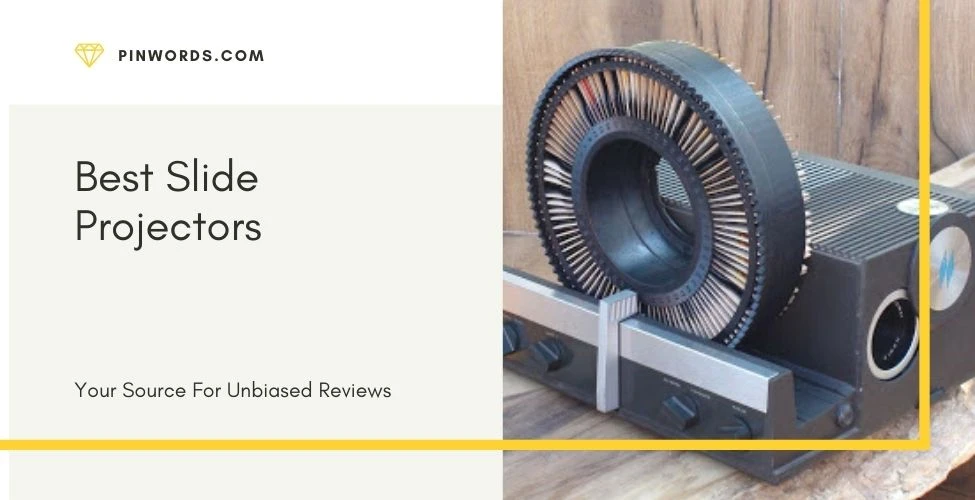 1. KODAK 35mm Slide and Film Viewer
Equipped with a 3 x 3 inches viewing screen, this device comes with the ability to handle 35mm slides and film negatives with ease. You can conveniently take a peek at your past as you walk down your precious memory lane.
Its lens can magnify your inputs up to three times without blurring, distorting, or damaging any detail. You can use this device both via separate DC cables or two AA batteries for more portability. It is super lightweight weighing only 14.1 ounces and is compact in design too with dimensions of 6.5 x 3 x 6 inches.
The device is highly effortless to use for children, adults, and seniors alike as all you have to do is load the slides into the slot to relive your memories. A quick-eject button will conveniently allow you to remove the current slide for you to insert the next one.
It contains four 6000K vibrant daylight Natural White LED bulbs that delicately illuminate pictures for enhanced clearness and sharpness. This model is ideal for viewing images whenever and wherever you want; even on-the-go.
The screen is configured at an upward angled position, making it comfortable to view your slides without straining your neck. It is also incredibly hassle-free to maintain as cleaning it with a soft fabric is sufficient.

Highlighted Features
Can be powered both by additional DC cable or two AA batteries
Easy to use and maintain
Natural lighting to illuminate images
Can magnify inputs up to three times without affecting quality
2. LED Lighted Illuminated 35mm Slide Viewer (By Rybozen)
This extremely light device of only 7.2 ounces is highly portable along with its compact size of only 4.5 x 3 x 3.2 inches. It also has a decent size screen of 2 x 2 3/8 inches to enable you to view your 35mm slides comfortably.
It is not only easy to maintain but is not at all stressful to maintain. You can easily clean it with soft fabric. This model is powered by 2 AA batteries which you can keep removed when not in use for prolonged periods. Its battery operation furthers aids in its portability along with it being lightweight a compact.
The device has a decent viewing screen and comes with a lamp to illuminate your images and a slide tray for easy input of slides. The magnifying lens can deliver you enlarged images without ruining the quality. This could become your ideal slide projector even on-the-go while you travel at a highly affordable price

Highlighted Features
Highly compact and lightweight
Powered by two AA batteries
Easy to use and maintain
Ideal for 35mm slides
3. Rybozen 35mm Slide Viewer
Another creation of Rybozen that can support 2 x 2 inches mounted slides, 35mm film strips, and negatives. It weighs only 1.2 pounds and has dimensions of 7.9 x 6.6 x 4.5 inches to facilitate portability.
It is equipped with Bright Daylight LED Illumination to deliver you pictures in highly bright and crisp visuals. This desktop portable gadget is user-friendly to use with an easy slide tray and slide-eject control. You can also effortlessly view rolls of negative/positive films.
This device can magnify your input media up to 3 times. The magnifications will not hamper your image quality in any way. It also offers you to opt for either a 6V DC 500mA adapter or four AA batteries as per your convenience. For those of you looking to cherish your long-forgotten memories, this model could be it.

Highlighted Features
Allows to view negative/positive film rolls
Support connectivity both by DC adapter or 4 AA batteries
Portable
Contains a slide tray for input and slide-eject button for convenience
4. Porta Slide Illuminated Slide Viewer
Ideal for both desktop and handheld usage, this model weighs an unbelievable 8.6 ounces and has dimensions of 5.2 x 3.78 x 3.19 inches. Thus, it can travel with you wherever you go and take you on trips to memory lane as it is powered by 2 AA batteries.
This model can magnify your slides up to two times. Its illumination via LED lights will enable you to view stunningly detailed images. This model involved no hassle of pressing numerous buttons as it is pressure activated. Just insert the slide and you would be good to go. Hence, it's a piece of cake to use even for children.
It has an original and durable glass lens of premium quality to deliver you the most crystal clear outputs. The product also included micro-fiber fabric for cleaning the lens.
This product can support media of 2 x 2 inches, 35mm photographs, and films. It also has a wide viewing screen of 3.5 inches to provide you a clear and comfortable viewing experience.

Highlighted Features
Pressure-activated slide slot thus no buttons required
Only weighs 5.9 ounces
Large viewing screen of 3.5 inches
High-quality and durable original glass lens
5. Porta Slide PS-E2 Illuminated Slide Viewer
A more lightweight model of Port Slide weighing a jaw-dropping 5.9 ounces which can support 35mm, 2 x 2 inches slides, film strips, and negatives. It possesses a screen size of 2.5 x 2 inches which is to be expected as it is a smaller model that the other one discussed above.
It is super-convenient to use with its pressure-activated slide slot which displays your image as soon as you insert them. No hassle of pressing confusing buttons at all! A foldable metal support is equipped to further boost your convenience of use. It also possesses the same durable and original glass lens for crystal clear visuals.
This model could be ideal for both handheld and desktop use and you can effortlessly carry it around even in your travels. You can easily indulge yourself in your fondest memories as this illuminated gadget brings your images into life.

Highlighted Features
Unbelievable weight of only 5.9 ounces
Ideal for desktop or handheld usage
Extremely easy to use
Collapsible metal support to enhance convenience of handling
Slide Projectors Buying Guide
Ensure that the device of your choice is capable of handling the formats of negatives and slides. There are models that only support 35mm slides while others support more sizes along with negative/positive films. So opt for models that support the media types that you are intending to use.
Models with support capacities of more than one media format can definitely provide you more versatility should you need them.
Screen Size
For an optimum, comfortable, and clear viewing experience, ensure that your chosen device has a decent screen size. A well-lit and large screen will not only be convenient for viewing your slides together with family and friends, but will offer more clarity as well.
So will comfortable screen sizes, you can officially bid farewell to squint your eyes as you take a return trip down memory lane. Some devices also come with angled screens to inhibit strain on your neck, providing a more convenient viewing experience.
Portability
This is another key feature of slide projectors you should look into. Most models can serve both as desktop and handheld gadgets. But they still have various sizes and weights. Now to ensure the most convenience, opt for devices that are the most compact in their dimensions and the lightest within your budget.
But make sure while you do so, other key aspects and quality of visuals aren't hampered. The lighter and more compact the design, the easier it will be for you to carry it around and use while you are on the move.
Powering Methods
Most models are usually powered by 2-4 AA batteries, while some are powered by cables or adapters. But there are some versatile models that can be powered by both. Models that use batteries are naturally more portable whereas cable/adapter devices are ideal for desktop usage.
Slide projectors that can be powered by both will offer you versatility whether you want to use it via cables or batteries as you require according to your environment. They will also save up on battery power in situations where you can use cables without affecting your comfort.
Ease Of Use
User-friendliness is definitely one of the top criteria for any gadget; and slide projectors are no different. Memories deserve to be relived not only by adults but by children too- for example: their birthdays or that unforgettable trip to Disneyland. So ensure that your device is not complicated to use.
Most models have a slide slot and a slide-eject button for easy loading and removal of slides and visuals appear almost instantly upon slide insertion. There are also some models with pressure-activated slide slots that pull in and display your slides instantly when you insert them; eliminating the need for any buttons.
Hence, look for such models whose operations are easy as pie for adults, senior individuals, and children alike; within your budget.
Image Clarity And Magnification
If you are on the search for the best projector for slide, you also have to ensure that your device can provide as crystal-clear visuals as possible. Since your slides would be magnified for display, ensure that magnifications are made without blurring, distorting, or ruining and detail.
Some models can magnify your inputs up to 2 times while some can magnify them up to 3. Larger screens are likely to require more magnifications and vice versa. Hence, choose wisely accordingly.
What are hand held slide projectors?
Hand held slide projectors are a popular option for showing presentations, charts and graphs with ease. When you are trying to make a complex or very large presentation, the hand held projector is perfect for the job. A hand held projector can be bought online or you could rent one from your local cinema. There are also plenty of larger ones that come in handy when you need to project on a wall for an audience. These devices produce high-quality images and allow users to be creative as they develop their presentations.
The improved resolution makes it easier to view slides when projecting them onto a screen or other nearby surface. The light source can reach up to 30 inches away from the screen, so you have much better control of the image as well as putting it on a surface for easier viewing. The hand held projector uses LEDs, which are energy efficient and durable. This makes the device more affordable than the use of larger projectors that use bulb power. Due to their small size, these devices are great for individual presentations or small meetings. Some models have built-in flashlights to help you focus on areas that may be hard to see when projecting onto a wall or screen.
How many types of slide projectors are there?
There are four main types of slide projectors: overhead, front projection, transparencies (transfers), and stereograms.
Overhead
The overhead projector allows a teacher or presenter to project their own image onto a screen and can also be used as an alternative to overhead projection screens if there are no such screens available.
Advantages
Maximum image size: Projectors with a maximum image size of 2.5 feet are the most common. This lets the presenter have the option to choose the size of their images, regardless of how big their screen is. This is an advantage because if you have a projector that projects on the same size as your screen (which is a lot less common), then you will always be fighting for real state with a projector, so having this option available to you will let you project on larger screens without needing to move your projector.
Great for presentations: Because they can be projected in an unlimited loop, overhead projectors are great for giving presentations and lectures. This greatly cuts down on the.
Overhead projectors are also great because they tend not to be dependent on traditional overhead projectors. This means that you do not need a screen as you would for a regular overhead projector, which makes it a lot easier to use especially if you do not have access to such screens.
Front projection
Front projectors are rectangular projection screens that are designed to be mounted on the wall.
They essentially eliminate the need for a projector screen since they rely on the wall or ceiling behind them as the screen. They can project a clear image at a much larger scale than an overhead projector and can also be used for watching movies, or other video media. There are front projection screens that come with standard sized image projections (16:9), but there are also front projection screens that do not have a specific aspect ratio, so they can easily accommodate different sizes of images without needing to move anything around.
Advantages
When compared to using an overhead projector, the front projection projector screen takes up very little space and is easier to use for large presentations as there are no screen borders. The projector is also much easier to set up, since you can assemble it on a table or desk, instead of needing a large screen that you would need for an overhead projector. In addition, front projection screens are much cheaper than overhead projectors, so in the long run they cost less to purchase and use, so even if you purchase one for every class, there will be significant savings. Front projection projectors can be used with almost anything else besides making them completely reliant on them.
Transparencies
Transparencies are the most common type of projector used in presentations. They come in coin (flat or foldable), flat, and roll varieties.
Advantages
The unrolling of the transparency is a major advantage because it offers a faster projector experience and it also makes it easy to change screens depending on what you are showing.
Stereograms
Stereograms are a type of projector screen that transform images into 3-dimensional objects without any need for additional technology or different elements. This is done by using a stereographic effect.
Advantages
The ability to turn pictures into 3-dimensional objects means that people can interact and have fun with the images, which could be a good idea for learning new academic concepts.
Frequently Asked Questions
1. How Does A Slide Projector Work?
A slide projector projects image on a screen by focusing light through particular photos called slides. At the point when the light goes through the slide, it augments the picture and showcases it on your preferred screen. Generally, slide projectors feature a magazine that holds every slide and makes them rotate.
2. How Many Types Of Slide Projectors Are There?
There are mainly four types of slide projectors out there, and they are Ektapro, Ektagraphic, Audioviewer, and Carousel. Among them, the carousel is the most versatile type. It is compatible with slide mounts of metal glass, cardboard, plastic, and more with a dimension of 2 x 2 inches.
3. How Do You Make A Slide Projector?
To make a slide projector, first, you will have to cut the wood according to the design of the slide holder. Then, assemble the slide holder and attach them to the filter holder. After that, set up the lamp and focus the picture on the screen to have a satisfactory outcome.
4. Do They Still Make Slide Projectors?
The production of slide projectors is quite limited now; most renowned brands have already stopped manufacturing these projectors. In the event that you have slides and need to project them to a screen, the vintage Kodak projectors are the only reliable option you have.
5. What Do You Mean By A Slide Projector?
A slide projector is a gadget with which you can watch photographic slides by utilizing optical and mechanical processes. It contains a magazine, focusing lenses, a light bulb to project the image of the slide into a wall or a screen.
Conclusion
The purchase of a slide projector depicts a considerable investment for any individual, be it for professional or personal purposes. And that is why the best slide projector has to be chosen carefully.
In this article, we have included our comprehensive reviews of some top models, their comparison chart, and a buying guide of key points. It was all in the attempt to ease that choice of yours in purchasing that perfect gear.
Now, along with the company of your family members and friends, you can enjoy all those old photographs full of warm recollections effortlessly.
Related posts: