Are you a traveler who likes to capture his experiences into photographs? Or are you a photography-enthusiast who is looking to perfect his skills? You need the Best 4×6 Photo Printer.
If your passion lies with photography and you want to share this passion with the world, you're in need of a designated photo printer.
Designated photo printers do just that, print photos. They can print photos straight from your Smartphone, Android, iPad, iPhone and Tablets, without the hassle of having to connect with PC first.
So what are the features you must look for to get the Best 4×6 Photo Printer ?
They are packed with many features. The modern versions of photo printers are chic and portable. In fact, some of the models are as large as your tablets, so you can carry them to your school or to your friend's birthday party! They support various paper sizes, and some can even produce prints directly from cameras!
Can't wait to get one for yourself? Hop in to know more.
Editors' Picks: Top 4x6 Photo Printer 2021
List of top 4x6 Photo Printer
Comparison Chart For 4x6 Photo Printer
| Image | Name | Resolution | Print Speed | Print Technology |
| --- | --- | --- | --- | --- |
| Canon Selphy CP1300 Wireless Compact Photo Printer with AirPrint and Mopria Device Printing, Black (2234C001) | Canon CP1300 | 16.8 million colors | 47 sec | Dye-Sublimation |
| Kodak Dock & Wi-Fi Portable 4x6" Instant Photo Printer, Premium Quality Full Color Prints - Compatible w/iOS & Android Devices | Kodak Dock | 16.7 million colors | 1.0 min | Dye-Sublimation |
| Epson PictureMate PM-400 Wireless Compact Color Photo Printer | Epson PM-400 | 5760x1440 DPI | 37 sec | 4-Color Epson Dye |
| Pandigital PANPRINT01 Zero Ink Portable Color Photo Printer Bundle with 45 Sheets 4X6 Zink Photos Paper | Pandigital PANPRINT01 | 300x400 DPI | 1.0 min | Zero-Ink or ZINK |
| HP Sprocket Studio Photo Printer – Personalize & Print, Water- Resistant 4x6" Pictures (3MP72A) | HP Sprocket Studio | 300 DPI | 61 sec | Dye-Sublimation |
| Sharper Image Dock & Bluetooth Portable 4x6" Instant Photo Printer | Premium Quality 4Pass Full Color Prints, Compatible w/iOS & Android Devices (2020), Black | Sharper Image 2020 | 16.7 million colors | 60 sec | Dye-Diffusion |
| HP Sprocket Studio Go Bundle – Photo Printer with Power Bank Portable Charger & Bag: Personalize & Print 4x6 Pictures Anywhere You Go (3XT68A) | HP Sprocket Go Bundle | 300 DPI | 61 sec | Zero-Ink or ZINK |
| Epson PictureMate Snap (PM 240) 4x6 Photo Printer | Epson PM-240 | 5760x720 DPI | 45 sec | Epson Dye |
| Epson Expression Photo HD XP-15000 Wireless Color Wide-Format Printer, Amazon Dash Replenishment Ready | Epson HD XP-15000 | 5760x1440 DPI | 27 sec | 6-Color Epson Dye |
| DNP Event Photo Printer DS-RX1HS 6" Dye Sublimation, for Booth Portrait Printing, 290 4x6"Prints Per Hour | DNP DS-RX1HS | 300x600 DPI | 12.4 sec | Dye-Sublimation |
Best 4x6 Photo Printer Reviews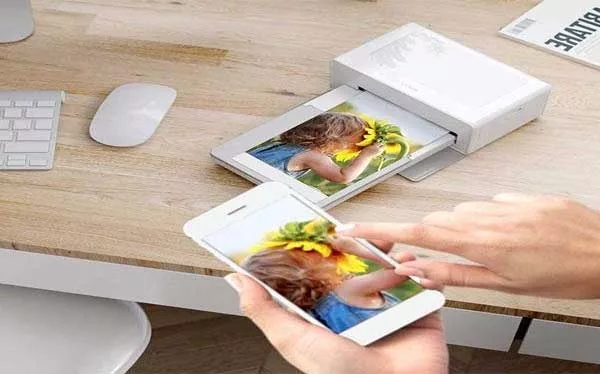 1. Canon SELPHY CP1300 | Best Wireless 4x6 Photo Printer
Swishing through the pages of a photo album can really take you back in time. But you may have found that certain photos have gone discolored or tainted, and you wish you could replace them.
Canon Selphy photo printers will help you with all this and more. You can consider them as your personal photo kiosk. This tiny and light-weight photo printer, can travel with you in your bag, and offers multiple connectivity for on-the-go wireless printing.
It connects to WiFi, AirPrint, Mopria, Memory Card, USB Flash and various kinds of apps, so that you can print from anywhere, anytime.
This marvel by Canon supports a wide range of papers-2"x6" photo booth prints, 4"x6" postcards, L-size, Card-size, Square Labels and even sticker papers. Dye Sublimation technology is used by this printer making the photos water and stain resistant.
Flaunting a 3.2" LCD screen, and with a fabulous dimension of 7.1" W x 5.4" D x 2.5" H, not only do these portable printers come with versatile power connectivity, but they can also run on batteries!
This printer, almost about the size of your tab, is also the life of a party! How so? With its exquisite Photo Booth mode you can click 4 photos in every 4x6 paper, then cut the photo into two halves and share them with your friends.
Ever wondered if you could print straight from Instagram? Well, with Canon Selphy, you definitely can! This printer allows you to print into 2.1x2.1 sized square photo labels, then-and-there so that you can prepare a memory collage on the wall.
The printer also allows Party Shuffle Print so that you can make fun photo collages with your friends and family members.Your friends and family just need to send their favorite photos from their Smartphone to your Canon Printer, and the printer will combine all the photos together into a collage.
This printer can print borderless photos at an amazing speed of 47 seconds. AirPrint functionality can be enabled by using iPad, iPhone or iPod, and is also various OS compatible including Mac, Windows and other mobile OS.

Product Highlights
Dye-sublimation, borderless printing, 16.8 million colors, 47 sec speed
WiFi, AirPrint, Mopria, Memory Card, USB Flash and other Apps
Supports variety of paper sizes, 18 sheets paper tray, 3.2" LC screen
Requires Canon Print and SELPHY app, Photo Booth and SELPHY prints
2. Kodak Dock Instant Photo Printer | Best Compact 4x6 Photo Printer
Photo Printers can bring your old memories back to life. With the trials of time, old photos tend to stain and get torn at the edges. If you wish to replace the old photos with new copies, why not print them out using photo printers?
With Kodak photo printers, get your favorite photos printed out in an instant. This portable printer, measuring 6.65" x 3.94"x 2.7" and weighing only 760gm, can generate eye-catching 4"x6" photo prints.
The photos are printed utilizing Innovative Dye Transfer technology that laminates each print, making each photo fade and water resistant. Using Dye Sublimation technology, this printer can produce images at resolutions of 256 gradation or 16.7 million colors.
This printer is IOS compatible and with the help of lighting-to-USB adapter, this printer can be connected to Apple devices to print directly from there. The printer, needless to say, is also Android compatible and you can print directly from your Android with micro built-in USB connections and Kodak app.
The printer comes with USB, external hard drives and memory card readers for versatile printing options. There is another feature called PictBridge, which allows you to print straight from your Camera! So this printer by Kodak is secretly a Polaroid as well!
The Kodak app also lets you edit your photographs. You can add filters, sticker, card templates, photo collage, SNS and Video Prints and more.
Kodak printers are proud of their "one touch" printing technology because you would not need any computer or memory card to transfer files-just connect with your IOS or Android, launch the Kodak App, and print. Kodak App is easily available on App Store and Google Play.

Product Highlights
One touch, 4x6 prints, Dye Sublimation, 256 gradation/16.7 million colors
Photo Printer Dock, IOS adapter, 10 pack Kodak cartridge, PHC 40/80/120
Innovative Dye technology laminates each photo-fade/water resistant
IOS and Android compatible, PictBridge, edit pictures with Kodak App
3. Epson PicturematePM-400 | Best 4x6 Photo Printer ForIPhone
Photo printers can generate prints with striking colors and clarity. Snapshots taken at exotic locations and natural landscapes are best expressed when printed from high resolution printers.
PictureMate Photo printer by Epson will fulfill all your printing needs. One of the most amazing printers in its arena, this marvel is also portable. It weighs only 6lbs with dimensions 15.1" x 9.8"x 7.9", and can print amazing quality borderless 4"x6" and 5"x7" photos in only 37 seconds.
The photos generated are studio-quality with an amazing resolution of 5760x1440DPI. It has versatile connectivity via USB, WiFi and WiFi Direct. The printer could be connected to an array of mobile devices including iPad, iPhone, Tablet and Smartphones.
With a 2.7" display, giving printing instructions becomes quite easy. The package includes 100 sheets of 4x6 photo papers, 1 ink cartridge and 5 glossy photo papers.
This printer by Epson uses an exclusive 4-dye ink technology that makes the photo prints fade and water-resistant for a long time. Epson claims that their photo prints will last for 200 years-- that equals many lifetimes combined!
You are advised to use designated Epson ink cartridge for their photo printers, since any other incompatible ink sources might damage the system.
It is a wireless, hassle-free printer, which lets you print straight from mobile devices without the hassle of connecting and transferring data to computers.
Not only this, but the photos printed could be corrected using an in-built automatic photo correction feature. It identifies face and corrects skin tones generating as close-to-life photos as possible.

Product Highlights
4-dye Ink technology, ink cartridge, portable, 4x6 printer, print speed 37 sec
5760x1440 DPI resolution, 2.7" display, versatile mobile device connections
Built-in Auto Photo Correction features correct skin tones
USB, WiFi, WiFi Direct features, compatible with Windows and Mac
4. Pandigital PANPRINT01 Zero Ink Photo Printer | Best Portable 4x6 Photo Printer
Changing ink cartridges in printers is quite a hassle. They are expensive, run out quite quickly especially when you depend on large print volumes. When you are printing out photos, the last thing you would want is them being dull or missing colors on certain parts. What if you could print photos without using cartridges?
If you apt for photo printers of Pandigital, you might never need to use an ink cartridge ever again! With an amazing Zero-ink or ZINK technology, the printer generates high-quality photo prints at a resolution of 300x400 DPI at a speed of 60 seconds with only 30 seconds of waiting time.
The Pandigital goodies that come with the printer include 45 sheets of 4x6 photo papers, which promise smudge, water and fade resistant photos. After the photos come out printed, you do not even have to dry them.
It is one of the very few snapshot printers that uses Polaroid Zero-ink (ZINK) technology. The printer comes with special ZINK 4x6 papers, also known as Smartsheets, that are endowed with Cyan, Yellow and Magenta dye crystals.
The printing process utilizes heat to manipulate the dye crystals to create images. These thick, dark-blue Smartsheet papers need to be loaded at the bottom of the paper stack. These smartsheets calibrate the thermal print heads of the printer.
The printer also comes equipped with 1.44" color display. The gadget also comes with an array of editing features that include scaling from 20-100% and brightness, contrast and color saturation adjustment. The display lets you print one photo 2-4 times and also give a title to each photo.

Product Highlights
Zero-Ink or ZINK technology, thermal dye printheads, 300x400 DPI
Speed of 60 seconds, waiting time 30 seconds, 4x6 photo prints
1.44' color display, Smartsheets tray, photo editing features
Dimensions 11.3" x 8.4"x 2.5", low cost, portable
5. HP Sprocket Studio Photo Printer | Best Smartphone 4x6 Photo Printer
What if your printer is as tiny and portable as your phone or tablet? Today's photo printers are small and lightweight, and can generate excellent quality photographs in a jiffy.
Consider HP Sprockets Studio photo printers, for example. With incredible dimensions of 6.65" x 10.75"x 2.68", and weighing less than 0.64 lb, these Sprockets are portable so that you can print from anywhere at any time. The printer comes with a power bank so that you can enjoy the cordless experience.
This little genius can produce fantastic 4x6 images using 4-color Dye Sublimation technology and cartridges. The photo prints of 300DPI resolutions promise to last for 100 years, being scratch, fade and water resistant.
The printer offers an HP app, which when installed, will open doors to countless opportunities. You can embellish your cherished photos using this app with a number of editing features like stickers, filters, frames, just to name a few.
The printer can also turn your photos into photo cards to decorate your bedroom walls or share with your friends. Not only thisbut the printer can also take different images from your mobile devices and combine them into a collage.
HP Sprocket Studio also presents you augmented reality-it lets you convert your photograph queues into videos, so that you can enjoy and relive memories of different events all at the same time.
The photo printer has a 20-sheet input tray, is Bluetooth connectible and Smartphone compatible. HP Sprocket Studio is compatible with a number of mobile devices as well-Android, IOS, iPhone, iPad (Pro, Mini, Air) and iPod Touch. HP Sprocket App is downloadable from App Store and Google Play.

Product Highlights
Portable, Dye Sublimation, cartridges, 300 DPI, 4x6 photo prints
Not Windows or Mac compatible, supports Smartphones and other devices
HP App editing features, augmented reality, 20 sheet input tray
Print speed 61 second per print, media tray size 10x14.8cm
How To Choose The Best 4x6 Photo Printer
Printing Technology
Best 4x6 photo printers utilize Dye-Sublimation technology. This technique is quite popular with photo lab printers which generate 4"x6" color photo prints. 4x6 smartsheets or special photo sheets are usually included with such printers.These photo papers are called smartsheets because they already have dye crystals embedded on them.
The technique of dye sublimation involves using heat to vaporize the dyes on the photo papers, and generate images as a result. With varying heat intensity, the brightness of the photos could be adjusted.
These dye-sublimation photo printers usually make use of 3 colors- Cyan, Magenta and Yellow-with a final layer of lamination on the top of the paper, so that the prints can last for ages.
And indeed they do! Certain dye-sublimation photo printers, such as the ones by Epson and HP, promise that their photo prints will last for 100-200 years!
Paper-Sizes
Dedicated photo printers are called photo-labs or photo-kiosks for a reason. They do just that-that is, photo printing.
Who uses photo printers? Professional photographers, photography enthusiasts, fashion-hobbysists, or just an ordinary person who is looking to decorate his bedroom walls with some old cherished memories.
If you are one of them, look for the paper-support diversity of the printer. Definitely, the first thing you should look for is its 4"x6" photo printing ability. In addition to this, look for 2"x3' and 5"x7" photo print variations. Certain high-end printers can support paper sizes of up to 13 to 19 inches.
Color OrMonochrome
Ask yourself, do you need color or black-and-white photo printer, and then go for a printer that meets your printing needs so that you do not regret later. A common flaw with most black-and-white photo printers is the 'tint' that is left on certain parts of the photo in different shades of gray.
Printer Size
Near-dedicated ink-jet photo printers which print photos of 13 to 19 inches or banner-sizes, are much larger, and are suitable for desktops. They need extra space behind them to house paper-trays or roll feeders.
However, if larger ones are not the ones you are looking for, then opt for dye-sublimation portable photo printers. Most of them are no larger than your tablet and you can carry them around in your briefcase or bag. They also have battery options, so you can even sit under the tree and print.
Connectivity
Most newer models of portable photo printers support USB, WiFi and WiFi Direct, for Wireless, networked or network-less printing. Some support memory cards.
There is a new feature in some models called PictBridgethat lets the user to print directly from cameras. Now that's an amazing perk!
Some high-end models can connect to Bluetooth and print directly from SmartPhones, and other Bluetooth enabled gadgets.
Output Quality
With inkjet photo printer, you would need to buy compatible papers from the store. As for dye-sublimation photo printers, cartridges or compatible photo papers are included in the package.
Another new printing technology called ZINK has hit the market which is used basically by pocket-sized printers and can generate prints of 300x300 DPI. The type of paper used will affect the quality of the print, so if you are looking for vibrant photos, go for the high-resolutions ones.
Frequently Asked Questions
1. What Is The Best 4x6 Photo Printer?
The best 4x6 photo printer should come with the right features to suit your requirements. For printing color photos, you will need to ensure the printer has a high-resolution, offers wireless connectivity options, and is able to deliver a higher number of prints while it is fully charged.
The Kodak Photo Printer Dock is one compact 4x6 printer that lets you print vivid images directly from your smartphone.
2. Where Can I Print 4x6 Photos?
If you don't want to invest in a printer that can print 4x6 photos, you have another option. There are many photo-printing services, such as Walgreens, CVS, and Shutterfly, where you can place an order for a custom print.
Final Word
If you are an amateur photographer or a budding fashion model who wants to create an excellent portfolio, you must be in dire need of a photo printer.
Unlike other printers, a photo printer only prints photos. Some of them support various paper sizes including 4x6, 2x3, 5x7 and other variations. So how will you choose the best 4x6 photo printers ?
Various spectacular models by HP, Epson, Pandigital, Sharper Image and DNP are available in the shops. Some use inkjet while others use dye-sublimation technology. Zero-Ink or ZINK technology is a new technique that has hit the markets recently and holds a lot of promise.
One of the most exciting features is the photo printer's portability. Most of them are no bigger than your hand-held mobile devices, and can be slipped into your shopping bag! If the perks of these printers delight you, you should get one for yourself pronto.
Related posts:
Buy on Walmart
Kodak Dock Plus 4x6" Portable Instant Photo Printer (2021 Edition), Compatible with iOS, - Walmart Link
Canon SELPHY CP1300 Wireless Compact Photo Printer - Walmart Link
HP Sprocket Studio Photo Printer – Personalize & Print, Water- Resistant 4x6" Pictures - Walmart Link
Epson PictureMate PM-400 Wireless Compact Color Photo Printer - Walmart Link
Kodak Dock & Wi-Fi Portable 4x6" Instant Photo Printer, Premium Quality Full Color Prints - Walmart Link
Liene 4x6'' Photo Printer, Wi-Fi Picture Printer, 20 Sheets, Full-Color Photo, Photo - Walmart Link
5. HP Sprocket Studio - Walmart Link
6. Sharper Image 2020 - Walmart Link
7. HP Sprocket Go Bundle - Walmart Link
9. Epson HD XP-15000 - Walmart Link
Kodak Photo Printer Dock - Walmart Link
Buy on eBay
Kodak Dock Plus 4x6" Portable Instant Photo Printer (2021 Edition), Compatible with iOS, - eBay Link
Canon SELPHY CP1300 Wireless Compact Photo Printer - eBay Link
HP Sprocket Studio Photo Printer – Personalize & Print, Water- Resistant 4x6" Pictures - eBay Link
Epson PictureMate PM-400 Wireless Compact Color Photo Printer - eBay Link
Kodak Dock & Wi-Fi Portable 4x6" Instant Photo Printer, Premium Quality Full Color Prints - eBay Link
Liene 4x6'' Photo Printer, Wi-Fi Picture Printer, 20 Sheets, Full-Color Photo, Photo - eBay Link
5. HP Sprocket Studio - eBay Link
6. Sharper Image 2020 - eBay Link
7. HP Sprocket Go Bundle - eBay Link
9. Epson HD XP-15000 - eBay Link
Kodak Photo Printer Dock - eBay Link