Let's be honest, standard vehicle headlights from the factory don't always offer the best lighting in certain off-road terrains. In such terrains and conditions, it is best to have an alternative way to illuminate your surroundings asides from the standard factory ones.
Fortunately, we now have powerful LED bars which you can mount onto your off-roading trucks or vehicles. If you are in the market for such, you are in the right place.
In this post, we will discuss our top picks of the best LED Off-Road Light Bars on the market. Before we proceed to that, it is only right that we discuss a buying guide too. That way, if you are just learning about alternative lighting for off-road vehicles, you will be able to make the best choice for yourself.
Editors' Picks for Top Led Off-road Light Bars
Importance of buying a LED Off-Road Light Bar
If you are quite familiar with the workings of a LED Light Bar, you can skip this section. However, if you are just hearing about it, here is why you need to buy a LED Light Bar.
1. Better visibility at night
Being able to see better at night of course is the biggest function of an Off-Road light bar. Every other function comes after. How the light bars affect your illumination depends on the type of LED light it is.
Also, the surface area illuminated by the light bar is influenced by the type of light bar. There are different types of light bars that you can mount on your Off-Road vehicle or truck. We will properly discuss them in the next section of this post.
2. Longevity and Efficiency
LED lights are known for their high energy efficiency compared to other types of lighting systems. They provide outstanding illumination without using too much energy or generating unnecessary heat.
Coupled with that is the fact that the light bars also have an interestingly long lifespan. This is mostly due to them being energy efficient.
3. Functionality
Compared to traditional or default factory headlights, LED off-road light bars are very versatile in terms of how you can use them. You can mount them on different types of attachments depending on the one you have at hand. They also always work on small off-road vehicles such as ATVs just as well as they do on big off-road trucks.
To cap it all up, you can also use the LED lights for lighting an area for construction work or just to provide light.
Best LED Light Bar Buying Guide: Things to consider before buying one
While having a review of the best light bars on the market at hand is a good thing, you still might have a difficult time selecting the best one for you. Especially if you consider that they mostly come with the same features and similar pricing. That said, here are the necessary things you need to know about Off-Road light bars.
Types of LED Off-Road Lightbars
As earlier stated, there are different types of LED light bars. They are:
i. Straight LED light bars
As the name implies, these types of light bars are straight in shape. The major difference between all LED light bars is their shape.
Straight light bars are also flat in design and offer the best forward shinning light. This also makes them usable as spotlights.
ii. Curved LED light bars
These are the other types of bars you can use. They come in curved and slightly bent designs. They are perfect for casting angled illumination. Thus, providing a larger area of illumination. The only issue with them is that they do not illuminate a lot of distance forward compared to straight light bars.
However, for any efficient off-roading setup, having one curved LED light bar never hurts.
Brightness and Energy Consumption
Most off-road light bars usually have from 18W to 300W power output. One thing you should have at the back of your mind is that the wattage of an off-road light bar does not affect its brightness.
For instance, halogen light bars would provide lots of light and come with low wattage. Yet they have a pretty short lifespan. LED Lightbars do not use as much power and help improve the longevity of your vehicle battery. There are also HID Lightbars and they pretty much consume a lot of electricity but make up for it with the intensity of brightness they return.
NOTE: It is best to go for light bars with at least 5,000 lumens. They tend to consume low power and would not overwork your vehicle battery.
TIP: It is however highly recommended to use have a dedicated battery when planning an off-road lighting setup.
Pricing
As with anything that requires money to buy, you need to figure out just how much you are ready to spend. The light bars range from less than $100 to well over $500. To be honest, how expensive a LED light bar option does not determine how useful it is.
For the most part, the pricing only influences the number of features you can expect the light bar to have. That said, you should be cautious when buying any type of LED light bar. You don't want to buy something too large or powerful for your off-road vehicle!
Resistance and Size
Size refers to how big the light bar is. Mostly, the size influences the brightness of a LED light bar. It sometimes determines the surface area the light bar can illuminate.
NOTE: One thing to consider here is the space available for you to mount the light bar. You don't want to buy one that is bigger than the space your vehicle has to mount it.
Resistance is how durable the light bar is. Light Bars offers lighting in the most difficult of terrains. As a result, they have to be durable enough to withstand the elements. In other words, water and dust can't just prevent them from functioning properly. As a result, most light bars, especially those from well-known light bar manufacturers come with IP ratings. The rating lets you know how resistant and durable the lights bar is.
NOTE: The resistance of a LED light bar also depends on the type of terrain and conditions you are driving in.
Mount type
There are different types of ways to attach a light bar to your vehicle. The type of mount mostly depends on the size and mounting points available on the vehicle. Mostly, light bars are attached to the roof racks of vehicles. The attachment is made strong with the use of Circular tubes, T-slots among other appropriate accessories.
NOTE: A lot of the top brands in the Off-Road Light Bars market make their accessories that are compatible with their light bars. Thereby, making it easy for users to mount on their vehicles without extra costs.
Space available
This is pretty explanatory. And let's be honest, it is also quite as important as the other features of a light bar. If there is not enough space for you to comfortably fit the light bar onto your off-road vehicle, then there is no point in purchasing it.
NOTE: Although it is not advisable to purchase light bars that do not fit your vehicle in terms of mounting space available, sometimes you can't help it. Might be because the light bar comes in for half what it usually costs or because you can't but buy the light bar because of the features it comes with. In this case, there are accessories with which you can expand your vehicle roof and front bumper.
Of course, this also comes at a cost. The drawback is that you might not be able to drive in some terrain just because it might fit your vehicle but not fit the extended light bar mount.
Number of light bars your vehicle can realistically hold
Depending on how much lighting you want to add to your vehicle, you will need more than one. The biggest difficulty here is know how to easily set up the light bars in a way to fit the available space on your vehicle.
That said, a lot of off-road vehicle drivers often fit different types of lighting bars on their vehicles. Thus, making it much easier and flexible for them to drive in different weather conditions.
Top 7 Best LED Off-Road Light Bar Reviews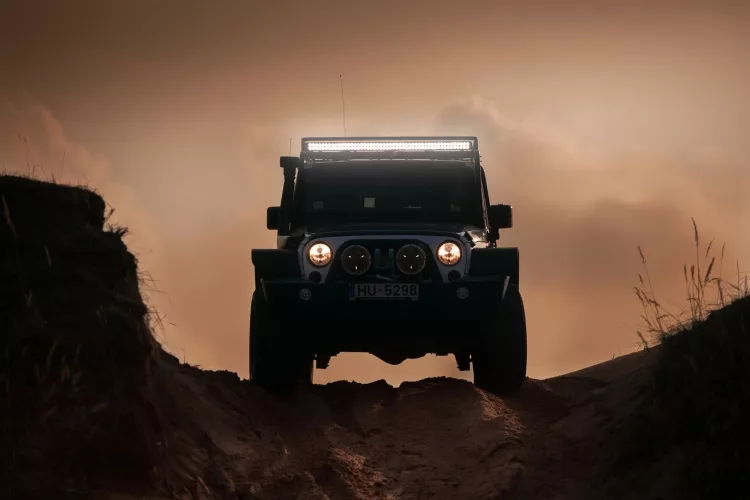 1. Nilight - Link
The Nilight 70003C-A 22" 120w LED Light Bar is one of the best light bars on the market. Not only is it affordable, but it also functions as a Flood spotlight or Work light depending on the situation you need it for.
It is powerful enough to act as a fog lamp for driving even in terrains with poor visibility (foggy weather).
The 22" light bar is suitable for mounting on SUVs, UTV, ATVs, Trucks, Trailers, Boats, and even passenger cars.
It is extremely resistant to water thanks to its Aluminum build material and its IP67 waterproof rating. Since it is a straight light bar design, it means that is best suited for broad area lightings.
The light bar comes with sturdy mounting brackets as well as a 2-year warranty.
The brand even has dedicated customer service ready to attend to your emails detailing your inquiries and complaints with 24 hours.

2. Nilight ZH409 20" 420W Triple Row LED Light Bar - Link
This is another powerful light bar from one of the best light bar industries on the market.
The Nilight ZH409 20" 420W Triple Row LED Light Bar works on almost any type of mount. It is super energy efficient and waterproof with an IP67 rating. It has an efficient cooling system so it doesn't get extremely hot. It features a die-cast aluminum alloy housing and can last for about 30,000 hours (lifespan).
Due to its build design and broad reflective plates, the light bar is ideal for ambient illumination. It is a universal fit and would fit almost any off-road vehicle you want to use it for. It has a wiring harness right out the box as well as a 3 pin on/off switch to control it.
Asides from being a useful off-road vehicle light bar, you can also install it on your boat for enhanced lighting while on a voyage. The light bar is also suitable for equipment lighting such as a trailer, rescue vehicle, snowplow, excavator, and general outdoor lighting for construction, camping, etc.
The versatility of this light bar cannot be overemphasized. Since it comes from Nilight, it also comes with a 2-year warranty.

3. Autofeel LED Light Bar - Link
This premium light bar is one of the best small yet powerful light bars on the market right now. Straight out of the box, you will have 2 separate standalone bars to work with.
Your first task after unboxing them won't be mounting them. It would be deciding how to fit two separate light bars on your vehicle. The combo offers enough brightness to make it function as a floodlight to see wide and far areas.
It has an IP68 waterproof rating which makes it one of the best waterproof light bars on our review. It is easy to install as it comes out of the box with a universal adjustable mounting bracket.
For indoor use, the light bar can help you light up your garden, warehouse, and even entire property depending on the placement.
The brand offers a year warranty from the day of purchase.

4. Nilight - Link
This compact 12 inches 300 watt light bar is a lighting monster. It is suitable for use on Trucks, Boats, and off-road jeeps. It comes with a 2-year warranty like most of the light bars from the Nilight Brand.
The light bar is energy efficient and supports ambient illumination. It is a high-performance light bar with a lifespan of well over 30,000 hours. It has a universal fit that makes it suitable for all types of off-road vehicles.
One big drawback is that the bar does not provide 300W light. It still provides enough light for whatever use you might have for it.

5. KC Hilites 5-Ring Light Bar - Link
This is one of the most powerful light bars on this list and it is not so surprising. KC HiliTES is one of the biggest LED light bar manufacturers on the market.
This light bar comes with a patented technology that makes it more efficient and powerful compared to other light bars in its price category. The patented technology, the Gravity LED G6 optical inserts, also makes it suitable for use in a Spotlight lighting setup.
A KC HiliTES 5-Ring LED light bar comes in different lengths and each features 8 standalone pods. The multiple pods are arranged in a row which then determines its length.
The light bar for a while has a 68 IP rating which means it is not only waterproof. It means you can completely submerge it and it would still be fully functional. This makes the light bar a value buy for both off-road vehicles as well as boats.
It comes with an option to switch the angle of the light beam when it is in use. It only uses about 8.3 to 13. 3 ampere of your vehicle battery's total power when in use.
Out of the box, there is a mounting base and accessories to help you install the mount without any issues. They are easy to install provided you have the best mount for it.
Asides from being a powerful light bar, it is also beautiful to look at. All of these make it a good buy.

6. Nilight - Link
There is not so much to talk about in terms of appearance and build. It is a traditional off-road straight light bar.
In terms of being waterproof, the light bar has an IP 67 rating. And while this makes it waterproof, it would quickly get damaged if you submerge it underwater for over an hour. However, it only breaks down if it is submerged below 1m depth of water. This means you should be good to go if for instance your vehicle is stuck in floodwater.
This LED light bar uses customized chips that ensure it consistently glows bright and provides sharp illumination. Each LED bulbs in the bar have multiple refraction angles which means you get an enhanced stream than you would normally see in a light bar of this shape.
It supports up to 50,000 hours of use and would remain as bright as ever for 98% of its lifespan. It comes with quick cooling which helps it avoid overheating after continuous use.
Like most LED lights from Nilight, this one also comes with 2 years warranty.

7. North Pole 20 inch 10500lm LED Light Bar - Link
Comes with a 60-degree flood beam for enhanced light distribution and eco-friendly efficient energy consumption, this is so much to love about this light bar.
For one it comes with features that make it suitable for use as in both Floodlights and spotlights lighting setup. It even comes with individual pods for flood and spotlighting depending on what you want to use it for.
Its floodlighting angle is on its sides while the spotlighting section is directly in the middle. You can turn both on at the same time with the use of a switch. Or, you can decide to use either one of them independent of the other.
It has a little over 30,000 hours lifespan with continuous use. One big drawback is its energy consumption. This lightbar uses an average of 20V of direct current power. It is very much recommended to use a dedicated battery when powering this light bar.
Other than that, it comes with other features you will see in best-selling light bars - element resistant, scratch proof, shatterproof, etc. It comes with an IP rating of 67 which marks it as waterproof but only if you do not submerge it underwater for a prolonged period.
If you are looking for a sleek, light easy to install, and most importantly bright light bar for your Off-road truck, this does the job.
Off-Road Lighting FAQ
How to power an off-road light bar?
Usually, you power a light bar by connecting it to a battery. But to do this, you must ensure that the connector of the light bar fits the battery. One way to do this is to pay attention to the product's manual to get it right quickly.
In the case of off-road light bars mounted on vehicles, your vehicle's battery will power it. All you have to do in such a case is plug it into the appropriate power source in your vehicle the connector provided in the box of the light bar.
How to clean a light bar?
Yes, you can clean your off-road light bar.
The easiest way to go about it is manually washing it with a clean cloth. Since most light bars are waterproof, you can generously clean with water and cloth.
One thing to note is that taking your vehicle to a car wash with the light bar mounted can easily damage the mount. This is because of the high pressured water used to wash cars in a car wash. If you are an avid lover of taking your vehicle to a car wash, you might want to unmount the whole setup every time you want to go to one.
What happens if my light bar led does not turn on?
In most cases, this only happens if your connector is loose. You should check that it is properly connected to your battery. If this does not work and the light bar is still under warranty, then you should return the product.
Some brands also have 24 hours customer service that you can email with any problem you have!
Conclusion on Best LED Off-Road Light Bar Reviews
As we have learned from this post, off-road vehicles' light bars are pretty important to have. Not only can they help navigate unknown terrain with ease, but they also ensure you can easily keep track of where you are passing without getting lost due to poor lighting.
With this buying guide and review post, you can make the best decision on which LED light bar suits you best!