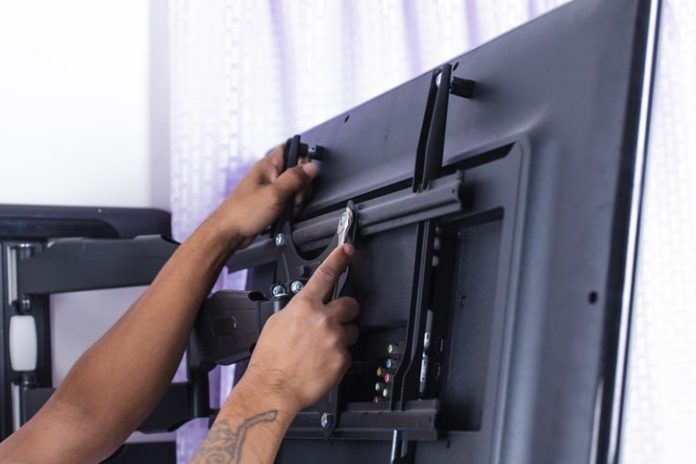 Nowadays, television technology upgraded a wide range in last decade. Besides improving screen quality its size also enlarged considerably to fulfill consumer demands. Wide screen flat TV require a suitable wall mount to hang up safely. Basically big screen TV needs a reliable, sturdy, and easy to adjust swivel articulating wall mount that makes reachable screen adjustment system.
Today, getting the best articulating TV wall mount can be difficult. Especially, the wide range of variety in the market makes the task more difficult. But realizing this hustle we researched on the considerable options of the TV wall mounts for big flat TV's.
# List Of The Best Articulating TV Wall Mount – Our Top Picks

Buying Guide To The Best Articulating TV Wall Mount
Before talking about the best TV wall mounts, firstly have a look at the key features of this product. Following points should be under consideration while picking the TV mount from available markets.
Size of TV Screen
Screen size of TV increasing rapidly with time. So, the handling capacity of mounts arises with demand. Don't worry, mounts can handle 20 to 98 inches including curve screens. Obviously, it is really important to pick the right one which best fit for your TV.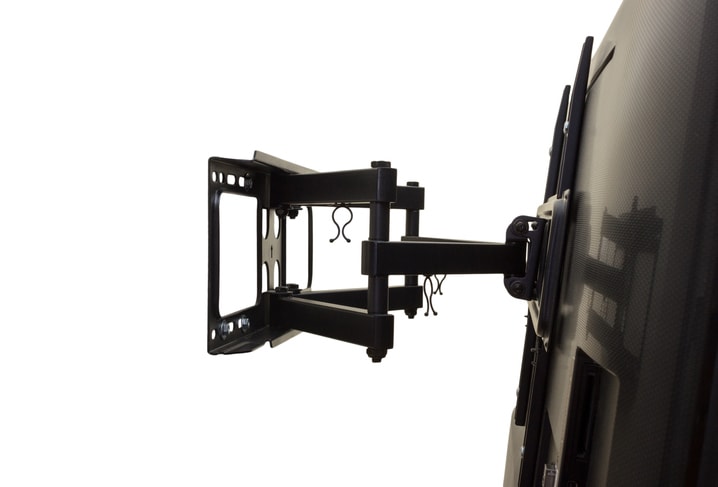 Weight Capacity of Mounts
Flat TV weights growing along with their sizes. But it is lighter than we expected to be. Generally, a 55 inch flat LED TV can weigh between 50 to 75 lbs on average. It can vary with brand and model.
However, an affordable flat TV wall mount can handle up to 75 lbs. But the expensive wall mounts come with the capacity of 165 lbs screens. So, the selection of wall mount according to your TV weight should be given priority.
Cable Management
Clean installation of mounts largely depends on cable management. Nowadays, modern TV mounts come with this feature. These mounts are exclusively designed to tuck in wires behind screens to give a clean and smarter look.
Design Mobility
Mobility of the mounts is a powerful feature. It enhances the flexibility to enjoy programs from each and every corner. The wide range of viewing angels can be set up with the tilt, pan and swivel arms. Vertical movement will add a quality to make it comfortable for eye level. Not only that, it can be retracted from 2 to 20 inches which open access to ports and cords. Moreover, it allows you to attach any device behind the TV.
Easy Installation
Installation of TV mount should be simple and easy as all using tools provided in the package. Basically TV mounts comprising three major parts: one plate to attached in the wall and the second on to adjust TV and the middle element to join both the plates.
The wall on which you are going to attach should be under consideration too. It is better to attach install mount with concrete drywall.
However, some mount brands offer post installation adjustment to make sure the TV mounted perfectly. During installation you can hide wires behind TV to give a better look.
Cost
How much a TV wall mounts cost, is a big question while you went with tight budget. In this case, the best practice is to pick the right mount having the required key features within your budget. Don't compromise with quality products by measuring with their price tags.
Top 10 Best TV Wall Mount Units
Key features:
Screen Size: 22"- 55"
Max Weight: 66 lbs
Retractable: 1.9"-20"
VESA: 8"×8" or 8"×4" or 4"×4"
The full motion TV wall mount by VideoSecu occupy No.1 position among all the competitors by its promising qualities. The flexibility to cover room angels make this product stand out in the market. Its weight holding capacity is amazing which can allow TV screens up to 66lbs. With this mount you can hang up your TV on the wall safely.
Moreover, VideoSecu TV wall mount supports all the sizes between 22" to 55" flat screen TV's. It is usable for LED, LCD and Plasma TV's. It's adjustable VESA ensures compatibility with 200×200mm / 200×100mm / 100×100mm (8"×8"/8"×4"/4"×4") dimensions. You can take off VESA plate for easy installation.
The most stunning feature is its maximum viewing flexibility with its swivel articulating arms which allows to fix the eye level with the room condition. Besides these qualities retraction facility can save up to 1.9" and can expand up to 20" maximum.
Finally, it's easy installation process and excellent screen positioning without any assistance from anyone else promote it to be the best in the market.
Key features:
Screen Size: 37"-70"
Max Weight: 132 lbs
Swivel: 130°
Retractable: 2.6"-16"
ECHOGEAR Full Motion Articulating TV Wall Mount is renowned for handling with heavy TV's. Most impressive thing is it can hold up to 132 lbs. Yes, it's heavy duty mount supports up to 70" TV screens. But it has to be in concern with which wall it installed is strong enough to hold it safe. Don't worry these wall mounts has been pretested with 4× weight before releasing in the market. Nonetheless, it isn't good for smaller screens than 37". You need this sturdy element only for the big screens.
Moreover, it has incredible flexibility to adjust eye level. This full motion mount extend out 16" and swivel up to 130°allow any seat in the room the perfect viewing angel. It occupies only 2.6" from the wall when installed.
Simple installation process extends its appeal in the market. The hardware bag in the package will contain all sizes of screws to accommodate any model of television. It won't mind with LED, LCD, OLED and Plasma flat screen TV models within required sizes. For any assistance you can ask the support team, who offers weekly 7 days' availability.
Key features:
Screen Size: 26"-55"
Max Weight: 60 lbs
VESA: Up to 400mm × 400mm (16" × 16")
Retractable: 2.9" – 19"
The full motion Mounting Dream Full Motion TV Wall Mount could be your best choice for all the models (LCD, LED, OLED, and Plasma Flat Screen TV's) from all the renowned brand in the market. Brackets are perfectly center designed to support TV's from 26" to 55". You will enjoy most comfortable viewing angel with the tilts up 5° and down 15° by reducing glare. It allows you to swivel TV screen right or left according to your seat position. In addition, it can be pulled out 19" and retracted back to 2.9" which made it more user friendly.
Additionally, this sturdy appliance can hold up to 60 lbs which is enough for trending TV's in the market. The VESA compatibility of this mount is outstanding which supports up to 400mm × 400mm (16" × 16"). As it supports 4K TV screens so you can enjoy high quality picture at your home.
Moreover, easy installation process and a 10 years' warranty made this product stand out. So, it should be a good option undoubtedly as for its heavy duty aluminum and steel brackets for the safety of your TV.
Key features:
Screen Size: 26" – 55"
Max Weight: 60 lbs
VESA: Up to 400mm x 400mm
Retractable: 3" – 19.3"
Mounting Dream TV Mount Full Motion with Perfect Center Design for 26" to 55" LED, LCD, OLED Flat Screen TV is another formidable product of Mounting Dream. Flexibility of this mount is outstanding makes our TV watching comfortable. Movement of the tilt is awesome which can be moved up 5° and pull down 15° maximums to reduce glare. Basically, the TV screen can be moved left and right to get the desired viewing angel with room formation. If there were any issue with room size, don't worry you can pull out to 19.3" and retract back 3" complied with your need.
As you are going to hang up a new TV here, so its safety should be the first concern. They ensured safety with the sturdy TV mount bracket unit which can hang up to 60 lbs undoubtedly. Moreover, the VESA supports up to 400mm × 400mm which can hold up TVs from 26" to 55".
Simple installation guideline with all needed hardware will be delivered in a pre-labeled bag. Additionally, you will find cable ties and bubble level as gift for a smarter look of your television. Not only that, company offers a 10-year warranty for tension free use.
Key features:
Screen Size: 26" – 60"
Max Weight: 88 lbs
Swivel: 180°
Retractable: 2.65" – 14"
VESA: Up to 400mm x 400 mm
Everstone TV Wall Mount is another strong option for both flat and curved TVs. This dual arm articulating device possess the capacity of holding weight up to 88 lbs. This Everstone mount brackets have adjustable arms to catch most flat and curved screens ranging from 26" to 60" and VESA up to 400mm × 400mm. These outstanding features made it one of the best utensil in the market.
This mount best fit with all the popular sizes 32" 40" 42" 50" 55"and 60". Always try to hang up in concrete wall and never try it in drywall. The wall brackets will allow you to studs between 8" to 16".
For easy and comfortable TV watching the tilts of this mount works best. It allows 3° up and 15° down, swivels TV left or right 180°.
In addition, easy installation within 30 minutes enhance its appeal. HDMI cable, 3 x cable ties along with 3axis magnetic bubble levels and the corresponding hardware will get in the bag. Moreover, you will get 5 years' warranty with this incredible mount.
Key features:
Screen Size: 32" – 55"
Max Weight: 99 lbs
VESA: Up to 400mm x 400mm
Retractable: 3" – 15.2"
Matching compatibility made the Mounting Dream TV Wall Mounts universal. Easily fits with all popular sizes from 32" to 55" can bear load up to 99 lbs. This Mounting Dream product extend its usability by supporting max VESA of 400mm x 400mm/16″ X 16″. That's the noticeable qualities to draw consumers eye on this mount.
Moving quality of tilt is a crucial factor in choosing Mounting Dream TV Mount. It can tilt up 5° and down 15° which improve the screen position for our eyes. It's arms also works better which can be pulled out 15.2" and retracted back 3" made your TV alive for moving.
Solo installation is easy and sequential. Simply install by following instruction and fix your favorite angel after installation. If still you are thinking about TV safety, then you are assured about the sturdy and cool brackets.
Key features:
Screen Size: 22" – 55"
Max Weight: 80 lbs
Swivel: 180°
Retractable: Up to 16.3"
VESA: 100mmx100mm to 400mmx400mm
AmazonBasics Heavy-Duty, Full Motion Articulating TV Wall Mount is the perfect combination of all basic needs as of running market. Most importantly it accommodates all modern TV models between 22" to 55" can hold up to 80 pounds. It offers 15° of tilt viewing angles for finding the perfect position. Articulating arms designed to extend up to 16.3" from the wall and swivels according to you need with maximum 180° both from left and right.
Heavy duty aluminum and steel bracket ensures your safety. Don't think about the difficulty about its installation. All necessary mounting hardware along with bubble level will be included in the bag for easy installation.
This hardware equipment fits with most VESA pattern from 100mmx100mm to 400mmx400mm. It has the safest cable management system which keep cables and cords out of the way.
Key features:
Screen Size: 42" – 70"
Max Weight: 100 lbs
VESA: 200mm x 200mm to 400mm x 600mm
Retractable: 3" – 20"
Swivel: 160°
If you are looking for a premium level mounting system, Heavy-Duty Full Motion TV Wall Mount by Mount Factory could be the best choice. It smoothly fits with LCD, LED, Plasma TVs and other flat panel screens from 42" to 70". The sturdy wall mount made from heavy-duty steel and high-quality barrel hinges for the safety of your television. It hanging capacity is pretty high which can hang up to 100 pounds.
This universal unit suites with all standard VESA patterns from 200mm x 200mm up to 400mm x 600mm covers almost all flat screen television models.
Moreover, higher flexibility ensured with titl, articulating swivel arms and brackets. The arms of this mount can be pull out to 20 from the wall and retracted back within 3 inches.
Additionally, to find the best viewing angle, you can rotate it up to 160° both from left and right. Besides, the tilt can move up 5° and down 8° to get the comfortable eye level.
Installation guideline along with all necessary hardware accessories will be given in a bag. Furthermore, a 10′ braided HDMI cable along with magnetic level you will find in the unit.
Key features:
Screen Size: 37" – 70"
Max Weight: 132 lbs
VESA: Up to 600mm x 400mm
Retractable: Retract up to 1. 5"
Finest solution to the big screens with heavy weight. Mounting Dream Tilt TV Wall Mount Bracket matches TV's from 37" to 70". The sturdy mount can hang up to 132 lbs easily. Besides these high voltage qualities, it is surprisingly a low profile and space saving unit. The super flexible mount fits with all popular model of TV's with a maximum VESA support up to 600mm x 400mm.
Low profile space saving quality made this mounting unit outstanding. You can close your TV up to 1.5" from wall ensures the space saving greatly to provide a stylish appearance.
To reduce glare, you can tilt the television monitor forward up to 8° with comfortable viewing position. Easy installation by one person enhance its appeal in the market. Additionally, it comes with torpedo level, 9 ft. HEMI and cable ties for clean and smart cable management. But one thing should be in concern, never mount it to a dry wall. Always choose a concrete wall for the safety of your television. Along with the world class customer service, the 10 years' warranty makes this product stand out.
Key features:
Screen Size: 42" – 80"
Max Weight: 125 lbs
Swivel: 130°
Retractable: 2.4" to 24"
ECHOGEAR Full Motion Articulating TV Wall Mount is another popular television mounting system in the market. This mounting unit is famous for its heavy loading capability can hang up to 125 lbs. Easily compatible with the television monitors ranging from 42" to 80" from all the renowned brands and models. With these qualities it earned popularity among others in the market.
Not only that you can pull out your TV 22" away from the wall to match with your room size. And can place back 2.4" to get slim smart look. You can view your TV from each and every corner with the perfect use of 130° swivel facility.
The super flexible VESA patterns compatible with all major TV brands, including LG, Sony, Vizio, and Samsung. Simple and easy installation makes extra to this mounting unit. Moreover, it will provide you an extraordinary customer support if needed.
FAQ
How long does it take to install TV mount?
Drilling, marking holes, setting plastics and proper positioning all procedures might take around 45 minutes generally. But do not hurry because you are going to hang a considerable weight in the wall. Simply follow the instructions, it's clear and easy.
Does it fit all big size TV?
Definitely, it can hold 20 to 98 inches depending on their capacity. It also highly depends on the brands and models. You will find the supported sizes in the feature paper of every model. Surely, you will find your best mount which will fit your TV easily.
Does it have various bolts to ensure a fit?
Yes, there are multiple bolts assumes standard size for all sizes TV. Just pick up screws from the bag supplied with the product and tie up where it adjusts best.
Is it flexible for proper positioning?
Full motion swivel articulating arm gives this kit an exclusive flexibility. Full motion TV mount provides a wide range of vertical movement. Besides this feature it allows swivel angel positioning too. You can simply get your appropriate angel to match your eye level. Moreover, it offers retraction range from 2 to 20 inches in the market.
How much weight can it hold?
It will depend on the models and brands. Generally, it can hold up to 165lbs. But the capacity of weight you will find in its instructions. Definitely you have to choose the proper mount by following the weight guideline from the TV mount features.
Final Verdict
As you can see, for the safety of your brand new TV there is no alternative to get the best mount from the market. Although finding the best mount for your new television is laborious but hopefully this buying guide helps to make decision accurately. However, all our stuffs are to make your searches easy and fruitful.