Hi, I'm Kim Chen of Studio Varnika, a wedding and portrait photography business based in Portland, Oregon. I describe my photographic focus as "artistic wedding photojournalism", which to me means documenting a couple's special day through beautiful, emotional, and artistically-edited images. As part of the wedding story, I always deliver photos in a mix of color and black and white images to best capture the spirit of their day. Sometimes a certain photo calls out to me to be in monochrome, like it was shot to be edited that way. Today we're going to talk about some techniques to create impact using black and white photography.
1. Bring Down Your Blacks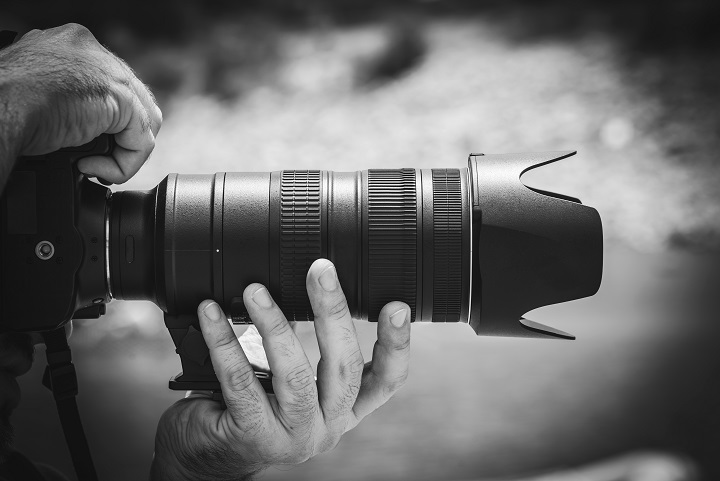 "Some photos are made to be black and white. It cuts out the noise and makes you focus on the moment."
I posted the quote above with this beautiful engagement photo of a couple at Jenkins Estate in Beaverton, OR. Sometimes color (in this case, the leaves and trees surrounding the couple) can be very distracting, and editing in black and white draws the viewer's eye directly to the subject. I like my monochrome images to very contrasty, with blacks brought down to the maximum level allowed by Lightroom (or close!). I sometimes bring up the shadows to help reclaim the shadow detail lost in pulling down the black levels. If this process brings the overall exposure of the photo down too much, I compensate by bringing up the exposure or luminance so that I get a nice brightness on the lighter parts of the image. I love the power of black and white photos from photojournalists in years past, and I try to emulate that look.
2. Use a Vignette
In general, I'm a fan of going light on vignettes, but I find that a very gentle vignette can be very effective in bringing the focus in toward the center of the frame. I'm willing to go a bit further in my vignettes for black and white images since it's not as obvious as in color! When editing your images, always ask yourself what you want the viewer to be looking at and don't be shy in bringing the focus away from distracting elements by using a vignette– play around with it!
3. Dodge and Burn
For this stunning image of a groom's expression seeing his bride for the first time, I wanted the focus to be on his face. I pulled down the blacks and used a pretty heavy vignette to darken the periphery of the image, but at that point his face became very shadowy. The solution was to dodge his face to bring some brightness back and to make the focus where I wanted it to be! Sometimes you'll also want to burn elements that are drawing too much attention, but that you want to darken to help fade into the background.
4. Identify The Right Images
Bringing down your black levels, using a vignette, and dodging and burning are all great techniques for creating impact in a black and white image, but the most important thing is to be able to identify images that would be stronger in monochrome than in color. I find that when you want to capture the heart of an expression, emotion, or moment, converting an image to black and white immediately eliminates many of the distractions. From there, leverage the contrast that already exists, and use dodging and burning to draw attention to the focus of the photo.
Indian weddings are known for being colorful, from the rainbow of saris and lehengas to the floral garlands and beautifully decorated mandap, but there are times when you still want to be able to focus on the moment. This is one of my favorite images from an Indian wedding in Portland, which was lovely in color, but breathtaking in black and white with the visual impact of a circle of smiling faces.
I hope that these techniques will help you to bring more impact to your black and white images!
Studio Varnika offers wedding photography in Portland, Oregon, focusing on artistic wedding photojournalism. Owner and photographer Kim Chen is a regular contributor to Photographers of Portland and loves to create powerful black and white photographs.