Our photographer this month is Matt Theilen of Matt Theilen Photography. Matt and his wife TJaye, are a husband and wife team photographing weddings and portraits in the Lake Tahoe, NV area. Matt discovered his passion for photography while climbing the walls of Yosemite valley. He was so inspired by what he saw, and wanted to share it with friends and family that he became obsessed (his words). He has not been able to put the camera down since!
At some point, the confines of his car became too small to support his photographic obsession, so he went back to school, got his BFA in photography and grew his artistic talent. Over time, he has seen his artwork grow and has been placed in several prominent collections around the country and internationally. He loves weddings because they are "infinitely challenging and dynamic" and he gets to meet some really great people.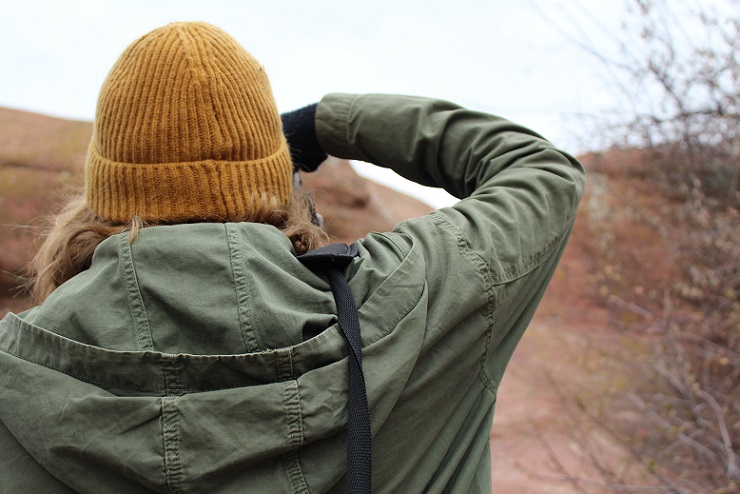 Reveal your personal hacks
My approach to wedding photography is best described as a blend of fine art and photojournalism. I like to capture the natural moments but I'm also always concerned about composition and creating images that I'd hang on my own walls.
The main inspirational theme while shooting wedding after wedding?
For me the first inspiration always comes from the couple. When two people are sharing themselves with each other and I get to be there to document it… well, it's just amazing.
I cry at a lot of weddings and have to wipe my eyes while I'm shooting. I'll look over at my wife TJaye and she'll be doing the same—this is how I knew we were meant to photograph weddings together!
Your inspirational photographers
Robert Frank
Lee Friedlander
Edward Burtynsky
Sally Mann
Avedon
Without which gadgets you can't think even a moment
My 4×5 and 8×10 cameras remind me to slow down every now and then – they are also a cool thing to bust out during a portrait shoot. Also my Holga for when I just want to respond intuitively without any technical choices.
Name it after with the dearest person
My wife and partner in photography TJaye. She's the organized one and is a fantastic photographer in her own right. Not to mention, she makes me smile all the time.
Set your studio perfectly and make it friendly for new comers
For me, it's all about the images. It's about trying to see weddings through a camera in innovative ways to create unexpected photographs. I don't look at a lot of other wedding photographers' work, I draw my inspiration from artists who are making interesting work.
Guidelines to sell high priced images online.
Let's be honest – It's 2011 and that's what people want. It made sense not to give our negatives away when we shot film because the negatives were our portfolio. Now that we can make an infinite number of copies of the images, we just build the high resolution files into our packages.
The only time I don't give out hires images is when I use my large format cameras to make portraits. I make prints and art objects out of those and keep the negatives.
Tricks to grow your social network ability?
I post my latest news and updates to Facebook regularly. I'll post every blog post and all of my photographic projects. My Facebook posts automatically posts to my Twitter account.
I joined Facebook about a year ago and it has been a great marketing tool for me.
Is DigiLabsPro helpful for your business?
Digilabs Pro Rules! The web galleries are simple and very effective. I can create custom products and take payment directly through Digilabs Pro. I also like that the web galleries are easy for people to view on any computer and don't take forever to load.
Please reveal your biggest disasters from your shooting events
TJaye and I brought our couple down to the river to make some portraits during sunset. I was hopping across rocks and getting the bride & groom set up on a boulder right off the river bank.
Out of the corner of my eye I see a small ring flying through the air and plop right into the river. All I heard was the bride using the groom's full name in a tone similar to that of my mother's. I realized then that it wasn't the bride's ring… the groom just hadn't quite got the feel for the ring so he was wearing it on his thumb (It's a guy thing.)
So I kicked my shoes off and TJaye took over shooting while I waded into the river to try and get the ring. It had fallen in between some large rocks and I didn't want to lift them up and lose the ring forever in the murky bottom…So I told the groom exactly where the ring was and told him to come back in the morning with a mask and snorkel…
I got a text message the next day: "We found it!" So rad!
Be yourself and make images that inspire you. People will hire you for your own vision, not just because they need a photographer.