Advanced technology has made it easy so that we do not require papers for everyday office work anymore. This is why a lot of offices around the globe are going paperless. So if you want to buy the best 11x17 scanner, simply keep on reading.
For this, you need a scanner. One good enough would be able to digitize all your papers, all the while storing them in an organized manner. For so much work, you would want a scanner that performs well.
But how do you find the right one in such a saturated market? Granted, we don't always know specifications of a scanner. And when looking them up we get hit with technical jargons.
Well, that is why we are here. From breaking down the factors you should look out for best 11x17 scanner, to the unique models that will meet your differing needs, this article covers all you will need to know.
Top 11x17 Scanner 2021 by Editors
List of Top 11x17 Scanners
5. Canon imageFORMULA DR-M1060
Comparison Table for Top 10 11x17 Scanners
| Image | Name | Resolution (dpi) | Color Depth (bit) | Special Feature |
| --- | --- | --- | --- | --- |
| Plustek A3 Large Format Flatbed Scanner OS 1180 : 11.7x17 scan Size for Blueprints and Document. Design for Library, School and Soho. A3 scan for 8 sec, Support Mac and PC | Plustek A3 Flatbed Scanner | 300 | 48 (Color), 16 (Grayscale) | LED light source design |
| Mustek A3 2400S - High speed A3 Large Format 11.7-Inch x 16.5-Inch Color Scanner | Mustek A3 2400S | 2400 x 2400 | 48 (Color), 24 (Grayscale) | Batch Scanning |
| Epson DS-50000 Large-Format Document Scanner: 11.7" x 17" flatbed, TWAIN & ISIS Drivers, 3-Year Warranty with Next Business Day Replacement | Epson DS-50000 | 600 x 600 | 48 (color), 24 (monochrome) | 4-line CCD sensor |
| Xerox DocuMate 4700 Color Document Flatbed Scanner | Xerox DocuMate 4700 | 300 | 24 (color), 8 (Grayscale) | One-touch scanning |
| Canon imageFORMULA DR-M1060 Office Document Scanner | Canon imageFORMULA DR-M1060 | 600 | 24 bit | 120ipm duplex scanning |
Best 11×17 Scanner Reviews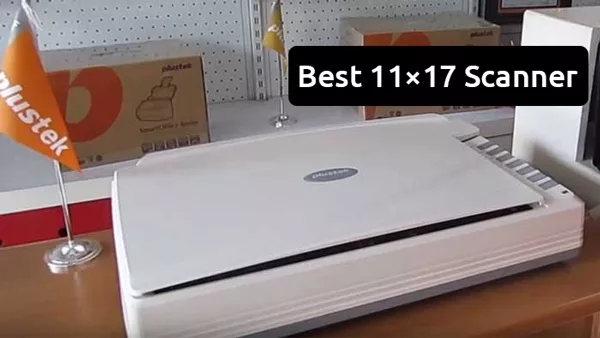 1. Plustek A3 Flatbed Scanner - Best 11x17 Flatbed Scanner
The Plustek A3 is a flatbed scanner which aims to meet all your scanning requirements. Made for professionals of all sorts, this will live up to your expectations and might just exceed them too.
Being large in size, this can easily cover a lot of area. It can help you digitize your books by scanning two letter sized pages at one go, along with newspapers, large format magazine, two pages spread books and so much more.
This printer also sports a LED light source design. This lets it scan whenever you please without the warming up step. It speeds up your process and helps you save time.
Speaking of speed, this printer is very fast with your documents. Scanning A3 size grayscale papers in only 9 seconds, this lets you do more with your time. For color scans, you need a little more time of only 15 seconds.
OCR feature lets you convert your scans into searchable and editable files. With this you can look them up any time you want, also make changes in the scans. While you can totally do this without a dedicated feature, that would simply take too long.
This gets your job done quickly. Intelligent scan correction is yet another feature that you will love. You can rotate your scans, enhance characters when they don't come out as you liked, and remove backgrounds.

Highlighted Features
Up to 1200 dpi optical resolution
Four easy one touch buttons
Comes with LED light source
Is complaint with TWAIN / WIA
2. Mustek A3 2400S - 11x17 Flatbed Scanner For Mac
Designed for professionals, the Mustek A3 2400S comes with a load of the finest features in the market. Promising to give you flawless scans, this comes with a 2400 dpi resolution.
That is a very high number when thinking resolution, and it gives you the clearest scans you can ask for. So be it for text documents or image scans, you will find them in superior quality, making this scanner worth every penny.
Coming to the color depth, you get a 24 bit which can be optimized to a 48 bit. Now this is a lot when it comes to color depth, and will give you really good gradients.
Even if you are scanning something in grayscale, you will be able to tell the different shades and how vivid they appear on the scan. Of course the same can be said about the color scans too.
With this quality image processing, you can easily enhance your pictures. Sometimes post scanning you might not like how the picture looks on a screen, versus on paper. With this you can change that. You get filters to try on, or enhance colors and shades to bring life to your picture.
Last of all, because of the size on this, it enables batch scanning. Put in different pictures and texts to form a collage, and it will scan it onto one page.

Highlighted Features
Has a resolution of 2400x2400dpi
Compatible with windows and Mac
Features USB 2.0 making it faster
Comes with LED light source


3. Epson DS-50000 - Best Scanner For 11x17 Artwork
One on the more affordable end, this Epson DS-50000 is a prime choice for students. Being both efficient and affordable at the same time, this proves to be a good choice for school and university students.
Besides being affordable, its other features also cater well to those tangled in academics. First of all you have the TWAIN and ISIS drivers which make this scanner compatible with any software out there. You also get the OCR software.
Now you can easily search for your documents using keywords to organize them. You can also edit them when needed. One of the first things students look for is convenience.
With this scanner you can directly store your scans to online clouds and access them as you like. This includes Dropbox, Filebound, Evernote and Google Drive, all thanks to the Epson Document Capture software.
Coming to the scanning quality, you get a 4-line CCD sensor. With this you get to experience crisp texts and the most vivid colors in your scans. Not to mention the 600 dpi resolution which helps to ramp up your scanning quality for the finest results.
Being a student means lots of group tasks, which is why you get a productivity software. The optional networking module on this scanner lets every member in your group have access to the scanner.

Highlighted Features
Comes with a 4-line CCD sensor
Has both TWAIN and ISIS drivers
4. Xerox DocuMate 4700
Called the Ultimate flatbed scanner, the Xerox DocuMate 4700 comes with features that make it live up to its claims. Let us start off with the internal USB hub.
With this you can create your very own desktop scanning station. Simply connect the flatbed to any Xerox DocuMate ADF scanner, and voila, you are done. The scanner is powered by Visioneer OneTouch technology.
This lets you access a total of nine presets on this scanner, with one touch. With this you can easily scan all your documentswith the right settings. Be it for color or resolution or advanced ones like cropping, file formatting.
After this you can also deliver to any other application, device or folder of choice. This whole feature together makes your scanning life a lot easier and faster. Without it you would have to spend a lot of time individually for each step.
One of the features that really make this worthwhile your time and money is the Visioneer Acuity. This works to visually improve your scans. It will remove marks, smudges and wrinkles as you like.
Alongside that the advanced algorithms also work to correct other imperfections in your scans, improves the quality of the scans and even the OCR technology. The OCR technology is one that lets you archive and organize your scanned documents.

Highlighted Features
Holds a maximum paper size of 11.1x7 inch
Scanning speed is 2.5 seconds per page
One touch scanning to 9 destinations
Can connect to Xerox DocuMate ADF scanners
5. Canon imageFORMULA DR-M1060- 11x17 Scanner With Document Feeder
Marketed as a compact and economical scanner, the DR-M1060 from Canon really is a small and compact scanner. This lets it fit into multiple spaces and makes it very versatile.
Another example of what makes this versatile, is its unique feeding methods. Instead of one, here you get two- a U-turn and a straight. What this does is, it makes feeding different sized papers easy, be it long or short, thick or thin.
Besides that you also get pickup feeding as well as a paper feed error detection sensor. This ensures your scanner is well looked after and does not face jams due to feeding issues.
Coming to the speed, the scanner does not lag here either. You get a 60 pages a minute, or 120 images a minute. And this goes for black and white texts, as well as color and grayscale images.
Adding it up, you can process up to a whopping 7500 documents a day. This helps you boost your productivity, and helps you save valuable time. Image capture precision is on point as well.
The scanner easily distinguishes between color documents in mixed batches, has text enhancement, and can scan mixed batches of documents and images together.

Highlighted Features
Scans up to 60 pages per minute
Has auto color detection
Can crop and straighten images
Compact design makes it versatile
How To Choose The Best 11x17 Scanner
Resolution
Resolution determines how well your scans come out. This depends a lot of what you aim to scan the most. For example, if you are using this in an office where text scanning is the priority, you can settle for a decent resolution like 200 ppi.
If your budget allows you, go for 300ppi for a sharper texts. However, if you aim to use for picture scanning, the higher the resolution, the better your scans will seem.
600 ppi can easily be found in a lot of scanners today. For pictures you want clarity and color to be perfect, and a low or moderate resolution will not give you that.
Area
The scan area is important because this determines the sizes of scans you can do. Once again, if you know you will be using this in a professional setting, a high scan is good.
You might have documents or pictures of differing sizes for work. From sticky notes and receipts to large photographs and newspapers, you can never be too sure of what might pop up.
If your scanner cannot perform at the moment, it will be a shame. On the other hand if you want to use it at home, you can opt for a smaller area.
Since you won't be dealing with uncalled for scanning every now and then. The smaller size will also mix in well in the home.
Duplexing
Duplexing means your scanner will be able to scan both sides at one go. Traditional scanners take up a lot of time. Here you have to scan one side, flip, and then scan the other.
In a work setting, this can be very time consuming. This is why most new scanner models come with duplexing to save you from his trouble. Try to purchase one that has this feature to drastically change your scanning experience.
Sheet feeder
The sheet feeder automatically feeds sheets into the scanner to be scanned. This if for those who will be scanning pages by the lots. Feeding paper in manually is not just a time consuming task, but also a very frustrating one.
The work keeps repeating. A sheet feeder will ensure your scanning keeps going even when you are not there. Modern models today even have sheet feeders that can take thicker pages, like business cards and the likes.
This simply exists to make work faster and smoother.
Frequently Asked Questions
1. How Do You Scan 11x17?
You can scan an 11x17 inches document with just a few simple steps. At first, you will have to set up the scanner to the PC. Then start scanning and set the source to be "Flatbed" and the page size as "Entire Scan Area." After that, place the 11x17 inches paper into the scanner and start the scanning process, and you will get the scanned file in a couple of seconds.
2. How Do I Scan A Photo Oversize With A Flatbed Scanner?
To scan an oversized photo with a flatbed scanner, you will have to scan the picture in a few parts with utmost attention and caution. You can print the picture in multiple sections starting from a particular corner, and then you can add all the parts using the software.
3. How Do I Scan An Oversized Document?
Scanning oversized documents with a regular A4 printer has become easier, thanks to various software that can stitch up different picture sections of a picture together. Now, to scan an oversized picture, you just have to scan the large document in smaller sections precisely. With a photo stitching app, you can add all the parts to make it a single document.
Final Words
You don't buy scanners every day. You look into it, delve deep into details and make sure to buy one that will serve you for many years. While the right one will help your work become efficient, the wrong one will make you suffer every day.
Not to mention waste your time. To get your hands on the best 11x17 scanners you don't need to do much. Simply do a little research, check out our article which lists some great models.
Find the ones that interest you and see how they compare against each other. Voila! You'll have a brand new scanner.
Related posts:
Buy on Walmart
Epson Expression 12000XL-PH Flatbed Scanner - Walmart Link
Epson DS-50000 Large-Format Document Scanner: 11.7" x 17" flatbed, TWAIN & ISIS Drivers, - Walmart Link
Xerox DocuMate 4700 Color Document Flatbed Scanner - Walmart Link
Epson Perfection V600 Color Photo, Image, Film, Negative & Document Scanner - Walmart Link
Document Camera iOCHOW S1, High Definition Portable Scanner, Only Support Windows, - Walmart Link
1. Plustek A3 Flatbed Scanner - Walmart Link
2. Mustek A3 2400S - Walmart Link
4. Xerox DocuMate 4700 - Walmart Link
5. Canon imageFORMULA DR-M1060 - Walmart Link
Buy on eBay
Epson Expression 12000XL-PH Flatbed Scanner - eBay Link
Epson DS-50000 Large-Format Document Scanner: 11.7" x 17" flatbed, TWAIN & ISIS Drivers, - eBay Link
Xerox DocuMate 4700 Color Document Flatbed Scanner - eBay Link
Epson Perfection V600 Color Photo, Image, Film, Negative & Document Scanner - eBay Link
Document Camera iOCHOW S1, High Definition Portable Scanner, Only Support Windows, - eBay Link
1. Plustek A3 Flatbed Scanner - eBay Link
2. Mustek A3 2400S - eBay Link
4. Xerox DocuMate 4700 - eBay Link
5. Canon imageFORMULA DR-M1060 - eBay Link