Jeff is best known for his creative artistic eye, his easy-going attitude and his knowledge of technology. And when I say 'easy-going attitude' I mean it, he's a gem! He's funny, charismatic & makes anyone feel comfortable in any environment. He embraced digital cameras before they were widely accepted by the industry, & has continued to exploit the latest in technology to provide the best images with the best equipment.
I actually met him at a show, the Photo Expo in New York, almost 2 years ago. He asked A LOT of questions about our budding coffee table books & definitely knew his stuff. He came by the booth, oh about 10 times in the 2 day show looking at binding, asking questions, and by the 1st night he had already downloaded the My Photobooks software & LOVED it. He ordered his first coffee table book the DAY we got back from New York. I will say, I bullied him into our Web Services mostly because I knew it would be such a great fit for his business & I'm a great salesperson ;). Now, when he comes by our booth at shows to say hi, he'll sell the product for us and literally chat up Photographers explaining the benefits of our service. He does my job for me folks!
Jeff writes a monthly photography column for Digital Reproduction Magazine (Australia) and is a featured photographer at Lexar Media's Digital Photography website. His images were chosen for Lexar Media's 2007-2009 International Advertising campaign. I knew he'd be a perfect canidate for Photographer of the Month as he knows alot about the industry, has a QUICKLY developing Studio that is growing EXPONENTIALLY in the last 2 years that i have known him & is downright fun. Check it out: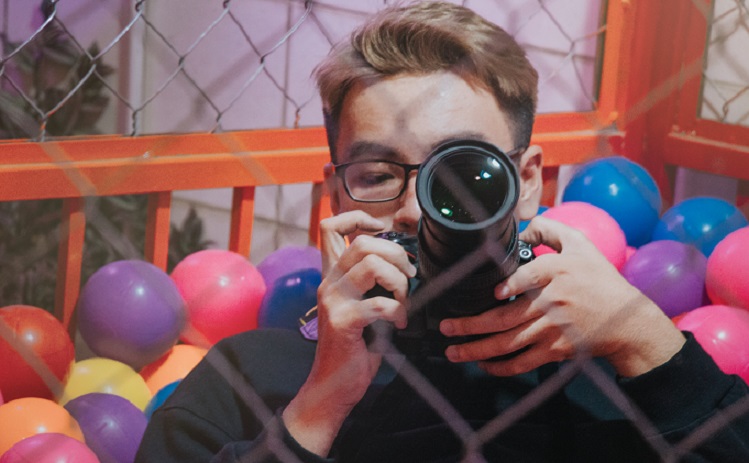 1. Describe to me a little more about your personal 'style'
According to my wife – I have none, when it comes to the way I dress. As for my shooting, it really depends on what I am capturing. When I photograph events, like Bar Mitzvahs or weddings, I shoot in a journalistic style. I stand back and capture what is unfolding in front of me.
I love interacting with the people since that puts everyone at ease and it makes the day more interesting for me. I try not to be "the typical photographer" and strive to be a part of the day. When I am shooting an advertisement, I am very focused at completing the job at hand. I guess I am like a Chameleon, I my shooting style changes depending on my environment.
2. I love to find out from ALL types of photographers
What inspires you when shooting? The quest for the killer shot! There is nothing better than nailing a shot and knowing the second that I hit the shutter release that I got a shot that both the client & I will remember for a lifetime. For me, it is knowing that the photo is technically and artistically perfect. For the client, it is knowing that they have an image that will remain special to their family forever. I am helping them capture family history, that is incredibly inspiring to me.
3. Tell me what helps you 'work your magic'?
What gear do you use? I have been using Canon cameras from the beginning. Recently I switched to the 5D Mark II and it is awesome. I love the fact that I can capture images inside a Temple or Church at ISO 3200 and still have a very usable image. That is huge for me! As for lenses, I use a combination of long zoom lenses like the 70-200 and the 100-400 and for wider shots I rely on the 24-105 and 16-35 lenses. I have recently been experimenting with the Sigma 15mm fish eye lens which is really cool.
4. With SO many NEW 'weekend shooters' getting into the ProPhotography market what does your Studio do to set yourself apart?
The customers have a lot of choices today. I rely on my web site to show people my work and my shooting style. When I talk to them, I never try the "hard sell", instead I encourage them to look at my work, see if it matches what they want, and then we talk about the rest of the details. My wife creates all of our photo books (using Digilabs of course!) and we use her sense of style to sell that aspect of our business.
5. How are you changing your business to incorporate?
Things like selling the high res images & social networking tools (like facebook) Man, this is a tough question and one that I struggle with all the time. I made a decision that if people really want the digital files, they should be entitled to them, but at a cost that makes good business sense to me. So, now I sell the edited images to the client for a set price. One rule that I NEVER break is this: I never sell unedited work. I tell the client that it is like Porsche selling a half made car. People hire me because I deliver a very good finished product and I do not want my RAW images in someone else's hands.
As for social networking sites, I have created a group on Facebook and it is a great way to keep people up-to-date with what I am doing. Due to time constraints, I do not update the content every day, but I use it as a tool for new and exciting information. As for Twitter, I still don't get it. I really don't think that people care what I am doing every second of the day.
I really use my blog as my own personal social site. I link the blog to Facebook and that works really well. I love sharing my photos and stories with friends this way. The toughest part is finding time to add the content and keep it fresh.
6. How does Digilabs help your business?
Digilabs has been instrumental in our business. I first stumbled upon Digilabs at Photo Plus in NY in 2007 when we were looking for a company that could produce hard cover books with images printed on the cover. At the time, we were using another popular company, but they only had printed sleeves and we did not feel that these represented us well. Once we tried the Digilabs books, there was no turning back. We have now produced almost 100 books and the clients love them!
After using Digilabs as our book creator for the first year, Kate, who by the way is the best, convinced me (kicking and screaming) to try the ecommerce portion of their site to sell my images online. This was a big change to my workflow and I was scared to make this jump. Thank goodness that I did! The first event that I posted on their site generated $1000 in incremental business and this has become our standard ever since. We have sold thousands of dollars of prints that we would not have done if it were not for Digilabs. Thanks Kate!
7. OK Don't hold back!
Tell me your craziest Bridezilla/Customer story? Nope. Never happened yet, thankfully! The toughest clients we have had to deal with are the ones that want to make endless changes to the books. We had one client who made so many changes to the book that when she finally said "print it" my wife and I were shocked (& relieved).
8. Advice for other Photographers?
Stay true to yourself and do not change your shooting style to match a client. If they have chosen you as their photographer, it is because they like the work that you have shown them. Stay with that and both you and your client will be happy in the end. And, at each event, try shooting something new and different just to keep pushing yourself. Try a different pose, a different lens, a different setting on the camera… Oh…and use Digilabs to help grow your business.
Now you get it right? Isn't he a Gem?!! (AND YES flattery gets you anywhere with me ;)) Check out one of Jeff's online book shares HERE that left the Mother in tears & the Father ecstatic through Digilabs My Photobooks software. His website, www.jeffcable.com & become his friend on facebook and/or follow his blog!