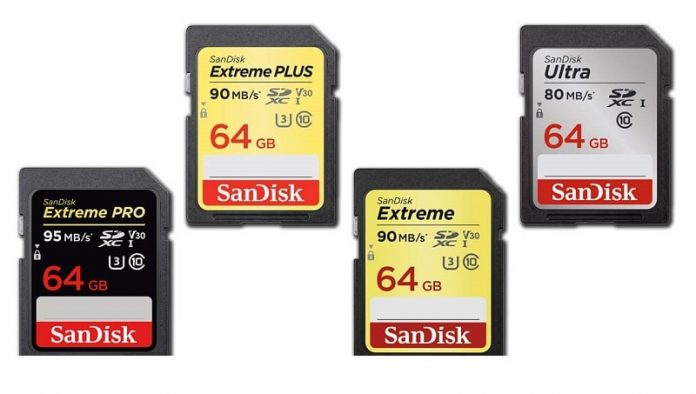 SanDisk Ultra and SanDisk Extreme are one of the most renowned SD (Secure Digital) cards throughout the world. Their performances are mind-blowing and they play a very important role in storing your important files. Some people consider them as a 'life savior', and some prefer to imagine them as a 'friend in need'.
In this current generation, technologies are upgrading to an unimaginable extent. Every single day new and improved gadgets are getting launched worldwide. This lucrative stuff attracts people like a magnet, and the question is why people won't divert towards it?
These gadgets make people's life easier in a lot of ways, and everyone should reap the rewards that come from it.
Along with the upgraded technologies, you have to store lots of files and data onto your device, and the internal memory can't store all of that. In this situation, SD cards like SanDisk Ultra or Extreme plays a perfect striking role.
If you are a professional photographer or videographer, these cards are considered as the backbone of your career progression. Both the cards are excellent in their way along with the performance. As a result, when it comes to picking one, it gets confusing.
So, from the following article, you will find out all the beneficial information about SanDisk Ultra and SanDisk Extreme SD cards. These will help you to buy the one that fits your requirements. Without further ado, let's get started.
Similar Facts About Sandisk Ultra And Extreme
There are some identical factors for both SanDisk SD cards. Check them out.
Although the warranties are quite different for the SD cards, they are considered similar for a particular reason. If you buy a SanDisk Ultra, you will get a limited warranty of 10 years. On the other hand, you will get a lifetime warranty for the Extreme one.
As you have seen, their time ranges are different, but the important aspect is that the technologies are advancing at a breakneck pace. Therefore, it is pretty much predictable that you won't be using the same SD card for over 10 years or so. Situation will drag you into buying a new one.
In that sense, the 10 years for the Ultra model is not considered different if you compare it with the Extreme one's warranty.
When it comes to the size, SanDisk Ultra and SanDisk Extreme are very similar. You can buy any of the storage capacity choices of 8-256 GB and 16-256 GB. The most important thing about an SD card is its capacity because this is the main purpose that you are planning to buy one.
The prices of the cards are not similar, but their ranges are very much identical. You can buy SanDisk Ultra for $20 and Extreme for around $30. It is quite affordable if you have budgets that fit within this range.
If you add an extra $10 to $20, you can go for the Extreme, and if you are up for saving that money, you can buy the Ultra one. So, buy the one that can fulfill your criteria.
Difference Between Sandisk Ultra And Extreme
As you are going towards the comparison, check this detailed information to gain some insights about SanDisk Ultra and Extreme.
SanDisk Ultra
The performance of this card is marvelous. You have to spend around $20 only for the 128 GB version (mentioned above). With a huge storage capacity, this price is low. At the same time, the read speed is 80 MB/s, which is very much appreciated in this price range.
This speed keeps a Class 10 rating. Class 10 means that the slowest read speed will be at least 10 MB/s.
However, some people thought that this speed is quite low and doesn't meet their standards. But the good news is that when this card was carefully evaluated, the read speed jumped to 99.5 MB/s. This speed is way too higher than its mentioned speed and a sigh of relief for the naysayers.
So, it proved that SanDisk Ultra over-delivers its performance beyond anyone's' imagination.
SanDisk Extreme
SanDisk Extreme is ultimately the upgraded version of the Ultra one. There are various reasons to prove it right. The transfer speed can perform up to an astounding 90 MB/s. The name itself weights it.
The performance and the speed are very much upgraded than SanDisk Ultra. Apart from the speed and lifetime warranty, the Extreme model comes with a complete package of the shockproof, waterproof and temperature-proof card. Also, it comes with an additional benefit of data recovery software.
Moment of Truth
Up to this point, you might have given a thought that the SanDisk Extreme is the best to go for. If you are not clear about the differences, you might face a problem when you go out to buy it.
For example, your budget is low, and you prefer to save some extra money to buy some other stuff of your need, SanDisk Ultra can be the right choice for you in that case. However, if you prefer to record videos in a 4k resolution, we highly recommend that you avoid buying the Ultra one.
For a professional photographer, videographer, or even a YouTuber, SanDisk Extreme can be a good pick for them. This is very much efficient in recording and uploading high-quality videos without a doubt. Your viewers will love the photo or video quality for sure. The comments or reviews from them will be the ultimate proof.
Key Features of SanDisk Memory Card
If you are still confused with your choice about picking the desirable one, have a look at the features below to clear out your confusion.
Normal SDHC (Secure Digital High Capacity) card is fast, but SanDisk Ultra is twice as faster than this. This means you can transfer files, photos, and videos in a shorter amount of time with the help of the Ultra model. Because of its good performance, you will also be able to record video in 1080p full HD video.
Other features like waterproof, X-ray proof, temperature-proof and magnet-proof are present in it as well. If you have midrange camcorders or digital cameras, this card will be effective as well as efficient for you.
The features are extreme as it is highly professional and upgraded. The shot speed is 70 MB/s, and the transfer speed is 150 MB/s. If you are a professional photographer and are planning to capture different types of photos like burst photography, the Extreme model will be the right choice for you.
Not only that, to shoot videos in 4k (ultra HD) resolutions, this card will surely satisfy your desire. Your vision will turn into a reality with the help of this card.
Moreover, you can use it on your smartphone and use your apps without any problem. Usually, it takes time for some apps to load, but for this one, you can be sure that this problem will never occur.
Accordingly, to take drone shots from a very high altitude and get a clear picture or video of the area, this card is the top pick. Different YouTubers have suggested using this card as they are a pro in taking drone shots.
Which One Should You Buy?
It is clear from the above that both are best in different cases and you can't say which one is the winner. It is simply like buying a smartphone, and you can only pick the one that fits with your budget and comfort zone.
However, the SanDisk Extreme is highly advanced and performs in a beastly manner. You will never get the chance to pick any faults from it. It is full of features and benefits.
On the other hand, the Ultra model is also a complete package of features, but it is not an updated version. You might notice the difference in the speed of the file transfer if you can check both the cards in a single device.
In the end, when it comes to your budget, it is entirely up to you. The price gap between them is not that much, but for a minimum budget, you can buy the Ultra model. If you are interested in spending extra money to get an upgraded one, the Extreme model is there to serve you.
Besides, you can consult a professional photographer or videographer regarding your choice. They will provide you with some additional information that you can use it in your favor later in the future.
So, make sure you consult and solve your queries before buying. Search on the website to gain more knowledge and also check the review of the customers to understand their point of view. After that, you can take precautions beforehand and be strategic to choose the best quality one.
Conclusion
Hope this article has solved all of your confusion regarding SanDisk Ultra vs. SanDisk Extreme. Go for the one that will add value to humanity as well as your career.
Make sure you always take care of the memory card as any malfunction on them might put you in a situation where you have to run to recover your lost files and other stuff.
Best of luck with your career!