With graphics cards, it is pretty easy to overpay or underbuy, given the wide range of prices that you get. The important factor lies in your usage.
Are you using it for just photo editing? Will you be playing video games as well? Do you render 3D models for a job?
Once you can answer these questions, you will know which specifications will be right for you. In this article, we have gathered a collection of graphic cards for photographers.
Photo editing is the second most important step to most photographers after capturing the right shot. A graphics card allows you to perform high-quality edits resulting in exceptional pictures.
So if you are a photographer looking for the best graphics card for photo editing, keep on reading to find out which are the right choices for you.
With product descriptions, comparisons with market competitors, along with features you need to have, this piece covers all you need to know.
Top Graphics Card for Photo Editing 2021 by Editors' Picks
List of Top 10 Graphics Card For Photo Editing
5. XFX Radeon RX 570 RS XXX Edition
6. Sapphire Radeon 11265-05-20G Pulse RX 580
7. Asus GeForce GTX 1660 Super Overclocked
Comparison Chart For Top 10 Graphics Card For Photo Editing
| Image | Product | RAM (GB) | Processor | Memory Clock Speed (MHz) | Memory Bus Width (bits) |
| --- | --- | --- | --- | --- | --- |
| Gigabyte Geforce GTX 1050 Ti OC Low Profile 4GB GDDR5 128 Bit PCI-E Graphic Card (GV-N105TOC-4GL) | Gigabyte Geforce GTX 1050 | 4 | NVIDIA GeForce GTX 1050 Ti | 7008 | 128 |
| MSI Gaming GeForce GT 710 2GB GDRR3 64-bit HDCP Support DirectX 12 OpenGL 4.5 Single Fan Low Profile Graphics Card (GT 710 2GD3 LP) | MSI Gaming GeForce GT 710 | 2 | Nvidia GeForce | 1600 | 64 |
| XFX Radeon RX 580 GTS XXX Edition 1386MHz OC+, 8GB GDDR5, VR Ready, Dual BIOS, 3xDP HDMI DVI, AMD Graphics Card (RX-580P8DFD6) | XFX Radeon RX 580 | 8 | AMD Radeon RX 580 | 1386 | 256 |
| MSI Computer Video Graphic Cards GeForce GTX 1050 TI GAMING X 4G, 4GB | MSI GeForce GTX 1050 | 4 | NVIDIA GeForce GTX 1050 Ti | 7108 | 128 |
| XFX Radeon RX 570 RS XXX Edition 1286MHz, 8gb GDDR5, DX12 VR Ready, Dual BIOS, 3xDP HDMI DVI, AMD Graphics Card (RX-570P8DFD6) | XFX Radeon RX 570 RS XXX Edition | 8 | AMD Radeon RX 470 | 7000 | 256 |
| SAPPHIRE Radeon 11265-05-20G Pulse RX 580 8GB GDDR5 Dual HDMI/ DVI-D/ Dual DP OC with Backplate (UEFI) PCI-E Graphics Card Graphic Cards | Sapphire Radeon 11265-05-20G Pulse RX 580 | 8 | AMD Radeon RX 580 | 1750 | 256 |
| ASUS GeForce GTX 1660 Super Overclocked 6GB Dual-Fan Evo Edition VR Ready HDMI DisplayPort DVI Graphics Card (DUAL-GTX1660S-O6G-EVO) | Asus GeForce GTX 1660 Super Overclocked | 6 | GeForce GTX 1660 SUPER | 1400 | 192 |
| Gigabyte GV-N1030OC-2GI Nvidia GeForce GT 1030 OC 2G Graphics Card | Gigabyte GV-N1030OC-2GI | 2 | GeForce GTX 1030 | 6008 | 64 |
| VisionTek Radeon 5450 2GB DDR3 (DVI-I, HDMI, VGA) Graphics Card - 900861,Black/Red | VisionTek Radeon 5450 | 2 | AMD Radeon | 667 | 64 |
| EVGA GeForce GTX 1650 XC Ultra Gaming, 4GB GDDR5, 04G-P4-1157-KR | EVGA GeForce GTX 1650 XC | 4 | NVIDIA GeForce GTX 1650 | 8000 | 128 |
Best Graphics Card for Photo Editing reviews
1. Gigabyte Geforce GTX 1050
On an affordable end, this Gigabyte Geforce GTX 1050 graphics card is one of the cheapest Pascal-generation graphics card you can find today.
But do not be fooled by the price, for you can play all the latest and popular games using this such as Fortnite, Overwatch and many more. Do you know what this means?
This will be just as suitable for your photo edits as well. This GPU can handle 1080p gaming, which means you will not be far off with your photo edits when working with the same resolution.
We expect you will be using a laptop that is easy to carry, hence small in size.With this you get a low profile design. The small length of a 167mm card lets you save space, and makes it easy to fit the graphics card onto smaller systems as well.
This is helpful if you are using small laptops for photo editing, The XTREME engine utility makes this easy to use when gaming as well. To use this, you don't need much knowledge on overclocking, but can simply click on this and tune your card to your gaming requirements.
Connectivity is an option you need to see as a photographer, and you will be happy to know this comes with DVI-D, DP, a Dual-link and two HDMI ports, and can work with 4 displays.

Highlighted Features
Can support up to 4 displays
The recommended system power is 300W
Card length is small at 167mm
Boost is 1442 MHz and Base 1328 MHz (OC Mode)
Boost is 1417 MHz/ and Base is 1303 MHz (Gaming Mode)
2. MSI Gaming GeForce GT 710
Another affordable buy, this is a graphics card that photographers and editors love since it comes at such a good price, which is awesome for student or new photographers.
It can be connected to up to 3 display monitors and is compatible with numerous PC hardware, making it even better. This graphics card comes with solid capacitors which help to increase the lifespan of your GPU.
It also comes in a low profile design that makes this usable with your smaller gaming systems and only uses one PCI slot. You will enjoy this if your PC has a small form factor case with limited space.
In other words, you can use this on a laptop that you have to carry to edit photos. Power consumption wise, this is also efficient as it doesn't use up too much. For cooling purposes, this graphics card only makes use of heatsink.
This makes sure there is no noise and ensures you there will be no future issues from cooling fans.

Highlighted Features
Can support up to 2 displays
System power supply requirement is 300W
Solid capacitors to maximize lifespan
Has a 1600 MHz memory clock
Comes with a 64-bit Memory Interface
3. XFX Radeon RX 580
If you love photo editing but are also a gamer on the side, this could be the graphics card for you.
XFX programs, designs and constructs their graphics cards with the top technologies so they can provide you with a seamless gaming experience like never before.
Besides the software, some of the amazing features you will love on this include the cooling technology which helps to regulate the temperature of the GPU, the processing speed that allows you to play games without any lag or stutter whatsoever.
The GPU is one of the most important parts in your graphics card and it can be damaged if there is any dent or bend on your graphics card. The result will be a completely altered performance.
To prevent this, the XFX Radeon RX 580 comes with a custom Aluminum Backplate which lets the card rest in a secured state. Next you get a Unibody Heatsink that increases the thermal efficiency by 40%.
As a gaming graphics card, you would expect this to heat up, but due to the Aluminum cover, heat emitted from the GPU is absorbed. Performance wise, you can expect no less.
This graphics card supports pretty much every old and new game out there without disturbance even at high resolutions of 2560×1440

Highlighted Features
The minimum power requirement is 500W
Features VRM and Memory cooling technology
Has a memory bus width of 256 bits
Has a memory clock speed of 1386 MHz
Features XFX True Clock Technology for optimum performance
4. MSI GeForce GTX 1050 TI
The MSI GeForce GTX 1050 TI is a graphics card that features a Twin Frozr VI thermal design. This lets it reach high core and memory clock speeds to give you the finest performance for your games by keeping the GPU cool.
Easy to install and being small in size this can easily fit into SFF cases without any need for additional power hook up.
For the best results this will let you play modern games at high resolutions of 1080p, also allowing to you get your editing work done similarly. Unlike most old graphics cards, this does not make noise and is pretty silent to work with.
Supporting up to 3 displays this is a great buy for those who love to game but have to edit photos on the side. Lastly you will also appreciate that it consumes very low power as well.

Highlighted Features
Has a video memory of 4GB GDDR5
Maximum resolution is 2560x1600
Has a 128-bit memory interface
It has a memory clock speed of 7108 MHz
5. XFX Radeon RX 570 RS XXX Edition - Best Graphics Card For Photo And Video Editing
The XFX Radeon RX 570 RS XXX comes with a lot of interesting features, amongst which there is the True Clock Technology.
This lets the clock speed be hardware controlled which lets it run at an optimum level at all times, giving you the finest performance. Besides great performance, this graphics card is also easy to use thanks to its unique cooling technology.
You get an enhanced VRM and Memory Cooling with this that reduces temperatures. In VRM up to 30' C and GDDR by 20' C. Your GPU does not get hot, your performance stays optimum!
Last of all, this also makes sure noise levels are also reduced so you are not disturbed during your work or gaming.

Highlighted Features
Comes with 2048 steam processor
Features dual bios with Cryptocurrency Mining and Gaming
Comes with an XFX Double Dissipation Cooling Design
Has a minimum power supply requirement of 500W
Has a 7000MHz Memory Clock Speed
How To Choose The Right Graphics Card For Photo Editing
Thermal Design Power (TDP)
GPUs tend to generate a lot of heat, each type a different level than the next. This means they need sufficient cooling as well to be able to run properly and give you optimum performance.
A recommended power supply size is provided in watts with the graphics cards. Along with this you need to consider how much power other components are also drawing in.
This combination of the amount of power pulled by a GPU and the amount of heat it generates is known as the Thermal Design Power or TDP. The more the TDP, the more power is required, hence more heat is produced by your GPU.
This is important because you must find out how hot a graphics card can get when running at top power. This will help you choose the right cooling system for both your PC and your GPU.
Memory
To find the best photo editing graphics card, you have to consider the memory. Discrete GPUs come with their memory where they store data. This is used to display the information on the screen.
Hence you need to consider the memory and the bandwidth a graphics card comes with before buying one. Since you are buying this graphics card for photo editing, we expect you will be using high-performance software and large amounts of data to represent your edits on the screen.
This is where the RAM or random access memory becomes an important factor and you need a high amount of graphics RAM. 4K displays are another place where you also need more graphics RAM for better performance.
If you buy a fast graphics card, you usually get a high RAM with it which will also be enough for video games. Next comes the RAM Bandwidth.
Once again, if you have a fast RAM, your GPU can access data just as fast and display it onscreen for you.
Interface
Most discrete GPUs today can be plugged in PCL slots where most are 16xPCle. The GPUs can vary in their slot widths which can be single, double or triple slots.
What you should see is that your PC or notebook's motherboard has space for the GPU you want to buy.
Connections
Whatever GPU you get, you have to connect it to one or multiple displays. The connections you normally get today are HDMI, DVI and DisplayPort.
VGA can be found on older models mostly, but some newer ones might have them as well. Here you need to make sure that the GPU you get can be connected to all your devices, and in the case that they cannot, you will need an adapter.
You should also double-check the number of monitors your GPU can support, for this also differs from one model to the other.
Frequently Asked Questions
Does A Graphics Card Help With Photo Editing?
A graphics card won't be of much help for photo editing, it won't necessarily impact the photo editing performance of the PC. A graphics card usually helps in rendering graphics and 3D models; the photo editing is a much lighter program compared to this. However, a quality graphics card will somewhat enhance the editing speed of the computer.
What Kind Of Graphics Card Do I Need For Photo Editing?
For photo editing, you won't have to go for high-end and highly performing graphics since it doesn't have much effect on the photo editing performance. It mainly improves the editing and rendering speed.
A graphics card of either NVIDIA or AMD with at least 2GB dedicated VRAM will be enough to fulfill all your photo editing needs.
Which Graphics Card Is Best For Photoshop?
The Quadro graphics card is the finest option for photoshop. It offers a larger VRAM, which can come in handy for editing superior quality pictures. The graphics cards of this brand are more reliable and durable than other units. Using its graphics card, you should have a hassle-free editing experience.
Can I Use A Gaming PC For Photo Editing?
Of course, you can use a gaming PC for photo editing without any worries.
A gaming PC is built with high RAM, the latest processor, SSD, and a top-notch graphics card so that it provides superior quality performance. It is specially built to perform well even with high CPU usage. So, a gaming PC can easily handle photo editing.
Does Photo Editing Use CPU Or GPU?
The photo editing requires both CPU and GPU, but the impact of the CPU on the editing performance is significantly higher than a GPU.
For editing extremely high-resolution pictures, a high-speed processor is required to get a satisfactory editing outcome. The popular photoshop software recommends users to use edit on a PC with a minimum processor speed of 2 GHz.
Final Word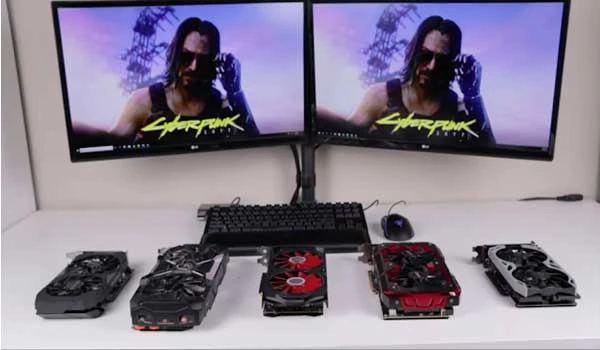 If you are a digital creative who always has to work with illustrators, Photoshop and other software for your work, you will want to get a graphics card. It will improve your performance by a lot and bring a huge difference to how you work.
If you already use one you know what we are talking about, and if you are new to this, we are glad you're here. To buy the best graphics cards for photo editing, check out the descriptions and needed features for your work purpose.
With these models upgrading so frequently it can be a bit confusing buying a new one, but we ensure you, our list has you covered.
Related posts:
Related Posts
| | | |
| --- | --- | --- |
| Best Glue For PLA | Best Sublimation Ink | Best Screen Printing Ink |