Posters are a very effective mode of communication - be it for school banners, a business ad, or even a picture of your favorite band.
Be it for personal use or business purposes, you must have come across fiddling with Adobe Photoshop or Illustrator to make your own custom posters to be printed at some point in your life.
What would be great is if you could print them at home because if you do this on the daily, costs can be extremely high for you, especially if you own a poster making business. This is exactly why you need the best poster printer at your disposal so that you can quickly and efficiently get your job done.
Editor's Recommendation: Top Poster Printer 2022
List of Top Poster Printer
8.Epson Expression Photo HD XP-15000
Comparison Chart for Photo Booth Printer
Image
Name
Features

HP DesignJet T130 24-in Large Format Printer

HP DesignJet T130

Print Media: Paper (plain)
Printer Type: Inkjet
Weight: 56.22 lbs.

Epson SureColor T3170 24" Wireless Desktop Printer

Epson SureColor T3170

Print Media: Paper (plain)
Printer Type: Inkjet
Weight: 60 lbs.

Canon image PROGRAF TA-30 With Stand (3661C002) 36" Large Format Inkjet Printer

Canon Image PROGRAF TA-30

Print Media: Banner paper; Fabric; Glossy Photo Paper
Printer Type: Inkjet
Weight: 118.7 lbs.

2PX9507 - HP Designjet T120 Inkjet Large Format Printer - 24Quot; - Color

HP DesignJet T120

Print Media: Paper (plain); Glossy Film; Glossy Photo Paper
Printer Type: Injket; Thermal
Weight: 67 lbs.

HP DesignJet T530 Large Format Wireless Plotter Printer - 24", with Mobile Printing (5ZY60A)

HP DesignJet T530

Print Media: Glossy photo paper; Paper (plain)
Printer Type: Thermal
Weight: 75 lbs.

HP DesignJet Z9⁺ Dual roll 44-in Postscript Printer

HP DesignJet Z9

Print Media: 44-inch PostScript
Printer Type: Inkjet
Weight: 207 lbs.

HP DesignJet T100 Large Format Compact Wireless Plotter Printer - 24 inch, with Mobile Printing (5ZY56A)

HP DesignJet T100

Print Media: -
Printer Type: Thermal
Weight: 66.1 lbs.

Epson Expression Photo HD XP-15000 Wireless Color Wide-Format Printer, Amazon Dash Replenishment Ready

Epson Expression Photo HD XP-15000

Print Media: Wide-format
Printer Type: Inkjet
Weight: 18.7 lbs.

Canon Pixma iX6820 Wireless Business Printer with AirPrint and Cloud Compatible, Black, 23.0" (W) x 12.3" (D) x 6.3" (H)

Canon Pixma iX6820

Print Media: Paper (plain)
Printer Type: Inkjet
Weight: 17.9 lbs.

HP DESIGNJET T120 24-in 2018 ED. Printer

HP DESIGNJET T120 24-in

Print Media: Paper (plain)
Printer Type: Thermal
Weight: 9.6 ounces
Best Poster Printer Reviews: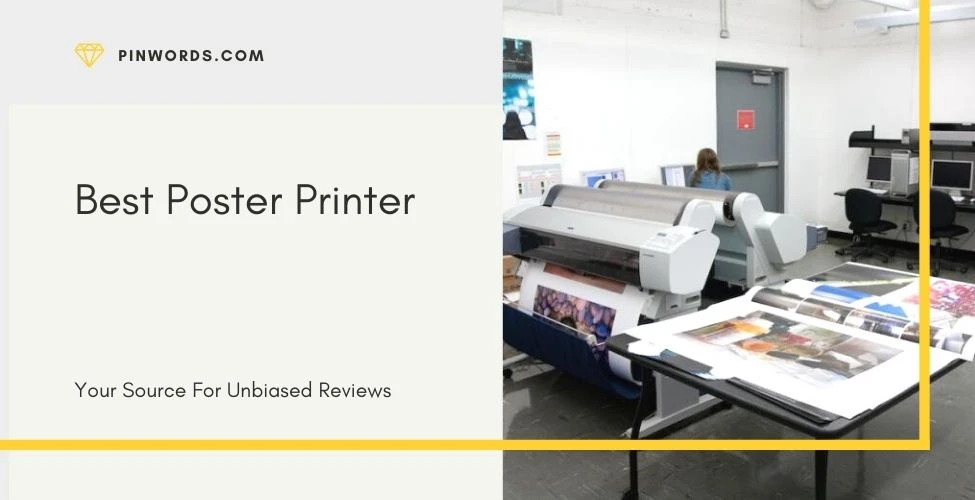 1. HP DesignJet T130
If you are looking for something compact in case you have a tight working space, the HP DesignJet T130 is just what you need. It is longer than it is wider, fitting small desk spaces easily. This is an inkjet printer that can handle a range of media that would help you to get the finest results as per your preference.
The HP DesignJet T130 is especially useful for those who are in the design industry like architects, illustrators, fashion designers, etc. You can see your whole idea on a large media and see it in a whole new light. The printer has an automatic horizontal cutter that is precise and sharp. So be careful!
The HP DesignJet T130 has CMYK based ink cartridges that produces amazing image colors that are a treat to the eyes. Of course, with the convenient HP Smart App, you can quickly edit, organize and make quick changes before you print out the real deal.
The printer runs wirelessly allowing you to connect your smart devices to the printer easily and print remotely. It has HP printing software pre-installed so there's no hassle of having to find a separate printing software to install it only to find out that it is not compatible with your operating system.

Highlighted Features:
The control panel is a color touchscreen that allows fast operating.
There is an input tray through which you can feed A3 or A4 papers.
Images print out in a jiffy, as fast as 35 seconds per printing page.
The printer handles plain paper media, ideal for flyers or small posters.
2. Epson SureColor T3170
The Epson SureColor T3170 was built with the intention of giving creatives the ability to see their blueprints on a larger scale without compromising on the original ratio of the image they had envisioned. With the ability to print in about 34 seconds for paper dimensions of A1/D sizes, productivity is enhanced.
The ink cartridges the Epson SureColor T3170 comes with will likely last you a long time with up to 80ml for black and 50ml for color. Of course, you can get genuine refills once you run dry but before that happens, you are sure to receive impeccable service and high yield from the included cartridges.
The printer features the next generation PrecisionCore MicroTFP print head that allows you to utilize the Epson UltraChrome XD2 ink system for precise and terrifically sharp images. This is especially helpful for making maps, or building plans that are easy to view and are conveniently distinguishable, thanks to its 2400 dpi resolution.
It fits on any long desktop space so you can utilize any old table top that you have lying around. However, what is very commendable that it comes with an optional foldable stand that can be purchased separately where it has a holding pocket for holding paper rolls or any other stationery that you may need nearby for printing.

Highlighted Features:
The printer has a large 4.3-inch LCD touchscreen that makes operation simple.
The printer features a heatless printing technology that is incredibly precise.
It comes with an optional stand that supports it and be put away if not in use.
WiFi Direct printing allows multiple users to connect to it and print remotely.
3. Canon Image PROGRAF TA-30
Do you remember those images of Greek times where a king would usually be fed grapes by one of his servants? Well, the Canon Image PROGRAF TA-30 basically spoon feeds you all that you desire from a poster printer into one convenient device. You don't even have to go on to buy additional tools and gadgets!
The Canon Image PROGRAF TA-30 comes with a printer stand that makes the whole unit stand as tall as 42 inches. This is helpful when you have long posters to print which will print out smoothly downwards without getting wrinkled. It has a cloth hammock like holder in black where you can keep essential tools.
Besides wireless printing which allows numerous users in same office to connect to the same printer and print from wherever they are in the office, the printer comes with free printing software that eliminates the need for you to find a befitting software that will be compatible with all devices.
Moreover, this printer pack includes a whopping 250 dollars worth of ink cartridges, which is highly generous and somewhat unusual for printers to throw in. Not only that, but you can also directly replace ink cartridges while printing ensuring maximum productivity and efficiency.

Highlighted Features:
It includes an ink pack that is likely to sustain for a long period of time.
It can print 24×36 inches of media in just about twenty-seven seconds.
It comes with free software that includes everything needed for creation.
It has a dedicated stand that has a hammock at the bottom to hold stationery.
4. HP DesignJet T120
If you are an architect, a fashion designer, a theater-set builder, painter, or a professional photographer in need of customized backdrops, the HP DesignJet T120 will be your right-hand man.
Not only is this a wide-format poster printer but is also a proficient at being able to spit out striking print images up to 24-inches wide (D-size posters).
This is great if you want to make diagrams, blueprints, or even a mural to decorate your walls or take photos against. It is compatible with paper rolls or cut-up sheets and prints as normally as it would with any standard printing media.
With the optional stand that is available for purchase separately, you will have a complete printer that will hold all the cut pieces of sheets and paper rolls without making a huge mess. You can keep all your handy cutting and sizing tools in the cloth hammock, making sure that you have everything within your vicinity.
Although it could have been gone beyond the general 4-ink CMYB ink system, whereas other big brands sports various shades of black, this still does a very laudable job that is otherwise unexpected. This is perhaps the cut-off compromise that had to be made to make this a budget-friendly wide-format poster printer.

Highlighted Features:
The printer can connect over Ethernet, WiFi, or even USB cables.
With the dedicated utility app, it allows remote printing from smart devices.
It prints directly from the ADF, paper rolls, or even cut sheets.
With a 4.3-inch LCD color touchscreen, operating it becomes simpler.
5. HP DesignJet T530
The HP DesignJet T530 is, yet again, a suitable printer for creative minds looking for wide format printers to print out eye-catching quality images. Compatible with plain paper or glossy photo paper, making diagrams or photographic posters is as easy as making toast.
Although, a printer of such high caliber could have had more printing media diversity but this is perhaps for those whose purpose is to only work with plain paper or glossy/semi-glossy photo paper. Nevertheless, the output is always brimming with clarity, showcasing amazing depth in photo details.
Right off the bat, it is to be noted that, unlike the other printers reviewed, the HP DesignJet T530 is a thermal printer. Now, there are a significant differences between inkjet printers and thermal printers. Firstly, the printer uses its thermal print head to directly take in ink from the color ribbons included and create a more permanent print on the media it is working with.
Compared to inkjet printers, thermal printers like HP DesignJet T530 are able to withstand harsh weather conditions and are very durable.
Secondly, it can print a wide range of media including labels, signs, flash cards, floor signs regardless of whether they are text or graphics based, labels for places like big restaurant refrigerators, etc.

Highlighted Features:
This is quite low maintenance because there are fewer things to move around.
They are ideal for making labels that are otherwise washed out in inkjet ones.
The included app allows you to make free designs from a library of templates.
It cant print on A1/D size media at a rate of 30 seconds per page.
Poster Printer Buying Guide
Printer Type
Before you purchase your very own poster printer, this begs the age old question, "Do I go for a laser printer or an inkjet one?" Both have their perks and cons and you need to be able to find a good balance between cost, price, and functionality to make an informed decision.
The best printers for posters that contain a lot of text document would be very adept laser printers. Each pixel on each letter will be very detailed and sharp and will be visible quite from afar.
However, if you want a splash of color in your posters, an inkjet printer is the way to go. But keep in mind that laser printers incur generally low costs over time even though they are initially expensive.
Purpose of Use
Before buying a poster printer, consider why you want it. Do you want to use it in school administrations, for DIY purposes, or commercial use? Do you want it for sampling for business ads? Once you know your purpose of use you will know exactly what to splurge on.
Business printers usually have a networked configuration which allows multiple users to connect to the same printer. This is, however, absent, in personal printers mostly.
Business printers are faster as well to keep up with the low cost per printing which you don't really need if you aim to use it for domestic purposes.
Photo Specificity
You want your posters to be packed with details so that your clients stare closely at the work done before putting it up. There are some printers who are able to print high resolution images but aren't able to stop the colors from bleeding out and fading away. This is a printer shortcoming and you need a printer that can hold its integrity.
The standard printer requires at least a 4-ink cartridge system to portray all vivid and bright colors just like the original digital image. The printer configurations must be set correctly as well so be sure to keep that in mind before you pump out hundreds of copies.
Frequently Asked Questions
1. What Is The Best Printer For Posters?
Posters are usually made with vibrant and a wide range of colors. So, the ideal printer for posters is the inkjet printer since it has the ability to provide the highest range of color printing.
The printer should also come with a resolution of at least 2400x1200 dpi and a printing speed of a minimum of 40 pages per minute so that you can even use it for printing posters commercially.
2. Can You Print Your Own Posters?
Printers for posters are basically made for two purposes - home and business usage. Using a home printer that specializes in printing posters, you will be able to print your own posters by following a few simple steps in a matter of minutes.
Apart from purchasing a poster printer, you can print your own posters at Walmart or any other local hardware store.
3. Which Is The Best Large Format Printer?
It depends on your expertise and what size you need. In general, the finest large format printer should have a great ink quality and adaptability to pages of every size. It should also have a high resolution so that the image or text doesn't lose its sharpness while being printed on a large-sized paper.
4. How Much Does A Large Format Printer Cost?
The cost of large format printers ranges anywhere between $1000 and $4000, which is not that expensive considering the wide range of paper it can print on and its durability. However, the amount of money you will need to spend on toner and ink can be somewhat higher than the initial cost of the printer.
5. What Printer Gives The Best Quality Printout?
The printers that have high resolution will give the finest quality printout. The resolution is one of the most crucial features of a poster printer.
Good printers come with at least a resolution of 2400x1200 dpi. In addition to that, the printers copy the Pantone colors, and up to twelve tones will provide good quality poster printouts.
Buy on Walmart, eBay, Etsy (subject to availability)
2PX9507 - HP Designjet T120 Inkjet Large Format Printer - 24Quot; - Color - Walmart, Etsy, eBay
HP T520 Design Jet Wireless 24-in E-Printer - Walmart, Etsy, Ebay
Canon 9856B002AA imagePROGRAF iPF770 36-Inch Large-Format Inkjet Printer with Sub-ink - Walmart, Etsy, eBay
HP DesignJet T520 36-Inch Wireless ePrinter with Web Connectivity - Walmart, Etsy, eBay
Brother MFC-J6935DW Inkjet All-in-One Color Printer, Wireless Connectivity, Automatic - Walmart, Etsy, Ebay
3.Canon Image PROGRAF TA-30 - Walmart, Etsy, Ebay
8.Epson Expression Photo HD XP-15000 - Walmart, Etsy, Ebay
10.HP DESIGNJET T120 24-in - Walmart, Etsy, Ebay
Conclusion
If you are part of a group or activity, you definitely need your own poster printer. Marketing yourself should be effortless and thus this is the right time to invest in the best poster printer.
Business printers can help you in this case since they are faster than domestic ones. You will definitely benefit more from an inkjet printer because surely your posters will have loads of attractive colors that would grab the audience's attention effectively.
We hope this article has given you enough insight to decide on a printer that could help out for DIY purposes, business purposes, or personal use.
Related posts: