Buying a printer as a student can be one of the wisest investments you can make. You will need to print out lots of papers, scan a ton of documents and copy pages almost every day.
And when it is nearing a semester's end, and projects will keep piling up, having a printer in your dorm can save you loads of trouble.
We call it an investment because having one at arm's reach can help you save time and money, which would otherwise be spent running outdoors to a library or internet café to print your papers.
Not to mention, it takes a lot of stress off of you- can be of big help before a final or presentation.
The best printers for dorm rooms are those that are good value for money and compact enough to fit in your dorm space. Keep on reading to find the right one for you!
Top Printers for Dorm Rooms 2022 by Editors
List of Top 10 Printers For Dorm Rooms
2. Brother Compact Printer HL-L2350DW
Comparison Chart For Top 10 Printers For Dorm Rooms
Image
Product
Type
Dimension (inch)
Print Speed (ppm)
Specialty Feature

HP OfficeJet 3830 All-in-One Wireless Printer, HP Instant Ink, Works with Alexa (K7V40A)

HP OfficeJet 3830
Inkjet
17.72 x 14.33 x 8.54

8.5 ppm black, 6 ppm color

Auto document feeder

Brother Compact Monochrome Laser Printer, HL-L2350DW, Wireless Printing, Duplex Two-Sided Printing, Amazon Dash Replenishment Ready

Brother Compact Printer HL-L2350DW
Laser
14.2 x 14 x 7.2

32 ppm

250 sheet capacity

Canon PIXMA MG3620 Wireless All-In-One Color Inkjet Printer with Mobile and Tablet Printing, White

Canon PIXMA MG3620
Inkjet
12.00 x 17.70 x 6.00

20 ppm

Auto duplex

HP DeskJet 3755 Compact All-in-One Wireless Printer, HP Instant Ink, Works with Alexa - Blue Accent (J9V90A)

HP DeskJet 3755
Inkjet
15.86 x 6.97 x 5.55

8 ppm black, 5.5 ppm color

600 dpi scan resolution

CANON PIXMA iP110 Wireless Mobile Printer and Ink Bundle

Canon Pixma iP110
Inkjet
12.70 x 7.30 x 2.50

9ppm

50-page auto feeder
9600 x 2400 dpi print resolution

Brother HL-L2300D Monochrome Laser Printer with Duplex Printing

Brother HL-L2300D
Laser
14.20 x 14.00 x 7.20

27 ppm

250 Sheet Capacity Paper Tray
2400 x 600dpi print resolution

Canon TS302 Wireless Inkjet Printer, Black, Works with Alexa

Canon TS302
Inkjet
17.00 x 11.10 x 5.70

10 ppm

XL ink cartridge compatible

HP OfficeJet 5255 Wireless All-in-One Printer, HP Instant Ink, Works with Alexa (M2U75A), Black

HP OfficeJet 5255
Inkjet
17.52 x 14.45 x 7.52

10 ppm black, 7 ppm color

100 sheets input capacity

Canon TS202 Inkjet Photo Printer, Black

Canon TS202
Inkjet
16.8 x 8.5 x 4.9

ppm color

Rear paper tray

HP HP4650-RB-AMZ Office Jet 4650 Wireless All-in-One Photo Printer, Copier and Scanner - Black (Renewed), Black & Color

HP HP4650-RB-AMZ
Inkjet
17.53 x 14.53 x 7.5

ppm color

HP High-Yield ink cartridges
Best Dorm Room Printer Reviews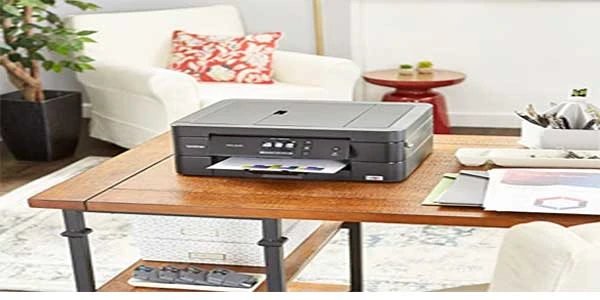 1. HP OfficeJet 3830 | Best Cheap Printer For College Students
The HP OfficeJet 3830 is not just a suitable printer for students looking to keep one in their dorm rooms, it is simply one of the finest out there. And getting it at an affordable price point makes it all the better.
We will start of by talking about its multifunction. This is an all-in-one printer, where you get a print function, along with copy, scan and even fax!
Even though you might not use the fax function quite as frequently, it is great to have around, especially when it is affordable. Next you get the much-needed auto document feeder, so you can study or get done with other work while your documents print.
No need to standby. High speeds are another factor you want as a student, so you can get your last-minute projects printed out in time.
Here you get an 8.5ppm for black and white prints, and 6ppm for color, which is pretty decent for regular work. As an HP printer, you also get the HP Smart App, which lets you do all your work from your phone or tablet.
Using the app you can print, scan, email your documents and files, order your toner, and print from your cloud storage, all from one place.
It's a great way to keep track of what you are doing while saving precious time before your deadlines.

Highlighted Features
Comes with an auto document feeder
Can print borderless photos
Features optional high yield cartridges
Comes with a touchscreen for easy navigation
Input capacity is 60 sheets, output is 25 sheets
2. Brother Compact Printer HL-L2350DW | Best Laser Printer For College Dorm Room
If you want to buy a laser printer, this one from Brother is very suited for students. Coming in a compact shape, this is ideal for dorm rooms with limited space.
This printer aims to be productive, and all its features surely agree. Firstly, you get a good print speed here of 32ppm. It is pretty high comparatively, so it can help you speed through projects.
Numerous connectivity options also make this attractive, since you can get your prints without being in your dorm room at the time. You can command prints from handheld devices, but you also get a USB interface just in case you need to connect it to something.
This HL-L2350DW helps you save money, which you would want as a student. Firstly it has duplex printing, where you can print twice as much on each page- a lifesaver if you are running low on paper before deadlines.
And the next is on its toner. Thanks to the Brother Genuine TN760 high-yield replacement toner, you get twice the amount of prints compared to regular toners, and can go up to 3000 pages.
On top of this you also have a smart technology that automatically detects low toner, and places orders by itself, so you don't have to.

Highlighted Features
Comes with print speeds of up to 35ppm
Has a 250 sheet capacity paper tray
Auto two-sided printing helps to save paper
Features a toner save mode that saves toner
Input paper capacity is 250 sheets
3. Canon PIXMA MG3620 | Best Printer For College Dorm Room
When you are buying a printer, you have thought of Canon at one point. Well this is the one you should be thinking about, for the PIXMA MG3620 is a great choice for your dorm room.
It comes with a heap of features that cater well to students and can get you through your final week smoothly. First of all this is a wireless printer, that aims to give your convenience and simplicity- two things you want in your dorm room.
Because this is wireless-enabled, you can practically print from anywhere you want, without even being in your dorm room in the first place. Two of its most-loved features include the mobile printing and auto-duplex printing.
With mobile printing you can not only print from your handheld devices, but you can also scan using your phone and print directly using AirPrint and Google Cloud Print.
Auto duplex printing on the other hand lets you print twice as much at once, all the while saving time and money. Not to mention, even if you forget to turn the duplex print on, it will do so automatically.

Highlighted Features
Has print speeds of 9.9 IPM for black and 5.7 IPM for color.
Auto duplex printing lets you save time and money
Mobile device printing is enabled
Has multiple connectivity options
4. HP DeskJet 3755 | Best Compact Printer For Dorm Room
This printer from HP is one of the most compact printers out there that will help you keep this in your dorm without feeling like an eyesore. Besides the size, it comes with an attractive exterior that makes it nice to have around as well.
But that is not all, it is also suitable for your printing needs just as well. Coming to the features, you get a good print speed of 8ppm for monochrome prints and 5.5 ppm for your color.
This is decent for your homework and assign nets and will not slow you down. This also happens to be an all-in-one printer, so you can copy and scan your documents using the same one, without ever having to move out to an internet café.
Since this is an HP printer, you get the HP Smart App. Students especially love this since it makes organizing your work so much easier.
You can print directly from your phone, take pictures and scan using your tablet, scan copies to your mail, print directly from social media apps without ever having to transfer them, and so much more.

Highlighted Features
Has print speed of 8 ppm black and 5.5 ppm color
Has a scan resolution of up to 600dpi
Comes with a 60sheet input and 25 sheet out tray
Is compact and small in size
5. Canon Pixma iP110 | Best Small Printer For College Dorm Room
The Canon Pixma iP110 is one of the smallest printers out there that you will find. It is so small and compact, that you can carry this to campus with ease as well. Not that you would need to, thanks to the wireless connectivity.
It comes with Wifi, Wireless PictBridge, and Optional Battery, all of which will make printing projects virtually much easier. Of course you get mobile printing too, so you can print from your PC, laptop, or phone without connecting them to the printer.
It also supports AirPrint and Google Cloud Print for faster results. One of its top features include the 5 ink separate print head and ink tanks. With this you only have to replace the ink you need replaced, instead of the whole thing.
We all have colors we run out of first, so you will be saving money by not needing unnecessary ink replacements. Last of all you also get the Easy Photo Print+ feature that lets you edit your photos before you print them out.

Highlighted Features
Features a maximum 9600 x 2400 color dpi
Can turn HD movie clips to prints
Can do borderless prints in less than 53 seconds
Easy Photo Print+ lets you edit before print
Has 5 color separate ink tanks
how To Choose The Best Dorm Room Printer
Inkjet Vs Lase
While both are good at their job, as a student you should think about the cost per page in the long run. Laser printers for instance use less ink, have larger cartridges and they print faster.
These qualities also make them more expensive. Inkjet printers on the other hand are affordable, but tend to be slower and the ink needs more replacement.
Bottom line, laser printers are an investment and will save you money in the long run. Since they need fewer replacements, your ink and toner costs will go down. But the initial cost will be high.
If you can save and buy, we recommend a laser printer. If you cannot, and need one for simply printing out essays and stuff, an inkjet will suffice just fine.
Size
Normally size would not matter much, but since you will be placing this in your dorm, we expect you want a compact one.
You probably will not get the luxury of a large space for your printer, so look for one that is compact, or one you can squeeze into corners.
Some are convertible which can be folded back after use, which is also great for small rooms.
Speed
You need a high speed in your printer so you can meet those last-minute deadlines super quick.
Having a printer at your dorm is to make your work easier, and a high speed is what can help you do that. Look for the pages per minute or ppm in the specifications, and you should opt for the highest you can get.
Resolution
Since this is for students, the best dorm room printer will be one with a good resolution. Resolution is one of the primary factors before buying a new printer. Do a little research on what you have to print and find a resolution to match.
If you are an English major and only have to print essays and write-ups, a normal resolution of 600 dpi will serve you just fine.
But if you are an Architect majoryou need to invest a bit more and buy a printer with a good resolution, say something around 4800 dpi.
Connectivity
If you are a student, we know that you will probably be having your assignments all over the place-virtually. Social media, emails, your phone storage, and of course your laptop. To prevent last-minute mishaps, you should look for wireless connectivity.
This will help you speed up your prints since you will not need to transfer files. You can directly command prints from your phone, laptop, and other devices, no matter where you are.
If your devices are from Apple, AirPrint is a must-have that will seamlessly let you print wireless with ease.
Final Word
As a student you need to do all your research before buying a printer so you don't get ripped off.
There will be some definite specs that you will need, so focus on those first, such as speed and type, and much more. Make sure to buy a long lasting one, so you don't have to re-buy it which will simply increase costs.
To help you find the best printer for dorm room, we have researched on some of the top models from the market which are suitable for students. These won't break the bank, but will help you with your assignments in the long term.
Related posts:
Buy on eBay, Etsy, Walmart (limited quantity)
Epson EcoTank ET-2720 Wireless Color All-in-One Supertank Printer with Scanner and Copier - Walmart, Etsy, eBay
Imprimante HP Tango X - Walmart, Etsy, eBay
HP OfficeJet Pro 8025 All-in-One Wireless Printer, Smart Home Office Productivity, HP - Walmart, Etsy, eBay
Epson EcoTank Stampante ET-M1120 - Walmart, Etsy, Ebay
1. HP OfficeJet 3830 - Walmart, Etsy, eBay
2. Brother Compact Printer HL-L2350DW - Walmart, Etsy, eBay
3. Canon PIXMA MG3620 - Walmart, Etsy, eBay
4. HP DeskJet 3755 - Walmart, Etsy, eBay
5. Canon Pixma iP110 - Walmart, Etsy, eBay
8. HP OfficeJet 5255 - Walmart, Etsy, eBay