Back in the old days, a printer was just that-a printer. Since the first electronic printer was released by Epson in 1968, printers have undergone ages of renovations.
In the 21st century, multitasking is a sought-after skill, in humans and machines alike. Multi-tasking gets a lot of work done in a short period of time.
Thus evolved into existence, the multifunction printers. They do not only print, but scan, photocopy and even fax. Now you can get most of your paperwork done while sipping coffee, and share your work online with all your colleagues simultaneously.
So what are the features one must look for while deciding to purchase the best multifunction printer ? Look no further because this article will help you in making a decision you won't regret.
Top Multifunction Printer by Editors
List Of Top 10 Multifunction Printers
Comparison Chart For Top 10 Multifunction Printers
Image

Name

DPI

Inkjet/Laser/Tank

Speed

Price

Brother MFCL2710DW
2400x600
laser
32 ppm
Check Price
Brother MFC-J491DW
6000x1200
Inkjet
10-12 ppm
Check Price
Brother MFC-J995DW
6000x1200
Inkjet
10-12 ppm
Check Price
Canon PIXMA TR4520
4800x1200
Inkjet
8 ipm
Check Price
Canon TS9120
4800x1200
Inkjet
10-15 ipm
Check Price
Canon MF644Cdw
600
laser
22 ppm
Check Price
Canon PIXMA TR8520
4800x1200
Inkjet
10-15 ipm
Check Price
Epson EcoTank ET-2720
5760x1440
Ink tank
5-10 ppm
Check Price
HP OfficeJet Pro 8035
600
Inkjet
20 ppm
Check Price
HP LaserJet Pro M130fw
1200
laser
23 ppm
Check Price
Best Multifunction Printer Reviews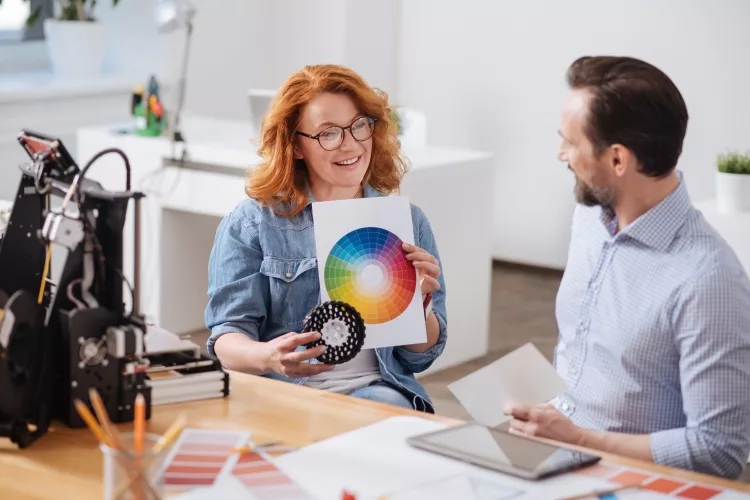 1. Brother Monochrome Laser Printer |Best Multifunction Printer For Small Business
A printer that can fax, scan, copy, besides doing its usual printing, is invaluable. All-in-one printers are being widely used in offices, businesses, schools and corporations, to save time and increase accuracy.
Printers by Brother are perfect for daily functioning of small offices. These high-tech laser monochrome printers produce excellent quality prints at a speed of 32 pages per minute (ppm).
They come with an auto document feeder of 50 sheets and a paper tray with a capacity to hold 250 sheets at a time. With the help of flatbed scan glass, this gadget can copy and scan as well. Now send scans to cloud services at the same time you print.
The machine could be connected very easily to Wi-Fi or Ethernet interface, or by USB to computers. It also has a versatile compatibility to various devices, like smartphone and laptop, so you can take prints directly from those devices.
This saves you the trouble from transferring information from your mobile device to your PC or laptop before printing. Now you can print on the go.
The printer also has an auto-duplex feature which prints on both the sides of the paper, thus saving you on operational costs of your business. Brother Genuine toner lasts for a very long time-1 toner for 3000 pages, giving unparalleled quality for smooth office functioning and communication.
If you opt to purchase Brother toner, you can get discounts. The scanner is highly compatible with an array of operating systems including Windows, MAC, Linux. It is equipped with TWAIN and SANE drivers.

Product Highlights
Compact printer, multifunction-print, scan and copy
250 sheet paper tray, auto-feed, printing speed 32ppm
TWAIN and SANE drivers, compatible with various OS and devices
Connectible to Wi-Fi, Ethernet, USB, to a lot of cloud services
Brother Toner is long lasting, and offers discounts at subscriptions
2. Canon PIXMA TR4520 Photo Printer|Best Multifunction Printer For Photos
In educational institutions, especially primary schools, printers play a major role. Teachers often need to take prints of animals or flowers to show to their kids, and bright colorful prints make amazing drama props.
And what about that photo album you have been trying to make but have been putting off for the lack of a good printer? Now is the time you start working on it.
Printers by Canon excel at this job. PIXMA TR4520 are all-in-one photo printers which, you would be amazed to discover, are much smaller than the heavy-duty mono-function printers.
The printers can be wirelessly connected to almost any device-- you would just need to download the Canon Print software, and you are good to go. Now you can snap photos and take prints of them in a jiffy via Canon printers.
Printing and scanning straight from cloud-based platforms like Facebook and Instagram have become extremely easy, thanks to Canon Pixma. Canon printer brings with itself an array of apps that you can download to make the printing process much more fun.
Besides the Canon Print App, you can also download the Easy Photoprint Editor app which will allow you to crop, change backgrounds, and add collage and stickers to your photo.
Message-in-print app allows the user to add secret messages and animations, and even embed music to your images, which you can share with your friends and have a good laugh.
Then there is this AirPrint App which will help you to print images directly from your iPhone, iPad and iPod Touch. Androids users, don't be disappointed, because Canon offers Mopria Print Service app to print images from your android.
As if the above features were not enough, Canon Pixma TR4520 printers can also be voice-activated by Amazon Alexa! You are recommended to use IFTTT (If This Then That) web-based service which will make the different Canon apps work in tandem with your voice activated devices.
Product Highlights
All-in-one printer-scan, fax, copy and print, at a speed of 4-8 ipm
It has a dot matrix LCD screen, can be wirelessly connected
Canon offers a wide range of apps to make printing more fun
Inkjet printer, USB connected, discount on Canon ink
3. Epson EcoTank ET-2720 Supertank Printer|Best Multifunction Printer For Home
Although people are getting more and more inclined to building a paperless office, it is an undeniable truth that hardcopies are needed now and then to take a thorough look or to file away for future reference.
Also, do not forget that softcopy archives might get accidentally deleted or hacked, but hardcopies won't, so they are a very useful backup.
When prints can be taken more efficiently and in a more eco-friendly manner, then the utility of the printer rises by ten folds. Such are the printers by Epson. Their Ecotanks are extremely user-friendly, "Just fill and chill" being their motto. No more cartridges, now is the time for some good old bottles!
The printers are literally supertanks in the sense that they contain tanks which need to be fitted in with ink bottles. Ecotanks come with 4 bottles of ink-black, cyan, yellow and magenta-which last for 2 years straight, which is equal to using 80 ink cartridges! Imagine how much you and your company would be saving.
The printer can also be voice-activated, so now even you child can take out prints for his projects without your supervision. The printer is compatible with Amazon Alexa and Google Assistant, so you can use whichever you want.
The printer has a 100 sheet rear-feed, 1.44" color display, and can be easily connected via WiFito mobile devices to take direct printouts from Facebook and Instagram.
With one set of ink supply (4 bottles), you can print upto 4500 monochrome or 7500 color prints. The ink bottles fit in very easily using Ecofit technology. This multifunction printer by Epson can also be used for scanning and copying.
Product Highlights
Each set of Epson ink bottles last for 2 years, giving 7500 color prints
USB powered, can be connected to various mobile devices
Can be voice-activated by Alexa and Google VA
125 prints per month, 100 sheet rear feed, 1.44" display
4. Brother Inkjet Printer, MFC-J491DW |Best Multifunction Printer For Mac
Say you received a fax which is very important, and needs to be distributed to a dozen people immediately. You would not need to run to a photocopier, because your fax machine is also a part-time photocopy machine. No joke. These days, printers come equipped with fax and scan capabilities as well.
Brother MFC-J491DW inkjet printers are such all-in-one printers. They are compact and multi-functional, therefore perfect in meeting household or office printing needs.
The machines come with 1.8" color display and with super easy connectivity to an array of mobile devices and Cloud apps, allowing wireless printing as well.
These printers are in one word, smart. They have multiple connecting options-in-built WiFi, Ethernet and USB. They can be connected to many devices including tablets, smartphones, iPhones, laptops and desktops, to an amazing collection of Cloud Services such as email, Dropbox and One Drive.
You can save on operational costs as these printers come equipped with auto-duplex feature, allowing auto printing on both sides of a paper, thus saving you money. Brother Genuine ink cartridges are highly recommended because they are high-yielding and cost-efficient.
Amazon Dash Replenishment is on at the moment, which when subscribed to, enables the machine to send auto messages for ink replacement right at your doorstep at an affordable price.
Brother printers have 100-sheet paper tray which is also adjustable. Different sized papers can be fed into it including letter, A4, stock, photo papers and legal. It also has a 20 sheet auto ADF and can print at a speed of 10-12 ppm.
They are MAC compatible, and offer various app services including Air Print, Brother iPrint and Scan, Mopria and WiFi Direct and Google Cloud Print.

Product Highlights
USB, WiFi, Ethernet connectivity to many devices, OS and Cloud services
10-12 ppm, 100-sheet tray, 20-sheet ADF, 108" color display
Compatible with a wide array of Brother apps
Auto-duplex, supports variety of paper sizes, recommended Brother ink
5. Canon TS9120 Wireless Printer
Online schooling is on the rise. Parents receive a lot of work via apps and emails from teachers, which they download and print. If their printer is an all-in-one, they can make photocopies of the sheets for revision. Not to mention, printers produce awesome prints which are paramount for projects and assignments.
Printers by Canon, TS9120 version, are perfect for meeting such home-printing needs. They produce premium quality prints which your children will love! These are inkjet printers, with 6-color Photo Blue technology, and a 5" LCD screen. The printer comes with an expandable paper tray and produces amazing prints at 4800 x 1200 dpi resolutions.
This Canon printer has an array of connecting options-via USB, WiFi, Bluetooth and Ethernet, whichever you are comfortable with. Now you can print photos from any Cloud service using your mobile device. Compatible with a wide range of mobile devices including iPad, iPhone, iPod Touch, iOS and Android.
You can print photos of versatile size ranges including 4' x 6", 5" x 7", and 5" x 5". It has a built-in Memory SD card support. Not only that you can even edit your photos by adding filters, correct color, change background and what not. It is a multi-function printer which can copy and scan as well.

Product Highlights
5" LCD screen, allows Bluetooth printing, 6-color technology
Produce stunning photograph at 4800 x 1200 dpi resolutions
Supports versatile paper sizes, compatible with many OS and devices
Memory SD card, multiple connectivity, photo-editing features
How To Choose The Right Multifunction Printer
Multifunction Printer Types
1. Laser Printer
Laser printers are widely used in offices-small or large, and they are more suitable to meet your monochrome printing needs. Laser printing uses a laser beam technology to generate premium quality prints. Most brands use laser printing technology in their printers. They are fast, easy to use, and much less expensive than inkjet printers.
Resolutions of laser printers are measured in DPI or dots per inch, and most laser printers provide 300 to 600 dpi outputs. Some high-end laser printers provide 1200 dpi output. CMYK (cyan, magenta, yellow and black) toners are needed for color laser printers. When toner runs out, toner cartridges which contain the toner powder, need to be replaced.
2. Inkjet Printer
Inkjet printers are amazing for color printing, such as photographs. Ink cartridges are a bit more expensive than toner ones of laser printers, but for high volume, excellent color printing, there could not be a better alternative to inkjet printers. Some new models of inkjet printers can generate 10000 monochromatic prints, and 7000 color prints, and thus cost per page of inkjet printing is falling as time progresses.
If you need a printer mainly for home use, a multi-function printer would be ideal, since you can use the same machine for scanning, copying and faxing too.
3. Ink Tanks
Some Canon brand printers have introduced a completely different type of printing mechanism called ink tanks, which do not need any ink cartridge. These printers come with a set of CMYK color bottles, which fit perfectly to eco-fit holders of the printer, without any fuss.
They are quite efficient when compared to inkjet printers, and 1 set of bottles can last for 2 years if used properly, and equates to using 80 cartridges! As the color bottles do not need frequent change unlike cartridges, therefore it saves you money.
Paper Handling
Most printers support printing of versatile paper sizes-letter, envelopes, glossy stock, index cards and legal. They come with expandable paper trays to fit different sizes of papers.
Most printers have paper tray capacity of 100-250 sheets, so you would need to replace the trays with new papers only once a month, but it all depends upon your printing needs.
Printers these days also have the ADF or auto document feeder feature, with good paper capacities, making it more convenient for the user.
Duplex printing is something almost every modern printer has. It enables the printer to automatically print on both the sides of a paper, thus saving you time and money.
Other Features
Printers these days have multiple connection options and have become more convenient for sharing data over a network. The best multifunction laser printer modelscome with an array of features.
Now printers can not only be connected to a PC via USB, but also to Wi-Fi and Ethernet, promoting wireless printing.
Modern printers can also be connected to a wide range of mobile devices--- Smartphone, iPhone, iPod, iPad and Android. Certain high-end printers also provide various apps which allow editing of scans.
Printers can be maneuvered by voice-activation mechanisms with the help of certain app which are easily downloadable. Now you can give printing and scanning instructions via Google Virtual Assistant or Amazon Alexa.
Final Word
Printers that only print are much larger and bulkier than multifunction printers, unbelievably so. Multifunction printers are obviously great at what they are supposed to do, being equally better in scanning, faxing and copying too.
They are highly popular in homes, offices and corporations because of their versatility. Manufacturers like Brother, Canon, HP and Epson have brought forward the best multifunction printers in the market, with amazing multi-tasking ability, diverse connectivity to multifaceted cloud services and devices.
If you have not got one for yourself already, now is the time. Check the features, decide what you need, and go and grab one.
Related Posts
Buy now at Walmart, Etsy, eBay (quality guaranteed)
Epson EcoTank Pro ET-5850 Wireless Color All-in-One Supertank Printer with Scanner, - Walmart, Etsy, Ebay
imageCLASS MF445dw - All-in-One, Wireless, Mobile-Ready Laser Printer with 3 Year Warranty - Walmart, Etsy, eBay
HP Color LaserJet Enterprise M480f Multifunction Duplex Printer (3QA55A) - Walmart, Etsy, eBay
Epson Expression Premium XP-7100 Wireless Color Photo Printer with ADF, Scanner and - Walmart, Etsy, Ebay
Brother Compact Monochrome Laser All-in-One Multi-function Printer, MFCL2750DWXL, Up to - Walmart, Etsy, Ebay
Canon PIXMA G6020 Wireless MegaTank All-in-One Printer - Walmart, Etsy, Ebay
Brother MFC-J995DW INKvestmentTank Color Inkjet All-in-One Printer with Mobile Device and - Walmart, Etsy, eBay
HP LaserJet MFP M234dwe Wireless Monochrome All-in-One Printer with built-in Ethernet & - Walmart, Etsy, Ebay
Canon imageCLASS LBP6230dw - Compact, Wireless, Duplex Laser Printer up to 26 Pages Per - Walmart, Etsy, eBay
4. Canon PIXMA TR4520 - Walmart, Etsy, Ebay
7. Canon PIXMA TR8520 - Walmart, Etsy, Ebay
8. Epson EcoTank ET-2720 - Walmart, Etsy, eBay
9. HP OfficeJet Pro 8035 - Walmart, Etsy, Ebay
10. HP LaserJet Pro M130fw - Walmart, Etsy, Ebay