If you are a regular user of scanners, you may know about the TWAIN scanners more or less. But if you are entirely new, then you have come to the right place to know all about the best TWAIN scanners.
With the help of TWAIN scanners, you can scan an image or document directly to the application you are working with. In case you want to send a digitized version of an image, TWAIN scanners make it all very simple. You will not have to move files from one place to another but get them done in just a few clicks.
In this article, we have listed down the best TWAIN scanners that are available in the market for you.
Top Twain Scanners 2023 by Editors' Picks
List of Top 10 TWAIN Scanners
Comparison Chart For Top 10 TWAIN Scanners
Image
Name
Features

Epson WorkForce ES-400 Color Duplex Document Scanner for PC and Mac, Auto Document Feeder (ADF)

Epson WorkForce ES-400

Operating System: Windows, Mac
Connectivity Technology: USB
Special Features: Broad compatibility

Canon imageFORMULA R40 Office Document Scanner For PC and Mac, Color Duplex Scanning, Easy Setup For Office Or Home Use, Includes Scanning Software

Canon ImageFormula R40

Operating System: Windows, Mac
Connectivity Technology: USB
Special Features: Bundled softwares

Brother Wireless Document Scanner, ADS-1700W, Fast Scan Speeds, Easy-to-Use, Ideal for Home, Home Office or On-the-Go Professionals (ADS1700W), white

The Brother ADS-1700W

Operating System: Windows, Mac, Linux
Connectivity Technology: WiFi
Special Features: Wireless

Epson DS-1630 Document Scanner: 25ppm, TWAIN & ISIS Drivers, 3-Year Warranty with Next Business Day Replacement

Epson DS-1630

Operating System: Windows, Mac
Connectivity Technology: USB
Special Features: Versatile scanning

Brother DS-640 Compact Mobile Document Scanner, (Model: DS640)

The Brother DS-640

Operating System: Windows, Mac, Linux
Connectivity Technology: USB
Special Features: Compact & portable

Brother Wireless High-Speed Desktop Document Scanner, ADS-2700W, Touchscreen LCD, Duplex Scanning

The Brother ADS-2700W

Operating System: Windows, Mac, Linux
Connectivity Technology: WiFi
Special Features: Ultrasonic multifeed detection

Brother High-Speed Desktop Document Scanner, ADS-2200, Multiple Scan Destinations, Duplex Scanning

The Brother ADS-2200

Operating System: Windows, Mac, Linux
Connectivity Technology: USB
Special Features: Auto-size document detection

Epson WorkForce ES-200 Color Portable Document Scanner with ADF for PC and Mac, Sheet-fed and Duplex Scanning

Epson WorkForce ES-200

Operating System: Windows, Mac
Connectivity Technology: USB
Special Features: 20- page document feeder

Brother ImageCenter ADS-2800W Wireless Document Scanner, Multi-Page Scanning, Color Touchscreen, Integrated Image Optimization, High-Precision Scanning, Continuous Scan Mode, Black

The Brother ADS-2800W

Operating System: Windows, Mac
Connectivity Technology: USB
Special Features: Scan directly to Microsoft SharePoint

Xerox DocuMate 152i Duplex Scanner with Document Feeder for PC and Mac

Xerox DocuMate 152i

Operating System: Windows
Connectivity Technology: USB
Special Features: Compatibility
Best Twain Scanners Reviews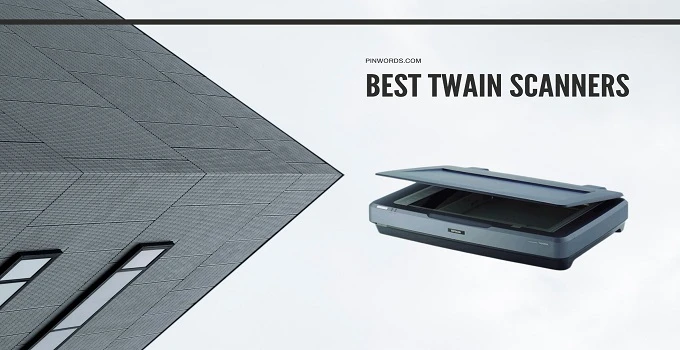 1. Epson WorkForce ES-400
The first scanner on this list is the Epson WorkForce Es-400. This duplex document scanner is perfect for your home and office.
Its single-step technology helps you capture both sides of a document in one pass. It is easily connectable to your device and scans up to 35ppm/ 70 ipm. With its 50-page Auto document reader you can easily adjust colors of images and documents.
This big guy helps you print from business cards to receipts to extra-long documents easily from the cloud storage. This compact scanner has a powerful Epson ScanSmart Software that help in automatic file naming and object recognition.
The Epson Workforce ES-400 makes work much easier for you by its sharing and collaboration feature. The Built-in Nuance OCR helps you create searchable PDFS and editable files. In case you are concerned, the TWAIN drivers included easily connect with most documents management softwares.
Highlighted Features:
Scans up to 35ppm/70 ipm
50-page Auto Document reader
Easy color/image adjustments
Searchable PDFs/editable files
Scan to cloud storage accounts

2. Canon ImageFORMULA 240:
This cannon office Document Scanner san be used with both PC and MAC. The Easy set up makes it reliable for both home and office use.
It converts different types of documents into searchable digital files in no time. You can connect it to your device through a USB cable which comes along.
This scanner helps you stay organized by quickly converting your documents. It scans your documents directly to the cloud and the documents are searchable. It frees up space that is occupied by paperwork in your office and home.
Receipts, photos, business cards, long documents, contracts, reports, thick or thin documents - this scanner handles it all.
The Canon ImageFormula R40 can scan both sides of a document at the same time. The Canon CaptureOnTouch scanning software is flexible and easy to configure. It also includes free licenses for Readiris PDF and OCR software and Cardini's business card software (WIN).
Highlighted Features:
Fast and efficient
Broad compatibility
Scans Directly to the cloud
Bundled Software.

3. The Brother ADS-1700W
The ADS-1700W is a wireless document scanner by Brother. It is ideal for home, office and on-the-go-professionals.
Its' compact and portable features make it ever so popular among customers. It connects with WiFi and is wireless which makes it portable and easily accessible.
The Brother ADS-1700W Wireless Compact Desktop Scanner provides a quick document digitization. It scans bundles of double-sided papers both in black and white and in various colors.
An easy to use color touchscreen is one of its key features. It can support scanning to multiple destinations which include not only file images but also emails, mobile devices, cloud services and more. There is a card slot in the front that is dedicated to scan plastic cards and business cards.
Highlighted features:
Compact design and easy to use
Wirelessly scan to mobile devices
2.8" color Touchscreen
Supports multiple scan destinations
Time saving

4. Epson DS-1630
This Affordable and versatile Flatbed scanner is great for your increased workflow and productivity. With its 50 -page ADF, you can get any task done in no time.
It has the optional Network Scan Module that turns the scanner into a network scanner. It can manage to scan different types of documents from postcards to legal papers to pictures very efficiently.
The DS-1630 quickly scans a bunch of documents up to 8.5" x 14". You can use the flatbed for IDs, booklets, passports, and more.
Along with its auto-duplexing, it also includes TWAIN and ISIS drivers for seamless integration. This makes it compatible virtually with any software. With its intelligent color and image adjustments, it stores the scanned documents in their top form.
You can scan documents to a PC, Mac or any online storage account with only one touch. The Epson Document capture and ABBYY FineReader are included in the software suite.
Highlighted Features:
Versatile scanning
Scan documents upto 25 ppm
Scan to online storage accounts
Seamless compatibility
Intelligent color and image adjustments

5. The Brother DS-640 - Cheap TWAIN Scanner
The Brother DS-640 comes with a compact design and simple workflow applications. It is ideal for home, office and on-the-go or small offices.
It can scan B&W and color documents up to 16ppm. The DS-640 weighs only 1.5 pounds, which makes it easily portable. You can easily use it at home and office both as it is easy to move and connect.
It scans business cards, plastic ID cards and documents through the same location. The software included in the scanner helps you scan to multiple destinations including Email, OCR and cloud services.
This Brother DS-640 enables you to enhance your scanned documents and images by automatic color detection/adjustment.
The OCR software also makes it possible for you to convert your hardcopy documents to editable word files. It optimizes your images and documents in their top form and stores them to cloud storage.
Highlighted Features:
Ultra Compact and Portable
Optimize Images and test
Fast and Quick
Compatible to different softwares
User friendly

How To Choose The Best TWAIN Scanners
Duplex Scanning
Duplex scanning translates to scanning both sides of a page. If you mostly scan documents that are printed on both sides, then you will want a duplex scanner.
Duplex scanners are in fact faster than a simple duplexing ADF. Simple duplexing ADF Scanners are rather time consuming and you would have to manually turn the pages. Duplex scanners are better economical alternative.
Resolution And Scan Size
Resolution of documents is not an issue to be concerned about in most cases, as most scans give a good enough quality.
But in case of photos, the resolution of the image matters. If you plan to crop or change the size or color of your image/photo, you will require a higher resolution scanner.
As for scan size, it is an obvious point to consider but quite often overlooked. If you want to scan legal size pages, most flatbed scanners with ADFs should do your work, but you still have to make sure to check for it before purchasing.
Sheet Feeder
If most of your scans are document based, then you'd want a document centric scanner. These scanners are equipped with a sheet feeder. The feeders help save a lot of your time and energy from doing monotonous paper changing.
However, if you are scanning documents on a regular basis, an automatic document feeder (ADF) is the ideal choice for you. You can pick the scanner basing at its ADF capacity.
How to check twain compatibility?
Step 1: Connect your device to the Mac via a USB cable.
Step 2: Double-click the app on the Mac.
Step 3: Allow your device to sync for 5 minutes before disconnecting it from your computer.
Step 4: If you see an error message, try another USB cable or a different port on your computer.
*If all else fails, use a different OS and/or network adapter
Are TWAIN drives better than ISIS ones?
It's no secret that the number of businesses adopting the TWAIN interface is skyrocketing, and many companies are now mandating their employees to use TWAIN-compatible scanning tools. But what do you need to know about TWAIN? Is it really better than ISIS?
Differences between TWAIN and ISIS:
ISIS and TWAIN work very similarly, and many companies choose to use both in order to increase interoperability. But there are some notable differences between the two: ISIS includes support for a wider variety of scanners, while TWAIN provides more advanced tools for scanning and archiving documents.
The most important difference is that ISIS is part of Windows operating system (and therefore found installed on every Windows PC), while TWAIN is a proprietary tool that requires additional hardware.
The biggest difference between these two tools is that ISIS cannot scan the content of a document. In other words, it can only view existing documents. It does not have the ability to scan raw images or data.
Advanced features of TWAIN:
Batch scanning
With TWAIN you can scan multiple documents in one session and simultaneously send them to different destinations for storage and processing. With ISIS, you must manually scan each document separately.
Support for scanners
TWAIN supports scanners from a wide variety of manufacturers, while ISIS is limited mainly to HP scanners. Scan a U.S. passport, and you can't use ISIS to view the information.
Support for OCR
TWAIN support is built into Windows Vista and 7 (on the Professional edition), while ISIS has OCR capability only in the Enterprise edition of Microsoft Windows XP.
TWAIN 3.0 (2005)
Image recognition is the newest feature that users are most excited about with TWAIN 3.0, but it is also one of the more complex features of this new version of TWAIN. Basically, it uses a combination of machine learning tools and artificial intelligence to help scan documents by extracting text from them using algorithms like sub word recognition, statistical matching, and optical character recognition (OCR).
How does it work?
Sub word recognition: When a document is scanned, the software uses algorithms to determine whether characters are words or not. For example, if you scan "Hello World", the software might determine that the character "o" is a word and ignore it. It would also probably recognize other words in similar contexts like "Hello", "World", and then decide that the character after the "e" ("llo") is another word. In some cases, it may also decide that two characters are not words in this context, but are part of paragraphs or sentences (for example, if one of them starts with a capital letter).
Statistical matching: Once it has determined the words in a document, the software uses algorithms to estimate the probability of specific characters appearing together. For example, the letter "H" is often followed by a lowercase "e" and then a lowercase "ll".
Optical Character Recognition (OCR): In Arabic, for example, there is only one character for each letter. The software needs to figure out where each word begins and ends in this case. There are different ways to do this (buying expensive dictionaries seems one of the more common ways), but OCR allows you to simply scan an image in order to make this determination automatically. This way you can use TWAIN 3.
Frequently Asked Questions
1. What Is TWAIN Scanning?
In simple words, TWAIN scanning is a scanning protocol that connects scanners and applications through a standard interface.
2. What Scanners Are TWAIN Compatibles?
Most scanners provided by the major scanner manufacturers are TWAIN compatible. AnDoc Software Inc, Canon, Eastman Kodak Company, Epson Inc, Arision Inc. are few of manufacturers of TWAIN compatible scanners.
3. Are All Scanners TWAIN Compatible?
TWAIN is a standard interface between programs and devices. Almost all scanners house a TWAIN driver within, known as the Data source, but only TWAIN compatible softwares can use it.
4. What Is A TWAIN Compliant Scanner?
TWAIN is a standard for the API between input devices and applications. If your scanning can be done easily without any errors through your device, then it is a TWAIN compliant scanner.
Final Word
Scanners make life easier. Documenting papers and saving them in the cloud is much easier and quicker all thanks to scanners. To help you pick the right product, we have compiled only the best TWAIN scanners.
There are versatile types of scanners in this TWAIN compatible scanners list. You can get yourself any of them and get rid of all the excess papers that piling up dust in your office or house or the attic. Store everything in the cloud storage all in one place, easily accessible.
Related posts:
Buy on Etsy, Walmart, eBay (limited quantity)
Fujitsu ScanSnap iX1500 Color Duplex Document Scanner with Touch Screen for Mac and PC - Walmart, Etsy, eBay
Brother DS-640 Compact Mobile Document Scanner - Walmart, Etsy, eBay
Epson WorkForce ES-400 Color Duplex Document Scanner for PC and Mac, Auto Document Feeder - Walmart, Etsy, eBay
Brother Wireless Document Scanner, ADS-1700W, Fast Scan Speeds, Easy-to-Use, Ideal for - Walmart, Etsy, Ebay
Brother DS-740D Duplex Compact Mobile Document Scanner - Walmart, Etsy, Ebay
Canon ImageFORMULA P-215II Mobile Document Scanner - Walmart, Etsy, eBay
Fujitsu fi-7160 Color Duplex Document Scanner - Workgroup Series - Walmart, Etsy, eBay
1. Epson WorkForce ES-400 - Walmart, Etsy, Ebay
2. Canon ImageFormula R40 - Walmart, Etsy, Ebay
3. The Brother ADS-1700W - Walmart, Etsy, eBay
5. The Brother DS-640 - Walmart, Etsy, eBay
6. The Brother ADS-2700W - Walmart, Etsy, eBay
7. The Brother ADS-2200 - Walmart, Etsy, Ebay
8. Epson WorkForce ES-200 - Walmart, Etsy, eBay
9. The Brother ADS-2800W - Walmart, Etsy, Ebay
10. Xerox DocuMate 152i - Walmart, Etsy, Ebay