These days scanning has become an everyday part of work, be it from an office or from home. In order to digitalize all our documents, we scan everything we find to better keep track of it.
When you head out to buy a scanner, or even look online, most will be dedicated towards office work. So how do you buy a scanner for your home? You do not want one as bulky and large like the ones you see at offices.
But you do want something good enough that does not lag and has good performance. It should be powerful enough to meet your needs, but not overly so that it becomes a splurge.
Our article details all the points you need to know before officially buying a scanner for your home. Now that you know where to look, read on to find out more about how to find the best document scanner for home.
Editors' Picks for Top Document Scanner for Home 2023
List Of Top 10 Document Scanners For Home
1. Brother Mobile Scanner DS-620
2. Doxie Go SE - The Intuitive Portable Scanner
5. Raven Original Document Scanner
10. Canon imageFormula DR-C225
Comparison Table For Top 10 Document Scanners For Home
| Name | Dimension (inch) | Resolution (dpi) | Special Feature | Price |
| --- | --- | --- | --- | --- |
| Brother Mobile Scanner DS-620 | 2.1 x 11.4 x 1.4 | 1200 x 1200 | 8 ppm speed | Check Price |
| Doxie Go SE - The Intuitive Portable Scanner | 12.2 x 2.2 x 1.8 | 600 | Expandable memory | Check Price |
| Epson WorkForce ES-50 | 1.8 x 10.7 x 1.3 | 300 | Scan to Cloud | Check Price |
| Brother DS-740D | 11.9 x 2.5 x 1.8 | 600 | 16ppm speed | Check Price |
| Raven Original Document Scanner | 12.5 x 6.7 x 7.5 | Up to 600 | 50 sheet auto feeder | Check Price |
| Epson WorkForce ES-500W | 11.6 x 6.9 x 6.6 | 600x600 | 50 sheet auto feeder35 ppm70 ipm | Check Price |
| Fujitsu ScanSnap S1300i | 11.2 x 3.9 x 3 | Up to 600 | OCR Technology | Check Price |
| Canon imageFORMULA R40 | 11.1 x 9.9 x 9.6 | 600 | 60 sheet auto feeder | Check Price |
| Fujitsu ScanSnap iX1500 | 11.5 x 6 x 6.3 | 600 | 30ppm | Check Price |
| Canon imageFormula DR-C225 | 12.20 x 15.30 x 9.60 | 600 | 25ppm30 sheet auto feeder | Check Price |
Best Document Scanner For Home Reviews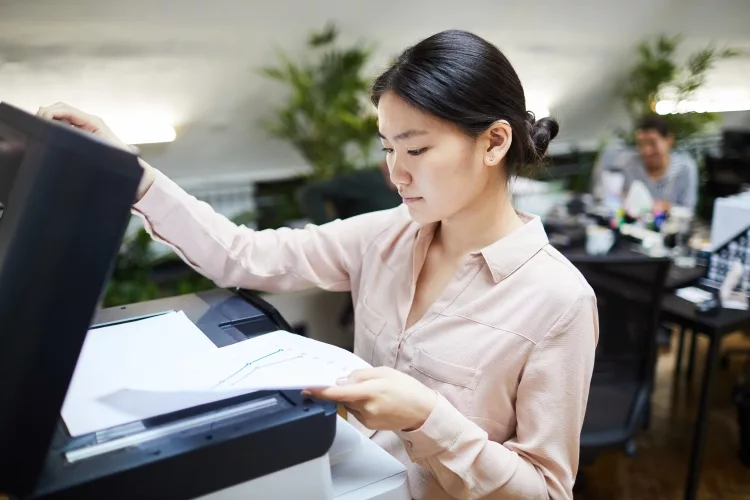 1. Brother Mobile Scanner DS-620
This scanner from Brother is a mobile scanner that is super compact and small, making it very versatile. The slim shape lets you place this anywhere in the home, and makes it easy to carry around as well.
At only under 11.5 inches long and weighing less than a pound, this mobile scanner still packs a lot of features that will come in handy at home. Not to mention you can slip this in your briefcase.
First of all, you can use this to scan to a variety of destinations. Sometimes you scan a paper, but want to send it elsewhere. Well, with this scanner, you can.
Using the software that comes with this, you can send your scanned documents through email, any shared folder, FTP or printer. This lets you organize and manage your work better, and makes sharing your work just as easy.
When buying a scanner that is small, the main idea is to be able to use it with different devices. With increased compatibility, the DS-620 lets you do that. The industry standard drivers like TWAIN and SANE enables integration for scanning to different applications.
On top of that, it is also compatible with Windows, Linux and Mac operating systems. Lastly, the OCR function makes organizing documents a breeze. You can use the right keywords to look them up, and put them in the right folders.

Highlighted Features
Compact and lightweight in size
Has TWAIN and SANE compatibility
Can directly scan to e-mail
2. Doxie Go SE - The Intuitive Portable Scanner
This Doxie Go SE lets you scan from virtually anywhere, without the need of a computer. This is great for those who need scans on the run, and cannot always have a computer with them.
All you need to do is charge the scanner, turn it on, and insert the documents you want scanned. It will archive it, or share it to a destination as you like.
Being so small in size, this fits right into the home without feeling like clutter. The small size also helps it be more versatile and mobile. You can easily stow it away in a drawer after use.
While the size really comes into focus, it is not to say the quality lags in any way, because it doesn't. With the Doxie, you only get clean and crisp scans. Your documents and scans come out with a 600 dpi resolution, which is one of the finest in the market.
Not to mention you also get an auto adjust feature that lets you edit your scans once you are done. What we scan is not what we always like, and minor edits can take a while if you have to transfer first.
But not on this. You can crop the images as you like, de skew them, change the contrast for better visibility, all to have a perfect scan!
Highlighted Features
Comes with a rechargeable battery
Can store up to 4000 pages
Scans 400 pages with one charge
Has OCR technology as well
3. Epson WorkForce ES-50 -Best Scanner For Home Organization
Epson is one name surely comes to your mind when looking for scanners. Besides their large flatbeds, they also make these mobile scanners that fit easily into any space.
Well fit for the home as well as for carrying to different places, this scanner is one of the fastest and lightest in its class. Speed wise, it can scan an entire page in as little as 5.5 seconds.
When it comes to document scanning, it will accommodate up to 8.5x72 inches. It does not stop here. If you wish to scan smaller documents or papers of different sizes such as cards and receipts, you can surely do that as well.
With the Epson scanner, you get the Epson ScanSmart software. This software helps you organize your scanned documents with ease. You also get the Nuance OCR that lets you make searchable PDFs, excel and word files.
This is very important in today's fast paced world where we do not possess the time to do these individually. Having a software set to do just that is a truly a big help.
Alongside organizing, you also want versatility. Post scanning, you can shift your scan to a cloud storage thanks to the included software. This is great for when you don't have a storage device with you.
Highlighted features
Can scan a single page in 5.5 seconds
Smart tools allow for organizing
USB powered for ease of connection
Comes with Nuance OCR technology
4. Brother DS-740D
The Brother DS-740D is a small document scanner with big features. Starting with one of the most important, the speed on this tiny device is a big 16 ppm. This is the speed for both your black and white, as well as color documents.
Not just that, you also get duplex scanning. Now this is something you normally come across on larger or more professional scanners. To get such a feature on your home scanner is definitely a plus.
Powered by a micro USB, this scanner makes sure you can scan no matter where you are. If you do not have a plug in sight, fret not. Simply connect it to your laptop or PC, and it will be ready to scan.
You also get an app with this scanner called the iPrint&Scan desktop app which is free. Using this, you can scan your documents multiple and store them in multiple cloud destinations, or email.
OCR technology is a must have in today's scanners, and this is no exception. This lets you convert your scans into searchable PDFs, and makes them editable too, making organizing super easy.
Lastly, the convenient size of course is a feature we want. For we don't want a bulky device in our homes. Being smaller than a foot in length, this will fit into nooks and crannies, and is easy to move as well.
Highlighted Features
TWAINE, SANE and ICA compatible
Features duplex scanning to save time
Comes with image and text optimization
5. Raven Original Document Scanner-Best Document Scanner For Home Office
This scanner from Raven comes with exceptional speeds of 17 pages a minute. Adding the duplex scanning feature together with this creates a scanner faster than most.
Although this is made with home or mobile use in mind, the high speeds let you use this in a professional setting as well. The 7 inch touchscreen lets you put in commands very easily all with the use of a touch.
Following that we also get automatic de-skewing. Sometimes our scans can come out crooked. With this feature, it gets sorted automatically. It also makes sure to remove blank pages that might have come up.
Scans from this can be directly stored to any form of cloud storage, can be emailed, as well as faxed.

Highlighted Features
Allows you to scan to cloud
Comes with a 7 inch touchscreen
Built-in editing tool included
OCR allows to create searchable files
How To Choose The Right Document Scanner For Home
Scan Speed
Granted, you want the scanner for home use, but you still want one that will perform at its peak. The best home document scanner will be one with an impressive speed.
The more scans you will have to do on a daily basis, the higher the speed you should go for. When scanning a handful of papers, this won't seem like an issue. However if you have more than 10 pages to deal with, it will feel like forever.
For this feature you will not even have to dish out a lot of money. Most mid-range scanners come with surprisingly great speed today. You can easily get 25 to 75 pages per minute.
If you are dealing with more papers though, opt for higher speed. You can go up to 100 pages per minute, but that will cost you too. And frankly, not the speed you would need for home use.
Resolution
What used to be considered great at one time, is considered okay today. With time, our expectations have gone up in technological devices, and a mediocre resolution simply does not cut it today.
Try to go for resolutions of at least 600x600 dpi, and if your budget allows you, 1200x1200 dpi for even better quality. These will be enough for text document scanning, you will find sharp and clear texts.
But if you want to scan pictures, or professionally taken HD photos, go higher. Otherwise you will end up ruining the image quality. Photo scanners can go up to 4800 dpi today and will give you superb results you can ask for from a scanner.
Color Depth
The better quality scan you want, the more color depth you must go for. Color depth determines how many different shades the scanner can pick up. Hence the higher your number, the clearer range of colors and shades you see in your scans.
This is not to say this feature is reserved for color scanning only. Even if you scan a black and white photo, a high color depth can bring out the dimensions you want. Color depth is measured in bits.
The least color depth to settle for is 24 bits, which is sufficient for text documents. For photos and pictures with more colors and gradients, go for 36 bits or 48 bits. These will be able to bring out the colors in a real life like manner.
Final Word
Now that you have made it till the end, we believe you see what we were talking about. Finding the best document scanners for home is not that tough a job, only if you are looking at the right place. And I believe you are there.
All you need to do now, is take a moment to see which of these models properly suit your needs. You can check out the comparisons to help you out in your decision.
While they all have differing features, they are all common in one place- they are exceptional scanners to keep at home.

Related Posts

Buy now at eBay, Etsy, Walmart (subject to availability)
Brother Wireless High-Speed Desktop Document Scanner, ADS-2700W, Touchscreen LCD, Duplex - Walmart, Etsy, Ebay
Canon CanoScan Lide 300 Scanner, 1.7" x 14.5" x 9.9" - Walmart, Etsy, eBay
Kodak ZY1534 i4850 Document Scanner - Desktop - Black/White - Walmart, Etsy, eBay
Brother ImageCenter ADS-2800W Wireless Document Scanner, Multi-Page Scanning, Color - Walmart, Etsy, eBay
Raven Original Document Scanner - Huge LCD Touchscreen, Color Duplex Feeder (ADF), - Walmart, Etsy, Ebay
Epson Workforce ES-580W Wireless Color Duplex Desktop Document Scanner for PC and Mac - Walmart, Etsy, eBay
Brother DS-740D Duplex Compact Mobile Document Scanner - Walmart, Etsy, eBay
1. Brother Mobile Scanner DS-620 - Walmart, Etsy, eBay
2. Doxie Go SE - The Intuitive Portable Scanner - Walmart, Etsy, eBay
3. Epson WorkForce ES-50 - Walmart, Etsy, eBay
5. Raven Original Document Scanner - Walmart, Etsy, eBay
6. Epson WorkForce ES-500W - Walmart, Etsy, eBay
7. Fujitsu ScanSnap S1300i - Walmart, Etsy, eBay
8. Canon imageFORMULA R40 - Walmart, Etsy, eBay
9. Fujitsu ScanSnap iX1500 - Walmart, Etsy, Ebay
10. Canon imageFormula DR-C225 - Walmart, Etsy, Ebay