Imagine the scanner sitting in your office room. It is a highly useful machine, keeping in mind the need to declutter offices off tons and piles of paperwork.
Storage of these printed texts consumes a lot of space, and the maintenance cost incurred in their upkeep is quite high. With time these paperwork physically deteriorate which may lead to data loss.
Thanks to technological innovation, all these paperwork can now be scanned into editable digital files, which could be shared via emails and stored in One Drive and Drop Box.
Now if only these scanners, retaining all their usefulness, could be small enough to be carried in a briefcase or a bag? Well guess what, they are already here in the name of portable scanners.
They can do everything from scanning to editing to cloud servicing, at the same time being very light and tiny.
Now are these portable scanners compatible with your MAC? Keeping that in mind, let's take a look at the best portable scanners for MAC available for you!
Top Portable Scanners for Mac 2022 by Editors' Picks
List of Top 10 Portable Scanners For Mac
Top 10 Portable Scanners For Mac Comparison Chart
| Image | Name | Weight (lbs) | DPI | Scan Speed |
| --- | --- | --- | --- | --- |
| Doxie Go SE Wi-Fi - The Smarter Wi-Fi Scanner with Rechargeable Battery & Amazing Software | Doxie Go SE | 1.9 | 600 | 1 pg/8 sec |
| Brother Mobile Color Page Scanner, DS-620, Fast Scanning Speeds, Compact and Lightweight, Compatible with BR-Receipts, Black | Brother DS620 | 1.95 | 600 | 8 ppm |
| Brother DS-720D Mobile Color Page Scanner, White (DS720D) | Brother DS720D | 2.35 | 600 | 5-8 ppm |
| Epson WorkForce ES-50 Portable Sheet-Fed Document Scanner for PC and Mac | Epson ES50 | 1.2 | 300 | 1 pg/5.5 sec |
| Epson WorkForce ES-400 Color Duplex Document Scanner for PC and Mac, Auto Document Feeder (ADF) | Epson ES400 | 8.1 | 600 | 35 ppm |
| Epson WorkForce ES-200 Color Portable Document Scanner with ADF for PC and Mac, Sheet-fed and Duplex Scanning | Epson ES200 | 2.4 | 600 | 25 ppm |
| Fujitsu SCANSNAP S1100i MOBILE SCANNER PC/MAC | Fujitsu S1100i | 1.55 | 300 | 1 pg/7.5 sec |
| Fujitsu ScanSnap iX1500 Color Duplex Document Scanner with Touch Screen for Mac and PC (Black Model) | Fujitsu iX1500 | 7.5 | 600 | 30 ppm |
| Fujitsu ScanSnap S1300i Portable Color Duplex Document Scanner for Mac or PC | Fujitsu S1300i | 3.09 | 600 | 12 ppm |
| Raven Original Document Scanner - Huge LCD Touchscreen, Color Duplex Feeder (ADF), Wireless Scanning to Cloud, WiFi, Ethernet, USB, Home or Office (1st Gen) | Raven | 6.17 | 600 | 17 ppm |
Best Portable Scanners For Mac Reviews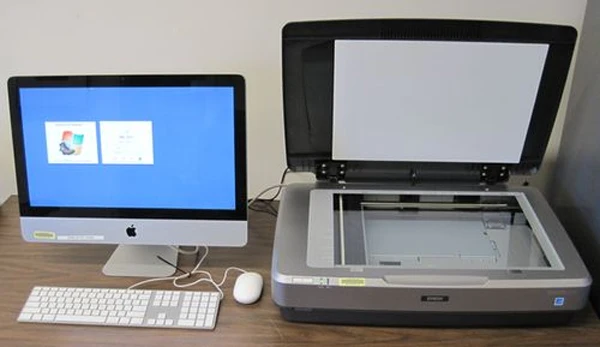 1. Doxie Go SE Wi-Fi with Rechargeable Battery
In contemporary work cultures, tons of paperwork and filing are slowly getting obsolete. Paperwork storage takes up a lot of physical space, and they also wear off with time. Nowadays individuals scan their paperwork and digitize them, so now all information is, as they describe it, "in the cloud".
The new paperless work environment and the scanners by Doxie go hand in hand. These hi-tech scanners promise high quality scanning without the need of any computer! The Doxie scanners have an SD card where it stores up to 4000 scans. The scanner is highly compatible to a wide range of OS, devices and Cloud services.
It has a highly portable structure, and runs on rechargeable battery! Now you can scan anywhere, anytime. It works wonders for people who are always on the go, like surveyors or field marketing executives.
Teamed with an impressive resolution of 600 DPI, the scanner generates fantastic images using myriads of auto-editing features, like deskewing and balancing image contrast. The scanner is equipped with ABBYY OCR software that detects texts and numbers from a printed format.
The Optical Character Recognition (OCR) technology also converts printed texts to editable or searchable PDF. The scanner also has an amazing scanning ability of 400 pages per charge, that means once you have charged the batteries, it will be able to scan 400 pages.

Product Highlights
The scanner is tiny, about the size of a folded magazine, portable in bags
Runs on rechargeable batteries, can scan 400 pages per charge
Highly compatible with a wide array of OS, devices and Cloud Services.
Saves large data to its SD card
Has OCR software to detect numeric from text, searchable PDFs
2. Brother DS-620 Mobile Color Page Scanner
At times we miss our childhood days. The day we lost our 1st tooth, graduation, promotion, marriage-we capture firsts of everything with our cameras. Many families cherish decade old films and slides which contain precious memories. Film scanners can actually bring those memories back to life!
When scanners get mobile, the fun increases by folds-- take the scanners by Brother. They are about the size of a rolled-up magazine, only 11.5 inches long and weigh less than 1 pound. It comes equipped with an arsenal of software, and has a versatile scan-to-destinations-file, image, FTP, shared folder, email, print.
With its interpolated 1200x1200 dpi and optical 600x600 dpi resolutions, this scanner has a scanning speed of 8 ppm. With the help of Presto! Bizcard software, it scans a number of documents, including business cards and receipts, and detects the numerical data from the printed text. It even scans laminated data.
It features TWAIN and SANE driver which have a versatile compatibility with a wide array of OS and devices-including Windows, MAC and LINUX. Scans are directly converted to MS Office Documents and multiple scans are compiled to PDFs in a jiffy.

Product Highlights
Fast scan speed of 8 ppm (color and monochrome), Resolution 1200x1200
Space-efficient and highly portable-only 12" long, weighs less than 1 lb
Has an array of scan-to-destinations, compatible with various OS
TWAIN and SANE drivers, Presto! Bizcard software
3. Epson WorkForce ES-50 Scanner- Portable Scanner Compatible With Mac
Scanners are widely used in small business and retail shops. Some of these gadgets can actually read business cards and receipts with the help of specialized software and memorize the payment parts. These sections can then be edited and sent to relevant departments, like Accounting or Marketing.
All this and more can be found in Epson Scanners, one of the fastest and lightest scanners around. It connects by the USB port, and scans each page within 5.5 seconds, thanks to its ES-50 feature. This scanner accommodates extra large-sized pages of 8.5" x 72" sizes, IDs, receipts, business cards and photographs.
It is equipped with OCR and ScanSmart software. The well-known benefits of OCR technology enable the scanner to convert printed texts from papers to searchable PDFs and editable MS Office documents. ScanSmart software allows scanning and saving important documents in a jiffy, teamed up with the Automatic Document Feeder (ADF).
The scanner also has TWAIN driver which is highly compatible with Windows and MAC. The gadget has a versatile scan-to-destinations in the Cloud including Dropbox, One Note, Evernote.

Product Highlights
One of the fastest and lightest computers, scans a page within 5.5 sec
Has ScanSmart software for easy and fast scanning and saving
OCR technology for converting printed text to searchable PDFs
USB powered, TWAIN driver, compatible with MAC and Windows
4. Brother DS-720D Mobile Color Page Scanner
Excellent quality scans are great for archiving and printing purposes. Scanning from books, newspapers and other texts, is a daily errand that educators need to run, to share the images online for students to learn from.
Nowadays, scanners have special OCR software that scans the printed text to searchable PDFs and editable docs before cloud sharing. This has transformed work cultures to a great extent. Such scanners are manufactured by Brother, which don't only have an arsenal of software, but are highly portable!
Weighing less than 1 lb, and only 11.5" long, are perfect for professionals who are always on the go, like site-engineers, marketing execs or businessmen who travel a lot-- they can simply carry it inside their suitcase. Not only that, but this scanner has auto-duplex feature with a scanning rate of 5 ppm, and non-duplex rate 8ppm, color and monochrome.
It is USB powered and fits in one small corner of your busy office desk. With its powerful 1200 x 1200 interpolated resolution, this scanner can scan business cards, receipts, IDs, photos and of course documents.
It has an array of scan-to-destinations in the Cloud and its special DS-720D feature helps the user to manage documents better. The scanner also has Presto! BizCard and Receipt QuickBook software, together with the highly versatile TWAIN and SANE drivers.

Product Highlights
The product is only 11.5" long, about 1 lb, and scans at 5-8ppm
Has OCR, Presto! BizCard and QuicBook Software for easy operation
Has 1200x1200 DPI, TWAIN and SANE drivers
5. Fujitsu SCANSNAP S1100i - Portable Scanner Macintosh
Scanners have become quite popular even in paper laden HR and Law offices and educational institutions. And these days scanners are so small in size, you can fit them almost anywhere.
Such are the scanners by Fujitsu! These ninja scanners are only 12.5" long and weigh around 1.55 lbs, and you can carry them around in your bag during travelling or flying. They are companions of business people worldwide.
The scanner comes with Intelligent Scan Correction technology provides some high-tech user-friendly editing features which make your life with paperwork much more convenient. The editing features include crop, deskew, auto-color correction, rotation of the scans, all done behind the scenes, and you do not have to bat your eye-lash!
The scanners also have auto-duplex feature which scans large documents, business cards, IDs, you name it. One of its most interesting features is its Auto-Stitch feature which enables scanning of large sheets and charts. Fold the charts in half and feed it to the scanner, and the scanner's S1100i feature will scan both the sides separately and stitch back the scans together.
It is USB powered and also has ScanSnap Sync feature which enables the user to sync all scans between PC and mobile devices. ScanSnap Organiser in your PC and ScanSnap App in your mobile device will interact and sync all docs, saving you hassle.
ScanSnap software has versatile uses. It can scan business cards and convert the numeric data into editable fields and also convert printed docs to searchable PDFs before sending them to email.
This software enables the reading of receipts written in multiple languages, extracting monetary information from receipts and transferring the data to the relevant departments.

Product Highlights
Can scan documents up to 34" long to searchable PDFs and editable docs
Highly portable, USB powered, auto-duplex and auto-stitch technology
ScanSnap software allows auto-sync, read from business cards and receipts
Highly compatible with MAC and Windows


How To Choose The Right Portable Scanners For Mac
Resolution
Individuals looking for a portable scanner often suffer in a dilemma if the scanner will be able to generate bright scans, besides being highly portable. The scanners available these days make sure you would not need to worry about that.
It is the resolution feature which sets two scanners apart. Resolution is basically the number of pixels captured by the scanner measured by DPI or Dots Per Inch. Higher the DPI, brighter and clearer the images formed, so you should doubtlessly opt for a higher DPI in the portable scanner you are willing to purchase.
There are two categories of resolutions-Optical and Interpolated. It is the optical resolution which you should be attentive toward, since interpolation or artificial enhancement of resolution can be done by image-editing software.
300-600 DPI optical resolution would be suitable for everyday scanning of paper documents, IDs, business cards, receipts, and such. 1200 DPI scanners are needed for scanning of film/slides or graphics.
Connection Interface
The three major types of connection interfaces are SCSI, USB and parallel ports, among which USB connectivity is the most common in portable scanners.
USB or Universal Serial Bus are compatible with MAC and Windows, and has the added benefits of plug-n-play, which will allow you to pull out the cord even while the computer is still running.
Common USB interfaces are Connection 2.0 which supports data transfer at 480 Mbps, while the older version Connection 1.1 allows data to be transferred at a rate of 12Mbps. FireWire connection in certain high-end scanners allows data transfer at the rate of 400 Mbps.
SCSI or Small Computer System Interface (pronounced as Scuzzy) are usually found in high-end scanners, and needs work at configuration and installation.
To use a SCSI scanner, you would need to install special SCSI controller card, which are usually included in SCSI scanner packages. It is important to note though many PCs do not support SCSI connections.
Speed
Your daily demand for scanning will determine which speed of scanning you should opt for. Speeds of scanning are measured in papers per minute or PPM, and images per minute or IPM.
Another way to measure the speed of scanning is the time it takes, in seconds, to scan one-side or both the sides of 1 page. Scanning at a higher resolution takes more time.
Software and Drivers
Most scanners today come with an array of software, which are highly useful at improving scanning quality and ease of operation. One of the commonest software available in almost all portable scanners is the Optical Character Recognition or OCR software.
OCR software enables the scanner to identify printed text, like numerical data, and covert them into searchable PDFs and editable MS Office documents. They are also capable of recognizing texts in different languages.
Scanners also come with other Intelligent Correction software which has image-editing ability. With their help, scanners can crop and deskew images, rotate them, correct their color and brightness, and even compile them automatically to PDFs. This feature saves the user a lot of time and hassle.
To support these software, scanners usually come equipped with TWAIN and SANE drivers. TWAIN in particular is highly software-friendly and compatible with an array of OS, including Windows and MAC, and mobile devices.
Final Word
Just when you thought it could not get any better, the portable scanners jumped in! They are amazing gadgets, lightweight and small, and can be carried in a bag or a briefcase. Now you can carry them in your car, to your work sites, to your school, and never lag behind in documentation and archiving ever again.
Some premium brands of portable scanners are available in the market. Scanners by Fujitsu, Brother, Epson, Doxie and Raven are ruling, they are affordable, and are equipped with all the latest features.
If you are a MAC user, no need to worry, all features of the best portable scanner for MAC are present in the above mentioned models. Do not wait any longer, make yourself more organized with portable scanners.
Related posts:
Buy on Walmart, Etsy, eBay (limited quantity)
Brother DS-940DW Duplex and Wireless Compact Mobile Document Scanner - Walmart, Etsy, eBay
Epson RapidReceipt RR-70W Wireless Mobile Receipt and Color Document Scanner with - Walmart, Etsy, Ebay
Epson WorkForce ES-300W Wireless Color Portable Document Scanner with ADF for PC and Mac, - Walmart, Etsy, eBay
IRISCan Book 5 Wifi Wand Portable Scanner, Ultra Speed sheet fed scanner Battery - Walmart, Etsy, eBay
ES-300WR Wireless Color Portable Duplex Document Scanner Accounting Edition for PC and - Walmart, Etsy, eBay
Fujitsu ScanSnap iX1300 Compact Wi-Fi Document Scanner for Mac or PC, Black - Walmart, Etsy, Ebay
ClearClick 14 MP QuickConvert 2.0 Photo, Slide, and Negative Scanner - Scan 4x6 Photos & - Walmart, Etsy, Ebay
1. Doxie Go SE - Walmart, Etsy, eBay