Even though a lot of us use digital cameras today, some people still love the thrill of films. Call it old school, but it holds this certain sentiment and nostalgia that we can never get from photos taken from our phones.
But, given the fact that most people use digital mediums today, finding a scanner for your films can be a little tough. You will find loads of brands and models that claim to scan your negatives, but how do you know which one to get?
Well, we are here to help. If you are on a lookout for the best negative scanner, take a few minutes to scroll through this article. Here you will find some of the finest models from the market and some of the top brands too.
These details are dedicated to help you find the right scanner for you, so you do not get lost amongst the options.
Top Negative Scanner 2022 by Editors
List Of Top Best Negative Scanner 2020
1. KODAK SCANZA Digital Film & Slide Scanner
2. Epson Perfection V600 Scanner
4. Magnasonic All-in-One Film Scanner
5. Wolverine Titan 8-in-1 Film to Digital Converter
7. KODAK Mini Digital Film & Slide Scanner
8. Epson Perfection V850 Pro scanner
10. DIGITNOW! 135 Film Negative Scanner
Comparison Table Of Top Best Negative Scanner 2020
Image
Name
Resolution
Special Features

KODAK SCANZA Digital Film & Slide Scanner - Converts 35mm, 126, 110, Super 8 & 8mm Film Negatives & Slides to JPEG - Includes Large Tilt-Up 3.5" LCD, Easy-Load Film Inserts, Adapters & More

KODAK SCANZA Digital Film & Slide Scanner

14/22 megapixel

Multiple adapters
3.5 inch color screen

Epson Perfection V600 Color Photo, Image, Film, Negative & Document Scanner

Epson Perfection V600 Scanner

6400 DPI

3.4 Dmax
Digital ICE

Plustek OpticFilm 8200i AI - 35mm Film & Slides Scanner. IT 8 Calibration Target + SilverFast Ai Studio 8.8, 7200 dpi Resolution 64Bit HDRi , Mac/PC

Plustek OpticFilm 8200i AI

7200 DPI

3.91 Dmax
IT8 callibration
iSRD

Magnasonic All-in-One High Resolution 22MP Film Scanner, Converts 35mm/126KPK/110/Super 8 Films, Slides, Negatives into Digital Photos, Vibrant 2.4" LCD Screen, Impressive 128MB Built-in Memory

Magnasonic All-in-One Film Scanner

3200 and 4000 DPI

5 second scanning per slide
128MB memory bult-in

Wolverine Titan 8-in-1 High Resolution Film to Digital Converter with 4.3" Screen and HDMI Output (Black)

Wolverine Titan 8-in-1 Film to Digital Converter

20 megapixels

3 second scanning per slide
4.3 inch color screen

EPSB11B207221 - Perfection V370 Scanner

Epson Perfection V370

4800 x 9600 DPI

Scans 3D objects

KODAK Mini Digital Film & Slide Scanner – Converts 35mm, 126, 110, Super 8 & 8mm Film Negatives & Slides to 22 Megapixel JPEG Images – Includes - 2.4 LCD Screen – Easy Load Film Adapters

KODAK Mini Digital Film & Slide Scanner

14/22 megapixels

Color correction

Epson Perfection V850 Pro scanner

Epson Perfection V850 Pro scanner

6400 DPI

4.0 Dmax

Film Negative Scanner 22 MP 110 135 126KPK Super 8 Negative Photo Scanner 35mm Slide Film Scanner Digital Film Converter High Resolution 22MP 2.4" LCD(White)

QPIX DIGITAL Scanner

22 megapixel

Image enhancement

135 Film Scanner High Resolution Slide Viewer,Convert 35mm Film,Negative &Slide to Digital JPEG Save into SD Card, with Slide Mounts Feeder No Computer/Software Required

DIGITNOW! 135 Film Negative Scanner

1800 DPI

Adjustable rapid slide feeder
Best Negative Scanner Reviews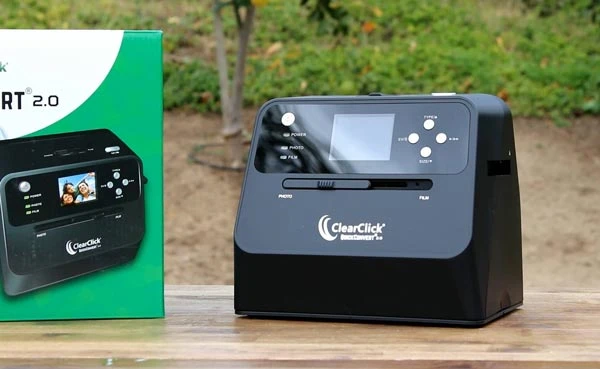 1. KODAK SCANZA Digital Film & Slide Scanner- Best Negative Film Scanner
In the world of photographs and scanning, KODAK holds a special name. And this scanner from KODAK is no different. Letting you convert to film to digital at one touch, this lets you digitize all your past memories and stores them in one place
The 3.5 inch color screen on top lets you see what your negatives hold. The scanner also features adjustments. So if you find your pictures coming out too bright, or not bright enough, you can adjust them.
This is also very small and lightweight in size which lets you carry it, and makes a great present too. TV outs and cables let you hook up the scanner to your TV. Now you can enjoy old family pictures scanned and put out on TV for everyone to take in and enjoy.
Being small, it is not as fast as its larger counterparts. But that being said, it is a fairly in expensive process. If you were to do numerous rolls from a studio, it would cost you a lot more. With this, you have a onetime investment, and can scan as many negatives as you wish.
The scanner also comes with numerous carriers. These include carriers for negatives and films which lets you scan everything you had from the old days and will not leave anything out.

Highlighted Features
Includes an adapter for everything
Comes with extra cables to connect with other devices
Integrated interpolation enhances images up to 22 megapixels.
Small, lightweight and compact makes it versatile


2. Epson Perfection V600 Scanner - Best Flatbed Negative Scanner
Epson is another name we are familiar with when it comes to devices like scanners. This one called the Perfection V600 is a great flatbed scanner that will scan more than just your old photos.
Delivering outstanding quality, this will scan all your documents and photos as well. One of the top features of this scanner include the Digital ICE. You have this for prints.
This helps to remove creases and tears and similar distortions from old photos- because let us face it, they all have it. This reveals smooth and new life like images.
The Digital ICE for film on the other hand also help to improve your scanned picture's quality, but this one does it by removing dust and scratches. Old photos always collect dust, and some is simply hard to remove without destroying the picture. This lets you do it just right.
Alongside these, the scanner also features innovative tools to further upgrade your photos. The Easy Photo Fix from Epson lets you restore color to faded photos. The ArcSoft PhotoStudio on the other hand lets you edit your photos back to its original color state.
Using these tools from Epson you can achieve e a complete photo restoration. So not only do you get to scan, but also bring them back like they never aged a day!

Highlighted Features
Has a resolution of 6400 x 9600 dpi
Comes with a built-in Transparency unit
ReadyScan LED Light Source uses less power
Can scan 3D objects as well


3. Plustek OpticFilm 8200i AI - Best Negative Scanner For Home Use
The Plustek OpticFilm 8200i aims to be your complete solution for all your 35mm films and slides. It comes with a built-in infrared channel which detect dust. You need this because most old pictures can hold on to some stubborn dust that is hard to clean.
With this feature however, you can correct these dust and scratches that show up on your scan, leaving a clean copy. Coming to the resolution, you get a whopping 7200 dpi with this. This lets you experience truly bright and life like colors.
Alongside that you also get a 3.91 Dmax that really enhances the contrast of the pictures. You will see the highlights and shadows for how they truly were. This feature is also ideal for older pictures that come in black and white.
Scanning ends with a picture in digital form, but not with this scanner. One of the key features of this scanner is the included Flagship image software. You get expert features that let you control how the image turns out.
Here you get to manage your photo colors and lets you edit them to change the colors. With time, some color will be lost no matter what. But with these editing options, you can bring them back.

Highlighted Features
Has a resolution of 7200 dpi
3.91 Dmax gives smooth details
Features IT8 calibration for enhanced picture quality
iSRD allows for dust and scratch removal


4. Magnasonic All-in-One Film Scanner- Best Negative Photo Scanner
The Magnasonic All-in-One Film Scanner will help bring your films back to life. With a 22 megapixel resolution, this scanner is fast and reliable. It takes less than a minute to scan and digitize your memories, and preserves them for as long as you like.
On the top you get a color LCD screen. This lets you preview your scanned films in digital form. Here you can see all the distortions that took place over the years. One of these include a change in color. The fine tuning option lets you edit it back to its original state.
Being very versatile this scannercan convert your films of many different sizes. Supporting 35mm, 110 film, 126KPK film, negatives and slides, it will digitize it all. Post scanning, you can store it inside this scanner as well, thanks to the 128MB of memory that comes with it.
Or you can opt for an SD card, once you exceed the built-in memory. You can now use this SD card to view these pictures elsewhere in a different device, enjoy them with your family. Or you can have them printed out as well.
With this scanner you get a negative film holder, a positive film holder, super 8 film holder and a 110 film holder. You also get many connection options, including the USB cable, a video out TV cable and an AC/DC adapter. This lets you connect with numerous devices without hassle.

Highlighted Features
SD card compatible for photo transfer
LCD screen allows for computer less editing
Features quick 5 second scanning
Comes with 128MB of built-in memory


5. Wolverine Titan 8-in-1 Film to Digital Converter- Best Negative Scanner For Mac
This Negative Scanner For Mac, The Wolverine Titan Film to Digital Converter will help you convert all your films into digital form in as low as 3 seconds for one slide. It comes with a large 4.3 inch screen that lets you have a preview of the film you just scanned, and eliminates the need of a computer.
This scanner aims to make life simple for you, and hence removes the need of any other device or software to go along. All you need is this one scanner, and you will have what you need to transform old picture to new forms.
Post scanning, the pictures get saved into the internal memory. You can also insert an SD card if you want to, and choose to have it saved there instead. Using this SD card now you can easily view this in any other device, or have it printed out.
The fast loading feature is very efficient and work friendly as well. All you have to do is push in the negatives into the machine and wait for the work to be done. All it requires is the push of a button.

Highlighted Features
HDMI to out jack enables viewing on TV
Has a resolution of 20 megapixels
Fast speed of 3 seconds scanning per slide
Comes with 4.3 inch LCD screen


How To Choose The Right Negative Scanner
Resolution
The best scanners for negatives will be ones with the finest resolutions. You can find the resolution as Dots per Inch or DPI. Always try to go for a high DPI or high resolution for the optimal picture quality.
You might think you are okay with an average resolution, but you might not be after seeing the print in hand. Because we are all used to seeing high resolution photos today, a small change can be a disappointment.
Brands
While people might have a personal choice or bias against brands, it is mostly because of their performance. Some brands are simply better at making certain products, and the same goes for negative scanners too.
Names like KODAK and Epson are common household names when talking about negative scanning. They have been in this industry for ages, giving them an advantage and know how. They really know what they're doing, and hence make a good product.
However this is not to say other newer brands are not good. This is say, when you buy from an unknown brand, make sure to check the details and warranty before confirming purchase. You never know, you might just find something better!
Depth of Color
The color depth is measures in bits. You obviously want a higher color depth. This will ensure that the colors merge together nicely without harsh lines. Also keep in mind this is not reserved for color printing only.
Even black and white photos have their graduations, and would need a high bit for a good photo. The minimum color bit to settle for is 24 bits. But the higher you go the better.
Colors will blend in smoother and look more natural. Most modern scanners come in 48 bits today and have a great color depth. If you can stretch your budget form a 24 bit to a 48, go for it. It will be worth it in the long run.
Frequently Asked Questions
1. What Is The Best Negative Scanner To Buy?
Converting negative films to digital photos requires the right negative scanner. When you are looking for the best negative scanner, you need to ensure it has a high scanning resolution, comes with user-friendly software, and is easy to use.
Speaking of the resolution, it is always best to choose a printer that can scan 35mm negatives at a high resolution, such as 7200 dpi. Although the file size will be large, you will be getting a high-quality image.
One of the best negative scanners you can look for is the Plustek OpticFilm 8200i AI film and slides scanner.
2. Can I Scan A Negative On My Scanner?
If you want to scan a negative or a slide on your flatbed scanner, it will not work. That's because negatives require a backlight for the image to be visible, which flatbed scanners don't have.
However, there is a hack you can try out if you don't want to invest in a negative scanner.
You will need to place the negative on the scanner bed first and then place a white paper on top of the negative. After you have done that, you will need to place a small lamp in such a way so that the bulb shines light four to six inches above the scanner bed.
Once you turn on the light and hit the scan button, the scanner will scan the negative. You can then open the image in an image editing software, crop it, convert it to a positive image (if you want), and then save the file.
3. How Do You Prepare Negatives For A Scanner?
To preserve your negatives digitally, you will need to prep them first to ensure the image appears clear. Here's how you can do it-
Step 1:
Dust particles can accumulate on negatives, so you will need to blow off the dust gently using compressed air.
Step 2:
After you have done that, dab some 98% isopropyl alcohol on a lint-free cloth and gently apply it to the negative. You need to make sure the alcohol percentage is no less than 98% because it will result in streaks, spots, or stains.
Step 3:
Cleaning will be of no use if there are fingerprint smudges on the negative. So, it is best to wear lint-free gloves for handling the negative.
Step 4:
Now that you have cleaned your negative, it is time to dry it out. It is best to place the negative in a well-ventilated room because the alcohol will evaporate quickly.
Make sure you don't place it by the window for dust particles will accumulate on it again, and you will have to repeat the process!
Step 5:
Once it has dried, you will need to wipe it again using a dry lint-free cloth. Your negative is now ready for scanning!
What Is The Best Way To Scan Old Negatives?
The best way to scan your old negatives is to use a negative scanner. There are various negative scanners available in the market that can scan 35mm negatives to give a high-quality image. The higher the resolution it has, the better will be the image quality.
Before scanning, you need to ensure the negative is clean and in good condition, otherwise, you won't be satisfied with the scanned image.
Final Word
When trying to find the best negative scanners, you might face some ups and downs. There are technical jargons you might not get, specifications you are not familiar with.
You do not know much about the brands. You do not know what to look for in the first place-these are all common concerns. That is where we come in. with specific details about what makes a product good and what does not, this article covers all these questions you might be having.
So without further ado, skim through, and be prepared to finally find your new scanner to bring your pictures to life.
Related posts:
Buy now at Walmart, eBay, Etsy (quality guaranteed)
KODAK SCANZA Digital Film & Slide Scanner - Converts 35mm, 126, 110, Super 8 & 8mm Film - Walmart, Etsy, Ebay
Epson Perfection V600 Color Photo, Image, Film, Negative & Document Scanner - Walmart, Etsy, eBay
Plustek OpticFilm 8200i AI - 35mm Film & Slides Scanner. IT 8 Calibration Target + - Walmart, Etsy, Ebay
Wolverine Titan 8-in-1 20MP High Resolution Film to Digital Converter with 4.3" Screen - Walmart, Etsy, eBay
Canon CanoScan 9000F MKII Photo, Film and Negative Scanner, Flatbed - Walmart, Etsy, Ebay
Plustek OpticFilm 8100-35mm Negative Film/Slide Scanner with 7200 DPI and 48-bit Output. - Walmart, Etsy, eBay
Magnasonic All-in-One High Resolution 22MP Film Scanner, Converts 35mm/126KPK/110/Super 8 - Walmart, Etsy, eBay
1. KODAK SCANZA Digital Film & Slide Scanner - Walmart, Etsy, eBay
2. Epson Perfection V600 Scanner - Walmart, Etsy, eBay
3. Plustek OpticFilm 8200i AI - Walmart, Etsy, eBay
4. Magnasonic All-in-One Film Scanner - Walmart, Etsy, Ebay
5. Wolverine Titan 8-in-1 Film to Digital Converter - Walmart, Etsy, eBay
6. Epson Perfection V370 - Walmart, Etsy, Ebay
7. KODAK Mini Digital Film & Slide Scanner - Walmart, Etsy, eBay
8. Epson Perfection V850 Pro scanner - Walmart, Etsy, eBay
9. QPIX DIGITAL Scanner - Walmart, Etsy, eBay
10. DIGITNOW! 135 Film Negative Scanner - Walmart, Etsy, eBay
Plustek OpticFilm 8200i AI - Walmart, Etsy, eBay