A lot of people purchase Chromebooks today because of the work ease it provides. It is easy to use and better to carry, since we are all on the move nowadays. Bottom-line, it is a great work and study companion.
But even this great companion needs another sometimes. We are talking about scanners. Because of the different operating system that runs on a Chromebook, more often than not, it is hard to find a scanner that goes with it.
But for work and study purposes, you must find the right one. When looking it up, you will surely find many that are suitable, but how will you know which to get? That is where we come in.
If you want to buy the best scanner for Chromebook, keep on reading. You will find a selection of some of the top models in the market currently which will guide you to get the right one.
Top Scanner for Chromebook 2022 by Editors
List of Top 10 Scanners For Chromebooks
1. Raven Original Document Scanner
8. Brother Document Scanner ADS-2200
Comparison Chart For Top 10 Scanners For Chromebooks
Image
Product
Resolution (dpi)
Dimension (inch)
Special Feature

Raven Original Document Scanner - Huge LCD Touchscreen, Color Duplex Feeder (ADF), Wireless Scanning to Cloud, WiFi, Ethernet, USB, Home or Office (1st Gen)

Raven Original Document Scanner
Up to 600

12.5 x 6.7 x 7.5

17ppm

Epson WorkForce ES-50 Portable Sheet-Fed Document Scanner for PC and Mac

Epson WorkForce ES-50
1200

1.8 x 10.7 x 1.3

5.5 sec/page speed

Epson EcoTank ET-2760 Wireless Color All-in-One Cartridge-Free Supertank Printer with Scanner and Copier

Epson EcoTank ET-2760
5760 x 1440

13.7 x 14.8 x 9.4

2 side printing

Fujitsu ScanSnap S1300i Portable Color Duplex Document Scanner for Mac or PC

Fujitsu ScanSnap S1300i
600x600

11.2 x 3.9 x 3

10 page auto feeder

Brother Mobile Color Page Scanner, DS-620, Fast Scanning Speeds, Compact and Lightweight, Compatible with BR-Receipts, Black

Brother DS-620
1200x1200

2.1 x 11.4 x 1.4

8ppm

Epson WorkForce ES-400 Color Duplex Document Scanner for PC and Mac, Auto Document Feeder (ADF)

Epson WorkForce ES-400
600x600

11.6 x 6.6 x 6.3

35 ppm/70 ipm

Brother DS-720D Mobile Color Page Scanner, White (DS720D)

Brother DS-720D
600x600

2.60 x 11.40 x 1.60

TWAIN / SANE driver

Brother High-Speed Desktop Document Scanner, ADS-2200, Multiple Scan Destinations, Duplex Scanning

Brother Document Scanner ADS-2200
600

5.8 x 11.8 x 7

35ppm (Simplex), 70ipm (Duplex)

Canon imageFORMULA R40 Office Document Scanner For PC and Mac, Color Duplex Scanning, Easy Setup For Office Or Home Use, Includes Scanning Software

Canon imageFORMULA R40
600

11.14 x 9.90 x 9.60

60 sheet auto feeder
40 ppm

Epson Perfection V39 Color Photo & Document Scanner with Scan-To-Cloud & 4800 Optical Resolution, Black

Epson Perfection V39
4800

14.4 x 9.9 x 1.5

Scan to cloud
Best Scanners For Chromebooks Reviews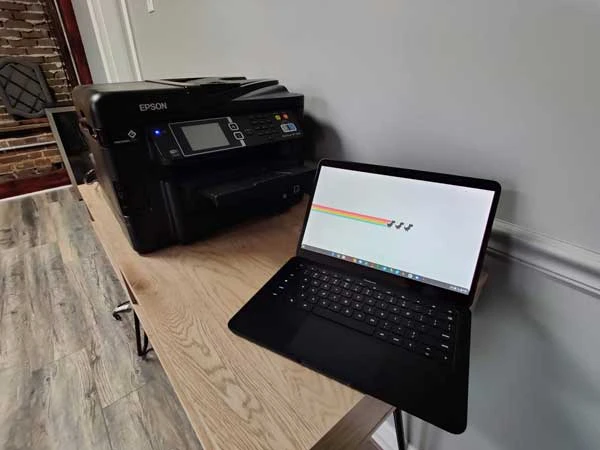 1. Raven Original Document Scanner
The Raven Original Document Scanner is a lovely choice for anyone who wants a compact scanner for their Chromebook. It comes with a lot of features that help make it just as portable.
This is what we want when using alongside a Chromebook. First of all there is the scan to cloud option. More often than not, after scanning we do not have a ready place to keep the file.
Sometimes we want to send it elsewhere, but do not possess the means to do so. At times like this, scan to cloud can be helpful as you can share your scans with anyone who has access.
It is also a great storage space for your scans, so you do not have to worry about running out of space. You can choose any from OneDrive to Google Drive to Raven Cloud and many more that are compatible with this.
The OCR technology lets you organize your scanned documents into searchable files. You can look them up as you wish, and edit them as well when needed. This can be done without this dedicated feature, but would simply take a lot longer to do.
You also get blank page removal. For the times when you mistakenly scan a blank page amongst the rest, this will help you get rid of that.

Highlighted Features
Has a scan speed of 17 pages per minute
Comes with a 7 inch LCD touchscreen
Features optical character recognition (OCR) technology
Built-in editing tool included
2. Epson WorkForce ES-50
The WorkForce ES-50 is one of Epson's smallest and most compact scanners. If you are someone who needs to scan on the go, this will prove to be the perfect partner to your Chromebook.
Besides being lightweight, it is also slim and fits right into any old bag. But just because it is small in size, do not underestimate its power. It can scan at a high speed of 5.5 seconds per page, which will get you through the day without lag.
It is also very versatile, as you can scan more than documents and photos, but business cards, IDs and receipts too. Bottom line, papers of different thickness will not be a problem.
Smart tools are found in most big scanners, but this one has it too. These allow you to make tiny changes to your scans that you tend to overlook at times.Thanks to the Epson ScanSmart Software you can now review your scans and then save them for later use.
The ES-50 I USB powered, meaning you can connect this to any laptop or computer and it will work. You do not need an external power source, which is great for when on the move.

Highlighted Features
Lightweight and easy to carry
Has a scan speed of 5.5 seconds per page
Smart tools allow for editing
Scan to cloud feature enabled
Comes with Nuance OCR technology
3. Epson EcoTank ET-2760
If you want an ecofriendly scanner, the EcoTank ET-2760 by Epson is the way to go. The main highlight of this product is how it removes the need for cartridges. We all know how expensive ink cartridges can be, and this is where most money really goes.
But here, you get replacement bottles, which can be thought of as a substitute of 80 individual cartridges. This helps you waste less money on cartridges, there is less plastic waste from the cartridges itself, and of course you save money too.
Another great thing about this is that, you can individually refill the ink you need. Instead of having to refill all at once again, which is more wasteful and costly. You also get to experience voice activated print, which is a rare feature to come across.
The high technology is not limited to the refills, but you also get mobile scanning. Now you can command you scans from virtually anywhere you want. The scanner will take care of the job for you.
The 1.44 inch color display also helps make your work easier and simpler. Auto two sided printing lets you scan both sides and print both sides. Not only does this help save time, it lets you focus on other work while this gets done.

Highlighted Features
EcoTank helps save ink
Features 2 sided copying and scanning
Has a 100 sheet feed tray
Features wireless and voice activated scanning
4. Fujitsu ScanSnap S1300i
The ScanSnap S1300i by Fujitsu is a wonderfully small and compact scanner that will fit into any corner of your desk. The design is also collapsible. This means you can stow it away after use and it will not take up much space.
This feature makes it a good fit for the home as well. Besides being in good shape, this scanner features a good optical resolution of 600 dpi which lets you experience high quality images and texts.
Colors come off as vibrant and life like, while texts are sharp and crisp. Not just that, the scan speed on this is also admirable. It can scan up to 12 double sided pages in as little as one minute.
This really helps you get your work done super quickly. Perfect for professional settings where there are lots of papers to go through.OCR technology is a must have in today's scanners, and this is no exception.
This lets you turn your scans into searchable files. You can easily look them up using proper keywords, something that is hard and time consuming to do otherwise.
Sometimes we make mistakes while scanning, or the scans do not capture the right color we want. For this you get the Intelligent Scan Correction.
This lets you get rid of any blank pages that came about, lets you correct colors, deskew and crop your scans as well.

Highlighted Features
Comes with a 10 page auto document feeder
Features intelligent scan correction
Has scan to cloud technology
Comes with a 600 dpi optical resolution
5. Brother DS-620
Another great pick if you are looking for a scanner that is as portable as your Chromebook. Being less than 12 inches in length, and weighing less than a pound, this is a breeze to carry around.
You can throw it in your laptop bag and be off. The scan to cloud is feature these versatile scanners really need. It lets you scan too many destinations and lets it be shared.
This is great for the times when you do not have storage with you, or need to share scans with someone else at the moment. Even though it is small, it performs really well in terms of resolution.
You get a 1200x1200 dpi which will give you peak scan quality. Images and texts will be vibrant, crisp and very lifelike. It also supports various media types including business cards, receipts, photos, documents and all things alike.
Lastly, the DS-620 comes with OCR technology to help you organize your scans into dedicated files. This makes it easier to access them when needed.

Highlighted Features
Can scan to shared destinations
Comes with Nuance OCR technology
Has fast scanning speeds of 8 pages per minute
Compact and lightweight makes it portable
How To Choose The Right Scanner for Chromebook
Portability
One of the main reasons for buying a Chromebook is its portability. It is lightweight, slim and easily fits into any bag. When buying a scanner to accompany it, we would want one that has the same qualities.
If you are a person who has to scan on the go, or you work in multiple places and must carry your scanner, take a moment to see the size of it. The smaller it is, the more portable it becomes.
On the other hand, if you know you won't need to carry your scanner, it can be of any size, big or small. That will then depend on what you aim to scan.
If you intend to keep your scanner in one place, then the best scanner for Chromebook would be theone with bigger size. This will cover both small and large pages at once.
Connectivity
Once again, for something that is always working on the go, connectivity is a big issue. Always check to see that the scanner has multiple connectivity options so you are never lost.
It should definitely be Wi-Fi capable to be able to interface with your Chromebook. Next, it should also support a flash drive or an SD card, so you can scan using these as well.
Cloud Storage
Cloud storage is one of the highest sought features today in most devices, and scanners are not an exception. With this, you have better access to your files.
You can stay connected to them no matter where you go, and we know you like to go places with that Chromebook of yours.
It also helps you save space. You can simply scan and store them away without having to worry about running out of space to store. In case you do not have an SD card with you, this also comes in handy.
With this you can have a clean system that does not jam your systems or slow them down. In case of disasters or accidents, you can easily recover your files. It serves as a backup for your scanned documents and pictures.
So even if your scanner or Chromebook gets destroyed, your important documents won't be. Lastly, it enables you to share your scans with your group mates or work mates easily.
This really comes in handy for group works at school, or when sharing scans with a client.
Frequently Asked Questions
Can You Scan With A Chromebook?
Yes, you will be able to scan any document using a Chromebook. You will be able to scan using a scanners' scan-to-web function, and the embedded web server.
However, the scanning process is not as simple as it seems, you will have to change multiple settings and preferences for scanning without any issues.
How Do I Scan From A Wireless Printer To A Chromebook?
To scan using a wireless printer to a Chromebook, first, you will have to the machines' IP address and change the wireless settings of the Chromebook. Then start the wireless setup wizard to connect the printer to your device and then start scanning. Finally, to save the scanned files to the Chromebook, install the Webscan function in the units' Embedded Web Server.
How Do I Scan From My Epson Chromebook?
To scan using a scanner by Epson, you will first have to download and install the full driver and software of the product.
You will have to install the driver at once, otherwise, it won't work flawlessly. The next process is pretty much the same in all scanners, just connect the device from the settings of the Chromebook.
After setting it up, place the document in the scanner and choose a scan to option according to your convenience. The scan to options of this unit includes Computer (WSD), Computer, Cloud, and a memory device.
How Do I Connect My Brother Scanner To My Chromebook?
The connection process of every scanner to a Chromebook is more or less the same. You can connect the Brother scanner by both wired and wireless methods. The wired connection is extremely simple and won't need any external drivers.
To connect your brother scanner to the Chromebook wirelessly, you will have to download the full driver for wireless connection from the Bothers' website. Then select the Wi-Fi connection from the connection type and connect the PC with the scanner with a USB cable, and install the wireless device setup wizard carefully.
After installing the full wireless device setup wizard, you will be able to connect the scanner with the device in a matter of seconds. In addition to that, the connectivity of the Brother scanners is even more stable compared to most units available in the market.
Final Word
In this article we covered some of the top models of scanners for your Chromebook today. We know you want a scanner that is reliable and sturdy and long lasting, and of course one within your budget.
Which is why we have created such an elaborate list. To buy the best scanner for Chromebook, take a few minutes to go through this list we have conjured.
With the product descriptions and comparisons, you will have no trouble finding the finest models out today. And hopefully by the end of it, you can click buy and have your brand new scanner too!
Relevant Products Reviews & Buying Guide:
Related posts:
Buy on eBay, Etsy, Walmart (subject to availability)
Canon CanoScan Lide 300 Scanner, 1.7" x 14.5" x 9.9" - Walmart, Etsy, eBay
HP ScanJet Pro 2500 f1 Flatbed Scanner (L2747A) - Walmart, Etsy, eBay
HP ENVY 6455e All-in-One Wireless Color Printer with bonus 6 months Instant Ink with HP+ - Walmart, Etsy, eBay
Canon CanoScan Lide 400 Slim Scanner, 7.7" x 14.5" x 0.4" - Walmart, Etsy, eBay
Epson WorkForce Pro WF-4730 Wireless All-in-One Color Inkjet Printer, Copier, Scanner - Walmart, Etsy, eBay
HP Envy 4500 e-All-in-One Printer - Walmart, Etsy, Ebay
Doxie Q — Rechargeable Document Scanner with ADF and Wi-Fi - Walmart, Etsy, Ebay
1. Raven Original Document Scanner - Walmart, Etsy, eBay
2. Epson WorkForce ES-50 - Walmart, Etsy, eBay
3. Epson EcoTank ET-2760 - Walmart, Etsy, eBay
4. Fujitsu ScanSnap S1300i - Walmart, Etsy, Ebay
6. Epson WorkForce ES-400 - Walmart, Etsy, eBay
8. Brother Document Scanner ADS-2200 - Walmart, Etsy, eBay
9. Canon imageFORMULA R40 - Walmart, Etsy, Ebay
10. Epson Perfection V39 - Walmart, Etsy, eBay