When looking to buy printers, HP is without a doubt one of the first brands to come to our minds. They have made a name for themselves in this industry and all for good reason.
Their printers always get the work done, they are high quality, the prints are smooth, you get great ink and they serve for you many years to come. All of these and more make these printers so popular.
Today we will be talking about some of the printers from HP, the Envy line of printers. This line comes with a lot of different models. And while they are all great at their main job- printing-they do have some differences.
We will be focusing on what those are, and which one is the Best HP Envy printer for you and your needs.
Check out our list of products and how they pack features to cater to your printing needs.
Editor's Recommendation: Top HP Envy Printer
List Of Top 9 HP Envy Printers
Comparison Chart For Top 9 HP Envy Printers
Image

Product

Resolution (dpi)

Speed (ppm)

Specialty Feature

Price

HP ENVY 5055
1200x1200
10 black, 7 color
2.2-inch mono touchscreen
Check Price
HP ENVY Photo 7855
4800 x 1200
15 black, 10 color
35 sheet auto feeder
Check Price
HP Envy Photo 7155
1200
14 black, 9 color
125 sheet input capacity25 sheet output capacity
Check Price
HP Envy 4520
1200
8 black, 4 color
2 sided printing
Check Price
HP ENVY Photo 7858
4800 x 1200
14 black, 9 color
LED touchscreen
Check Price
HP Envy 5660
4800 x 1200
7 black, 4 color
1200 dpi scan resolution
Check Price
HP ENVY 5540
4800 x 1200
12 black, 8 color
LED Touchscreen
Check Price
HP Envy 5010
4800 x 1200
2 black, 8 color
2.2-inch color touchscreen
Check Price
HP Envy Photo 6255
4800 x 1200
13 black, 8 color
Mobile printing
Check Price
Best HP Envy Printer Reviews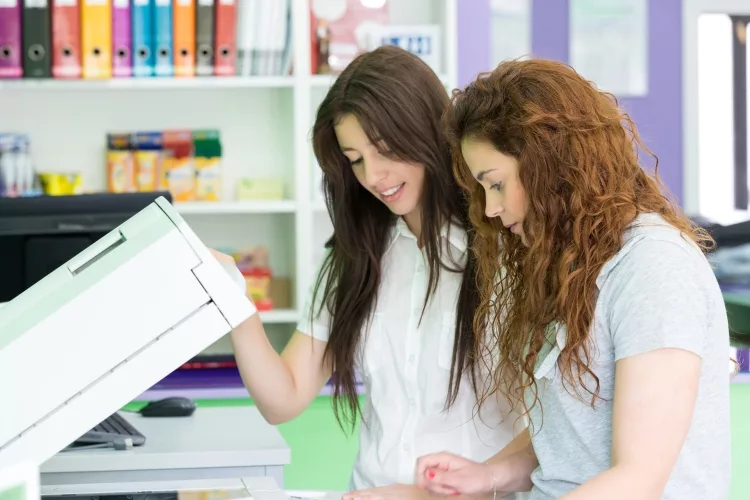 1. HP ENVY 5055
Easy connections and affordable photos are the motto of the Envy 5055. First of all you get a scan and copy function alongside the print with this, making this good value for money.
Quality wise, the high resolution of 1200x1200 dpi lets you have bright photo prints right at your home without ever having to head out to a lab.
The borderless printing alongside this makes your job easier as you now don't have to sit around cutting out borders from your photos. It comes with the HP Smart App, which is a great way to organize your prints and scans from the palm of your hand.
Keep track of what you need to do, print your documents using this, copy pages with virtual commands, scan pictures and email them directly or even print photos straight from social media without ever having to transfer them.
All of these exist to simply make your life easier, so you do not have any more printing woes. The Amazon Dash Replenishment service is also here so you do not have to manually keep track of your ink levels.
This feature will do it for you, and automatically reorder when you are running low.
Highlighted Features
Has prints speeds of 10 ppm black, 7 ppm color
Features a 2.2-inch mono touchscreen
Input capacity is 100 sheets, output is 25 sheets
Comes with 2 sided printing
Features borderless printing for enhanced photos
2. HP ENVY Photo 7855 - Best HP Envy All In One Printer
The ENVY Photo 7855 is by far one of HP's finest printers out there. It comes with a whole lot of features you won't get elsewhere. We will start with this being multifunctional, but this differs from the rest because it does not only print, copy and scan, but faxes too!
The perfect machine for a personal office where you can have it all in one compact device. If printing photos is a preference, this should be your go-to, for all the features that cater to it.
There is the 4800x1200 dpi high resolution which lets you print lifelike and frame-worthy photos. It also comes with a separate photo tray dedicated to this job.
The color touchscreen makes navigation simpler, and lets your kids use this with ease for their own projects for school. The high speed of 15 ppm for black and 10 ppm for color also caters to their needs where they can print out quick just in time for school!
The high yield cartridges on this make sure that you do not have to go out for frequent replacement, and has a page yield of up to 200 pages. Lastly you get a lot of connectivity options too with wireless, USB drive and Ethernet as well.

Highlighted Features
Has print speeds of 15 ppm black, 10 ppm color
Comes with a 2.65-inch color touchscreen
Has a 35 sheet auto document feeder
Input capacity is 125 sheets, output is 25 sheets
Comes with a separate photo tray
3. HP Envy Photo 7155
Another great choice if you want to buy a printer to print photos, the HP Envy Photo 7155 has some top-notch features to get you going. First of all is the resolution, where you get a 1200 dpi.
This is a decent resolution that will give you lab quality prints right at home. Then you also have the borderless printing-very much needed for photos to speed up the process.
Another feature that helps you speed up your work is the two-sided printing. With this you can simultaneously print on both sides of a page without having to manually flip it.
You will need and appreciate this feature if you have kids who print their assignments using this. The process will be faster, and will use lesser pages too.
Connectivity wise you also get many options, such as the Bluetooth Smart, wireless connectivity, and of course AirPrint for all your Apple devices. As this is an all-in-one printer, you can scan documents, copy them and print from numerous sources.
This includes social media, and all types of Cloud storage including iCloud, Dropbox, and Google Drive. Last of all, you can also connect an SD card to this printer, and go on to view, edit and then print your desired photos.

Highlighted Features
Has print speeds of 14 ppm black, 9 ppm color
Has a separate photo tray
Can be used to scan to email
Features borderless printing for enhanced photos
Features two-sided printing
4. HP Envy 4520
This one, the Envy 4520 is one of the more affordable printers from HP that is suitable for you if you want an all-in-one printer at a good price. First of all, it is wireless, meaning you can print virtually from any handheld device.
This allows you to be mobile or be in a different room, where you can print without having to move. Usually chosen by families, this can be used to do a lot more than simply print.
Being multifunctional, you and your whole family can use this to scan documents, copy pages, and of course print documents, email or webpages as you like. Borderless printing on top makes photo printing easier with great results too, where you do not have to cut out the borders.
When you want to print on different media, you can use this printer to have your photos printed out on photo paper or brochure paper beside your plain paper as well.
Being a affordable printer, you might worry about the quality, but not on this. Your prints will be as good as professional lab prints, thanks to the high 1200 dpi resolution.
With the HP all-in-one printer remote Mobile App, you can print on the go, which makes managing all your tasks much easier.

Highlighted Features
Features two-sided printing to save time
Can print borderless for better photos
Has mobile printing for efficiency
Comes with Alexa for voice control
5. HP ENVY Photo 7858
The HP ENVY Photo 7858 is an all-in-one wireless printer that will help you achieve lab like prints right at the office! It comes with a very good resolution of 4800x1200 dpi which lets you experience bright and vibrant pictures.
On top of this you can print them borderless for better effect. Being a multifunctional printer, this one will help you save time and space. Having every function put into one machine, you can have one on your table instead of 3.
This feature also makes it great to have around in the home office, where too many devices can be cluttering. You can print, scan and copy with this, alongside having duplex printing as well.
This last feature lets you print on both sides of a page. You save pages and time! If you are feeling extra lazy, voice printing will be able to help you out here.
Thanks to Alexa, now you do not even have to get up, but can give voice commands to get your job done. One of the finest features on this is that you can replace only the inks that you run out of.
We all know some colors are used up sooner. So instead of buying an entire pack, only replace one. This is more sustainable and saves you money as well.
Highlighted Features
Has print speeds of 14ppm for black, 9 ppm for color
Can print borderless photos
Comes with a high resolution of 4800x1200 dpi
Features automatic two-sided printing
How To Choose The Right HP Envy Printer
Resolution
One of the first determinants of a good printer is its resolution. This line of printers from HP all have a decent resolution that can get your work done. But which resolution is suitable for you?
Say if you work in an office where your main printing work revolves around black and white documents. You do not need a very high resolution. Around 600 Dpi can get your work done.
One the other hand, if you are a photographer and you need to print high-quality photos of your work, you will want the best possible resolution there is. Say, something like 4800 dpi.
The changes in requirement exists because a difference in price exists as you increase your resolution. You can find this as dots per inch, or Dpi in the product specifications, so make sure to check it out before buying your printer.
Speed
Another big deciding factor is the speed of the printer. The best HP Envy printer will be the one with a high speed, which lets you tackle big jobs in lesser time.
This might not be super important if you are keeping this at home, but if it is for an office, it can be very important. When you have to go through bundles of papers, a high speed can make life a lot easier.
Speed can be found as pages per minute or PPM in the specifications section. Depending on your need, check out the speed before buying a printer.
Duplex Printing
This is another feature that helps to speed up your printing, and hence is suitable for professional settings.
Duplex printing allows you to print both sides of a page simultaneously. It helps to save your paper, time and you don't have to flip papers physically to do so.
Connectivity
Since we are all so prone to printing from different sources today, connectivity is very important. The first is the basic USB connection, which every printer today has.
But you should go beyond that and look for other wireless methods too. Wi-Fi or Ethernet for example is a must-have as we increase our wireless printing frequency nowadays.
Some printers also sport mobile printing or AirPrint, so you can virtually connect it to your Apple devices. Social media printing is also popular where you don't even have to transfer, but can make prints directly from these sites.
Final Word
Consistent performance and quality prints are what everybody wants from their printers, and we believe HP delivers that and more. We hope our review can help you make an informed decision on which printer to buy.
Here we have some of the best HP Envy printers. Even though every single one is great at its job, some will be more suited than others for your requirements, and this article can help you find out which.
A quick look through the comparisons and highlights can help you differentiate, while the product descriptions will guide you so you can make the right purchase.
Related Posts
Buy now at Walmart, eBay, Etsy (quality guaranteed)
HP ENVY Photo 7855 All in One Photo Printer with Wireless Printing, HP Instant Ink ready, - Walmart, Etsy, eBay
HP ENVY Photo 6255 Wireless All-in-One Printer, Works with Alexa (K7G18A) - Walmart, Etsy, Ebay
HEWLETT-PACKARD ENVY 5530 E-ALL-IN-ONE PRINTER 1200X600 128MB USB / A9J40A#B1H / by HP - Walmart, Etsy, eBay
HP Envy Photo 7120 Wireless All-in-One Photo Printer, Works with Alexa (Z3M37A) - Walmart, Etsy, eBay
HP Envy 7640 Wireless All-in-One Photo Printer with Mobile Printing, HP Instant Ink or - Walmart, Etsy, eBay
HP Envy 5660 Wireless All-in-One Photo Printer with Mobile Printing, HP Instant Ink or - Walmart, Etsy, eBay
HP Envy 5540 Wireless All-in-One Photo Printer with Mobile Printing, HP Instant Ink or - Walmart, Etsy, eBay
1. HP ENVY 5055 - Walmart, Etsy, Ebay
2. HP ENVY Photo 7855 - Walmart, Etsy, Ebay
3. HP Envy Photo 7155 - Walmart, Etsy, Ebay
4. HP Envy 4520 - Walmart, Etsy, eBay
5. HP ENVY Photo 7858 - Walmart, Etsy, Ebay
6. HP Envy 5660 - Walmart, Etsy, eBay
7. HP ENVY 5540 - Walmart, Etsy, Ebay
8. HP Envy 5010 - Walmart, Etsy, Ebay
9. HP Envy Photo 6255 - Walmart, Etsy, Ebay