When buying printers, one of the first thoughts we have is about the ink. Replacing ink can be very expensive, and in some printers they run out too soon. This frequent replacement really increases our cost by a lot.
So you need to think about the ink as well as the printer and its functions before buying your next one. You should be thinking- what is the best printer with the cheapest ink cartridges?
Well we are here to answer all your queries. The right printer will not have just one feature you want, but a collection of it to make it rightfully the ideal one for your requirements.
You do not buy these devices every day, so consider this an investment. Do your research, dig in a little, and get one that can serve you for years to come.
Editor's Recommendation: Top Printer With the Cheapest Ink Cartridges
List Of Top 10 Printers With Cheap Ink Cartridges
1. Canon Office and Business MX922
Comparison Chart For Top 10 Printers With Cheap Ink Cartridges
Best Printers With Cheap Ink Cartridges Reviews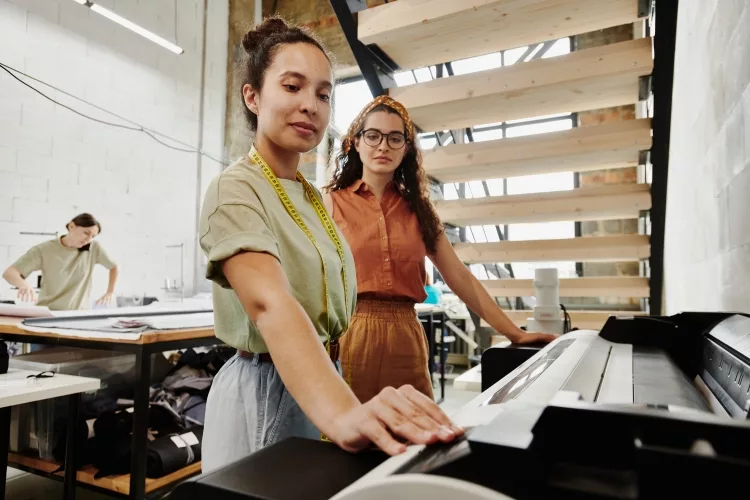 1. Canon Office And Business MX922
In the printer world, a few names are popular, and Canon is one of them. From high end to affordable they have it all, and so when we are looking at cheap ink cartridges, they are here as well.
This all in one printer from Canon is suitable for professionals. The features on this are adored by offices and businesses where high speed and quality is of utmost necessity. Connectivity-wise, this has a lot of options.
You can use wireless LAN, cloud print from Google, Airprint for all your Apple devices. You also get wireless printing so you can use your mobile or tablet to put in the commands.
Lastly, you also get a basic USB 2.0. This one can be used for when you need to transfer a lot of files, since it is pretty fast. An auto document feeder is also available on this printer.
This makes sure you can put in papers and move away for other work. It reduces your need to stand by and feed papers- not something you can do while at work.
The E-Z Ink (TM) is compatible with this Canon printer, as it is with many others of the Pixma models.
These have high a yield of 500 pages per cartridge for black and white, and 300 pages per cartridge for color. Besides being economical, the print quality is also superb thanks to the vivid colors that you get from this.
Highlighted Features
Has an expandable output tray
Comes with CD/DVD and Blu-Ray Disc printing
Has 6 individual ink system
Intelligent chips let cartridge work with printer
2. Brother MFC-J491DW - Best Color Printer With Cheapest Ink
The MFC- J491DW from Brother is a versatile printerthat lets you have many connectivity options. First of all you get the built in wireless so you can have mobile printing as you like.
This works with tablets, laptops or your cell phone. You also get the USB for when you need to connect to a computer for fast transfer. Lastly you can scan to cloud. This lets you save precious storage space, and also enables easy sharing on the go.
Auto two sided printing is something we all want in our printer today. It saves time as well as money. You can print on both sides of a single page without having to flip it.
It also brings down your print time to half. Another feature that lessens work time is the 100 sheet paper tray. Now you can leave the work be and do something else while this finishes.
A great feature for a busy office space. The MFC-J491DW lets you print on many types of papersuch as card stock, photo paper and envelopes. This lets you get more out of the device for your money.
The E-Z Ink (TM) cartridge replacements are compatible with this model from Brother, as well as many other printers from this brand. You get a wide selection of colors here including black, cyan, magenta and yellow.
Highlighted Features
Comes with 1.8 inch color display for navigation
Wireless and mobile printing is enabled
Has auto two sided printing
Features 100 sheet capacity
400 pages per cartridge ink
3. Canon Pixma Pro-100 - Most Ink Efficient Printer
The Canon Pixma Pro 100 is the right choice for you if you want professional level photo printing done. This large format printer comes with an 8-ink dye based ChromaLife100+ technology.
With this you can achieve true monochrome prints. You get 3 monochrome inks of black, gray and light gray as part of the 8 ink system. Thanks to this every print is vivid and lively, even if it is in black and white.
Take your grayscale photography to a different level with this Pixma pro 100. Alongside this you get the Optimum Image Generating System or the OIG.
This analyzes every area of the print to be done, and finds the right combination of ink and its mixture for the optimum output. Two paper trays are provided with this printer to get your work done fast.
The rear feed tray is mainly used for fine art that utilizes glossy papers like photo paper and more. The manual slot is for when you want to put in thicker papers.
The Odoga Ink Cartridge CLI-42 is compatible with this printer as well as many others from Canon. It comes with an ink level indicator which distinguishes it from the rest.
Now you can easily know which cartridge needs changing and when without having to pre-stress about it.
Highlighted Features
Features 8 dye based inks
Comes with an auto sheet feeder
Has a resolution of 4800 x 2400 dpi
Has built in CD and DVD printing
Cartridge has ink level indicator
4. Epson WorkForce WF-7710
Another familiar name when it comes to printers, there is no doubt that Epson too hosts printers that come with cheap ink. Powered by PrecisionCore, the WorkForce WF-7710 is a wide format printer for your everyday needs.
Being all in one, this not only takes care of your printing requirements, but scanning, copying and faxing needs too. You can print borderless photos on this up to 13x19 inch, which helps to save paper over the long run.
It also utilizes less power than color laser printers, and hence saves energy too. The 250 sheet tray is a great addition. This way you can place 250 sheets and be on your way without having to manually feed the papers one at a time- very ideal for offices.
A rear feed is also provided in case you have to put in specialty paper which is a very thoughtful addition might we add. Auto two sided print lets you bring your printing time to half as well as uses less paper.
The ZIPRINT Remanufactured Ink Cartridge comes with UV resists and can print up to 1100 pages per cartridge, be it in black or color. This lets you use them for long times and needs less replacing, making it more affordable in the long run.
Highlighted features
Comes with a 250 sheet tray
Features auto two sided printing
Has a 35 page auto document feeder
Comes with a 4.3-inch color touchscreen
Cartridge capacity is 1100 pages Black and color
5. Brother MFC-J985DW
This MFC-J985DW model from Brother is well known for its cost effectiveness, making it a must have in our list. What makes this affordable is the INKvestment cartridge.
The play on words tell you that the ink you put in is an investment, when it is this printer. This lets you spend less on individual cartridges and lets you print more pages.
Replacement needs also go down, and you save money. Eventually what you get is low cost printing since one black and white page costs less than a cent to print-now that is some saving! But savings on the ink is not all.
The print speed on this is also excellent as it comes with a 10 pages per minute speed. You also get the much wanted duplex printing that lets you print both sides of a page at one go.
This saves time and money and it uses less pages overall. Wireless connectivity is another plus that makes this worthwhile. With Wi-Fi you can print documents using this printer from anywhere you want.
The GreenArk Compatible Ink Cartridge can be used as a replacement for this printer. This too has a high yield as it supports up to 2400 pages for black and white, and 1200 for color per cartridge.
Highlighted Features
Comes with 4 INKvestmet ink cartridges
Features duplex printing to save time
Has a 100 sheet paper capacity
Features wireless and mobile printing
Ink cartridge comes with high capacity sponge
6. HP OfficeJet Pro 6978
The HP OfficeJet Pro 6978 is another all in one printer that is an optimal choice for those that need more in less. With this you can print, copy, scan as well as fax.
Suitable for the home or your home office where you do not want too many machines lying around. The 2.65 inch touchscreen lets you navigate this with ease.
Since we are all so used to touchscreens today, this simply makes the use easier for all. Other desirable features on this printer include the auto document feeder. This makes sure that your work gets done regardless of you feeding papers.
Connectivity options on this are also great. You can use mobile printing where you can command prints from your phone or laptop without being close to the printer.
The Amazon Dash Replenishment system makes sure you never run out of ink. So you can stress less about where your ink levels are. This feature will measure the level of ink and place auto orders when you are running low.
So even if you forget to place an order, do not worry about last minute mishaps. IKONG cartridges are compatible with this along with many other OfficeJet models.
Coming with a high yield of 1500 pages for black and 825 pages for color per cartridge, this will not let you down.
Highlighted Features
Can print, copy, scan and fax
Comes with a 2.65 inch color touchscreen
Has input capacity of 225 sheets and output of 60 sheets
Ink cartridge has high yield
7. Canon Pixma IP110- Best Wireless Printer With Cheap Ink
If you want a printer that is compact and mobile while coming with cheap ink, this Pixma iP110 from Canon is the right choice for you. It is slim and small, and can fit into any corner in your workspace.
The exterior also makes it right for the home or a home office. Even though it is small in size, do not underestimate its power. For it has a high resolution of 9600x2400 dpi.
This lets it print out images at their best, making them resemble reality. You experience vivid colors, sharp images, crisp designs and detailed texts. It can also print up to 8.5x11 inches in size, meaning you can print a wide range of photos.
Other than the size, the wireless connectivity also makes this printer suitable for those who like to move. You can set this up at one place, and print from anywhere else in the home.
Another feature is the mobile printing, which lets you print directly from your phone or social media. You can also connect this to AirPrint to print from Apple devices, or Google Cloud Print as well as the Canon Print app.
The NEXTPAGE Compatible Ink Cartridge gives you premium quality prints. It is fade resistant and dries instantly, meaning you don't have to wait after it prints. It also comes with a high yield, saving you replacement costs.
Highlighted Features
High resolution of 9600x2400 dots per inch
Wireless printing is enabled
Can print borderless photos
Has ChromaLife 100+ ink cartridges
8. Epson WorkForce WF-7720- Best All In One Printer With Cheap Ink Cartridges
The WorkForce WF-7720 by Epson claims to give your performance beyond laser. And it rightfully does. Coming with a heap of much needed features, this is a combination of a good printer and affordable ink.
Being an all in one printer, you can use this to print, scan, copy and even fax. The auto two sided print feature lets you print more in less time, and prevents you from having to monitor your prints.
Being an all in one, the same applies to the scan and copy as well. You get high volume printing thanks to the 500 sheet capacity. You simply put them in and relax.
The dual trays and rear feed dedicated to specialty paper further improves printing efficiency. The 4.3 inch color touchscreen is big and enables everybody to use the printer with ease.
Navigation is made easy due to this feature. Next you get wireless printing which lets you print from virtually anywhere and everywhere, as long as you are connected. A great feature for students who always have to be on the move.
The Uniwork Remanufactured Ink Cartridge works with this model from Epson alongside many others from the brand. With a high page yield it helps to save you money through lower replacements.
Highlighted Features
Has a 500 sheet capacity
Comes with a 125 sheet output tray
Features a 35 page auto document feeder
Has a 4.3 inch color touchscreen
Ink cartridge has a high page yield
9. Epson EcoTank ET-2720- Best Inkjet Printer With Cheapest Ink
If you want to save money on cartridges and be ecofriendly at the same time, this is the right printer for you. The EcoTank- 2720 from Epson is just the right combination of affordable and sustainable.
Thanks to its unique ink system, it does not require cartridges, but uses bottles instead. These deep and large bottles let you print up to two whole years without needing replacement.
It lets you save up to 90% thanks to the supersized ink tanks. They require less replacement and hence brings down your cost by a lot. This also means that you can only buy and replace the ink that needs replacing.
We all know that certain inks run out before the other, and replacing the whole set is simply uneconomical. Well, you don't have to do that anymore!
Besides being great on the ink frontier, this printer also features wireless connectivity for when you need mobile printing. Using Wi Fi direct you can command prints from other rooms, without ever leaving your desk.
The Printers Jack replacement bottles are made for this printer. It provides smooth colors and textures that come out looking natural. The Micron-3 stage filtration makes sure there is no print head clogging when replacing inks either.
Highlighted Features
Features voice activated print
4-color (CMYK) drop-on-demand MicroPiezo inkjet technology.
Refill ink bottles are cost efficient
Ink bottles feature Micron-3 Stage Filtration
10. Canon IP8720
This Canon IP8720 lets you print big pictures, up to 13x19 inches, so you can enjoy your photos to the fullest. It comes with a 6 individual ink system that lets you print flawless photos.
This also includes gray for your grayscale photos to come just right. The super high resolution of 9600x2400 dpi simply makes this better as you get smooth gradients and vivid colors that seem life like.
ChromaLife100+ is a system that selects and combines the right colors in borderless photos for a result that lasts up to 3 decades. Lastly you also get multiple sources of printing.
Such as AirPrint for your Apple devices, Google Cloud Print for when you are out and need access, Wi Fi direct for printing from different rooms and of course a USB 2.0 as well.
The GPC Image cartridge replacement features high yields. You can print up to 300 pages in black and white and 300 in color per cartridge.
Highlighted Features
Has a high resolution of 9600x2400 dots per inch (dpi)
Six individual ink tank system
Can print on CD and DVD
Ink cartridge yield is up to 300 pages (black and color)
How To Choose The Right Printer With The Cheapest Ink
Ink Tank
If you're scratching your head about which printer has the cheapest ink, don't worry. One of the easiest ways to find this is to look for printers that come with ink tanks.
Ink tanks make replacement easy, they hold more ink than your typical cartridges. This is what brings your cost down since cartridges can be so expensive.
You can replace only the ink that has run out instead of the whole array as well. All of this together make these more sustainable and cost friendly.
Ink Efficiency
You buy a printer once, but the ink is what requires frequent replacement. This is where a chunk of the expense really goes.
So it is important to buy a printer that has high ink efficiency. You must look at the page yield, or the number of pages you can print with one cartridge before deciding on a printer.
The higher the page yield, the more ink efficient your printer becomes and your cost per page goes down as well.
Cartridge Sizes
Cartridge can mainly be of two different sizes. You have your standard, then you have an XL. With the XL, you can print double the amount of pages since it can store more ink.
However, it costs a little bit higher too. But if you are someone who has to go through hundreds of pages at work, the XL is an investment for it lowers your cost over large scale use.
You need less replacements this way, which can end up being more expensive when done frequently. Choose a printer that supports efficient cartridges like an XL or even an XXL for long term savings on ink.
Resolution
Besides the ink, you should also look to your printer. If the printer does not have the qualities you need, simply cheap ink won't cut it for long. You need a high resolution for the finest quality outcomes.
We are very accustomed today to seeing everything in HD, and a bad print will disappoint you heavily. The resolution can be found in dots per inch, or dpi. Naturally the higher the dpi, the better resolution you get.
For home use or light hand office use you can opt for a 600 dpi, which is what most printers have today. But modern models can go up from here and you can get 1200, 4800 or even 6000 dpi in some printers.
This will also cost you a bit more, but it is a one-time cost, so weigh your print needs before jumping in on one.
Connectivity
The basic connectivity you get with most printers today is USB. But that is not where it should end. In this technologically developed world, we are used to doing things mobile, and your printer should be in on it too.
Ethernet connection for instance is one feature you should look for. Alongside you also have Wi-Fi direct and mobile printing.
Make sure your printer lets you print from your handheld devices even if you are not near as this is becoming of increasing importance today.
Speed
Speed is one of the key factors when buying a printer. If this is for work, obviously speed plays a big part. A slow printer can take forever and slow you down.
Even if you are buying one for your home, a decent speed is required to keep things moving.
Even if it requires an investment, it will be one time, and you should consider it. Speed can be found as pages per minute or ppm in product descriptions.
Final Word
If you have reached till here, we assume you have checked out our list of printers and their descriptions.
While they are all from different brands and come bearing different features, they all have one goal- to provide you with affordable ink replacements in good printers.
You do not need to wait long to get your hands on the best printer with cheapest ink anymore. A quick skim through the descriptions and comparisons with the top market competitors will show you what you need.
Pay close attention to the highlights and special features, as these are the main distinguishing points.
Related Posts
Buy on eBay, Etsy, Walmart (limited quantity)
Brother MFC-J4335DW INKvestment Tank All-in-One Printer with Duplex and Wireless Printing - Walmart, Etsy, eBay
Epson EcoTank ET-4760 Wireless Color All-in-One Cartridge-Free Supertank Printer with - Walmart, Etsy, eBay
Epson EcoTank ET-2760 Wireless Color All-in-One Cartridge-Free Supertank Printer with - Walmart, Etsy, eBay
Canon G7020 All-In-One Printer For Home Office | Wireless Supertank (Megatank) Printer | - Walmart, Etsy, eBay
Brother MFC-J1205W INKvestment Tank Wireless Multi-Function Color Inkjet Printer with Up - Walmart, Etsy, eBay
1. Canon Office and Business MX922 - Walmart, Etsy, Ebay
3. Canon Pixma Pro-100 - Walmart, Etsy, eBay
4. Epson WorkForce WF-7710 - Walmart, Etsy, eBay
6. HP OfficeJet Pro 6978 - Walmart, Etsy, Ebay
7. Canon Pixma iP110 - Walmart, Etsy, eBay
8. Epson WorkForce WF-7720 - Walmart, Etsy, eBay
9. Epson EcoTank ET-2720 - Walmart, Etsy, eBay